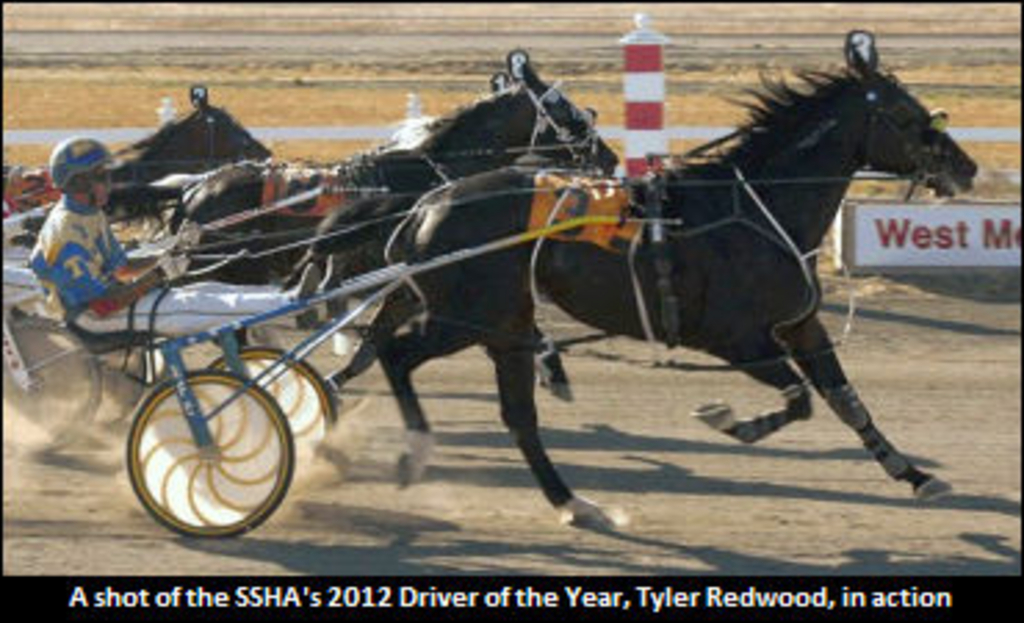 Published:
November 28, 2012 12:27 pm EST
An abundance of standardbred racing news items has come out of Saskatchewan in the past few days, from Home Market Area news, to 2013 race-date talk, to AGM outcomes, and to 2012 award winners.
Officials with the Saskatchewan Standardbred Horsemen's Association have announced that the organization has requested support from Saskatchewan Liquor & Gaming Authority (SLGA) for provincial standardbred raceways with respect to issuing Home Market Area (HMA) licenses to applying harness tracks. The SSHA hopes that the HMA licenses would allow industry-generated revenue from off-track betting to be used to support live harness racing in 2013.
SSHA President Glenn Le Drew also said that although the Saskatchewan industry received news of cancelled grant funding earlier this year, the raceway at the Yorkton Exhibition and West Meadows Raceway just outside of Regina are applying for race days in 2013.
"Harness racing has existed in Saskatchewan for over 100 years, and our tracks are committed to see it continue," Le Drew told Trot Insider. "We are working with our government (SLGA) and there is a simple solution. HMA licensing support for our harness tracks will help re-establish the previous funding model which will ensure that both the thoroughbred and standardbred industries can generate revenue and continue to grow well into the future. Home Market Areas, of course, were established by the Canadian Pari-Mutuel Agency, so that tracks could generate much-needed revenue to support the live horse racing industry in their area."
Le Drew explained that the previously-successful and agreed-upon areas for Saskatchewan tracks were divided at Davidson, SK. The area from north of Davidson was established for the Saskatoon track and the thoroughbred program. The area south of Davidson was issued by SLGA to the Regina track for standardbreds, and "that area is needed once again now that the government has cancelled the funding," Le Drew explained. "It does remove the need for government funding, and it would be up to the tracks to raise industry funding through their Home Market Area revenues."
For more information on Saskatchewan harness racing, visit SSHA online here. Race dates for 2013 will also be posted on the SSHA website as soon as they are confirmed.

Besides HMA and race-date discussion in the province, the Saskatchewan Standardbred Horsemen's Association held its Annual General Meeting and Awards Gala on Saturday, November 24 in Regina.
The SSHA would like to welcome new directors Trevor Williams and Ron McLeod, as well as returning director Glenn Grainger. SSHA would like to thank retiring directors Fred Richards and Max McInnes for their past service.
Glenn Le Drew was nominated and acclaimed to continue as President for a fourth consecutive term.
The new SSHA Board of Directors appears below.
Glenn Le Drew – President
Elaine Bell – Vice President
Glenn Grainger – Director
Trevor Williams – Director
Ron McLeod – Director
Kelvin Godlien – Director
Jerry Hagenaars – Director
After the AGM took place, the SSHA doled out some well-deserved hardware.
The award winners are as follows:
2012 SSHA Horse of the Year
• Light The Board
2012 SSHA Presidents Award
• Joe Soloninko (Lifetime Contribution)
2012 Standardbred Canada Owner of the Year
• Bill Welcher
2012 SSHA Trainer of the Year
• Tyler Redwood
2012 SSHA Driver of the Year
• Tyler Redwood
2012 SSHA Claimer of the Year
• Judges Discretion
2012 SHF Top Saskatchewan-Owned & Bred Horse of the Year
• Kalahari Cajun
(With files from the SSHA)