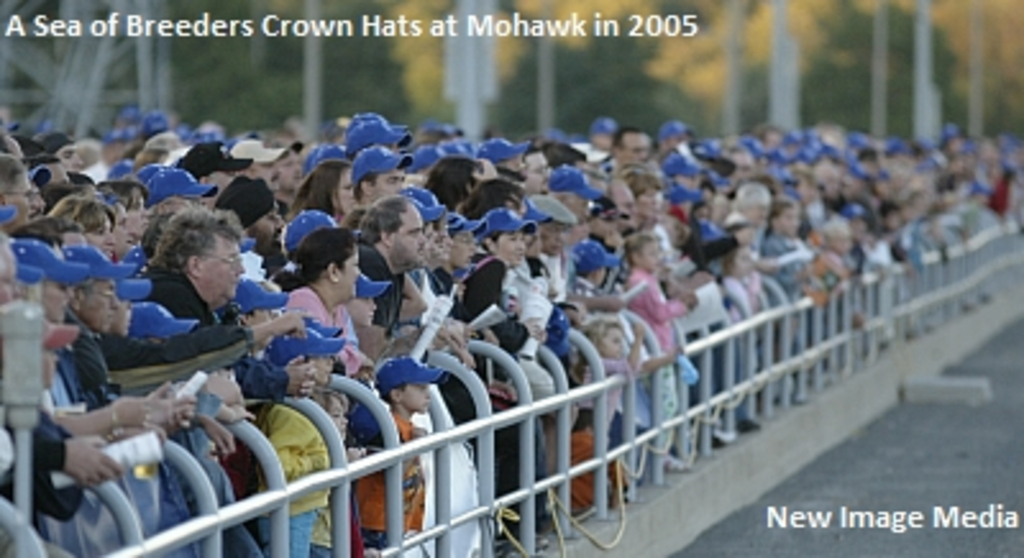 Published:
November 26, 2008 03:01 pm EST
When it comes to conjuring up compelling statistics and happenings, Bob 'Hollywood' Heyden of the Meadowlands Racetrack is tough to beat. Heyden has highlighted that on October 28, 2006 -- Breeders Crown night -- it is surprising the talent that didn't reach the winner's circle.
REALLY Memorable Night-2006-Woodbine-Breeders Crown
NOT so much for those who won-but how about a Who's Who list of those who did NOT win!!!!
MISTER BIG…finished second to Shark Gesture.
• Mister Big wound up 6-26 at 2/3 combined, but since has powered his way to back-to-back older pacing earnings marks in the U.S. and is past $3.3 million career -- and he too will come back at age six.
DARLINS DELIGHT…finished second.
• THE richest female ever NOT to win a Breeders Crown, but just about everything else.
• With over $2.6 million in career purses, she was born and raised side-by-side with My Little Dragon at New Jersey's White Birch Farm.
• The duo are now arch-rivals. They will return at age six to continue their on-track battles.
PAMPERED PRINCESS…the most recent of Jimmy Takter's $1 million trotting ladies (Lantern Kronos could make it a record FOUR November 29).
• Single-season female trotters that Takter already has campaigned are Passionate Glide and Moni Maker (twice).
• Pampered Princess was third in the '06 Breeders Crown.
KENNETH J…finished second in the '06 'Crown.'
• The son of Bettors Delight went on to a $1.5 million career and is heading to the breeding shed for a fee of $4,500 a pop in 2009.
SUTTER HANOVER…finished fourth.
• He was second to Tell All in the 2007 North America Cup -- the richest pacing event of the year.
SOUTHWIND LYNX…finished eighth in the slop during his '06 Crown, but recovered well to win TWO million dollar races in 2007 (Meadowlands Pace and Art Rooney).
WESTERN ACE…finished fourth.
• One of four $1.5 million earners in the Teague barn in 2008 all at THE SAME TIME, which is UNPRECEDENTED! (Southwind Lynx, Badlands Nitro, Total Truth and Western Ace).
ARTISTIC FELLA…finished sixth.
• He's en route to $3 million career.
• He is a Meadowlands Pace and Breeders Crown winner, as he captured the Crown the next season at age four.
His trainer, Steve Elliott, won the Breeders Crown three times in 2006-2007 (Artistic Fella 2007, Donato Hanover 2006, Burning Point 2006).
JEREMES JET…finished seventh.
• Yes, the million-dollar-winning two-year-old couldn't handle the conditions that night, but in 2007, would go on to post the fastest mile in the career or John Campbell with a 1:47 flat time trial.
TOTAL TRUTH…10th…YES you read that right.
• The Pacer of the Year, the winningest money-winning pacer of the year, the son of a THREE-time Breeders Crown winner (Jennas Beach Boy) was last.
HANA HANOVER…finished fifth.
• In 2007, Hana Hanover had enough of this. She became the first EVER three-year-old pacing filly to win three times…THREE!!!...in sub-1:50 in the same season!
GLIDEMASTER…finished second.
• The Triple Crown winner, the Horse of the Year in the U.S., for the first time ever in 2006 won the title despite being defeated in the Breeders Crown the SAME year.
• Nonetheless, he set a then-earnings-record for a three-year-old and solidified the U.S. HOY honours one month later when he won the Yonkers Trot. George Brennan was driving in place of John Campbell -- who had been injured in the Breeders Crown elims -- an amazing 118 DAYS after the Hambletonian kicked off the Triple Crown -- THE longest-ever time period for a Triple Crown in the sport's history from start to finish.
PURE IVORY…finished second.
• The outstanding daughter of Striking Sahbra was racing with the expert handling of Steve Condren (38% in-the-money finishes in his Breeders Crown history).
(With files from Bob Heyden)