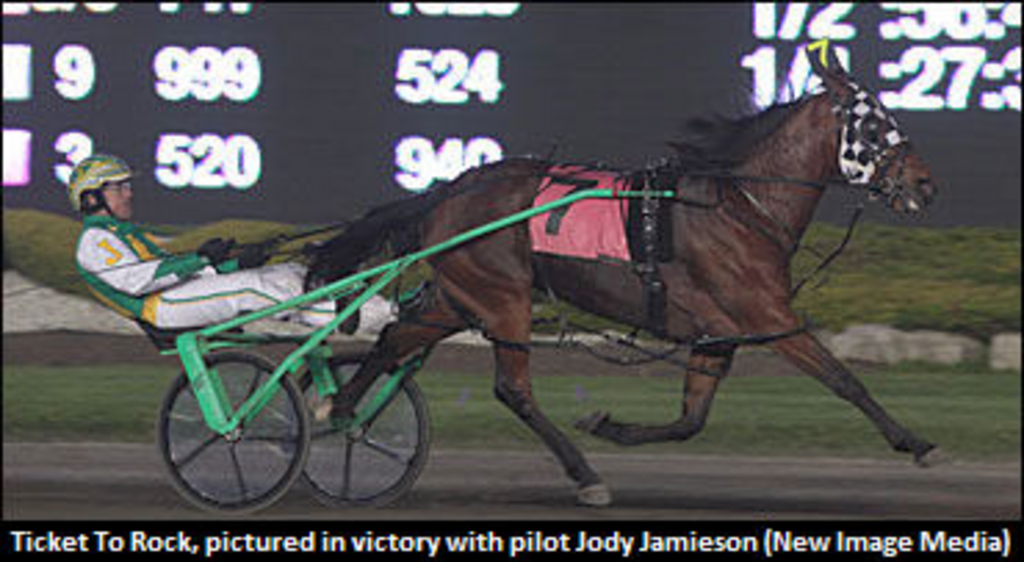 Published:
November 24, 2011 01:48 pm EST
Regardless of how she fares in Saturday night's $195,000 Forest City Pace at The Raceway at Western Fair District, it will be Ticket To Rock's last race of the season
.
"This is it, she'll be turned out after the race," noted the mare's trainer, Tony O'Sullivan. "She's earned a rest."
Ticket To Rock has enjoyed a stellar four-year-old campaign in 2011 with $305,000 earned. If she finishes in the top five in the Forest City Pace she'll surpass the million-dollar mark in lifetime earnings for owners Let It Ride Stable, Mentally Stable, Robert Cooper Stables and Jerry Silva.
"She's just an awesome mare to work with, you'd never know she's around," praised O'Sullivan. "On the racetrack she gives it everything she's got, you can't ask for more."
Over the course of her 24 starts this year the daughter of Rocknroll Hanover has had a variety of drivers. Jody Jamieson has received the call for Saturday night.
"Jody's done well with her, she's an easy mare to drive, she's good gaited and should get around the half-mile track fine. She's a good size mare with some length to her.
"She's been racing well the past couple of weeks (two close second place finishes in the Mares Open at Woodbine Racetrack). The obstacle for her Saturday is leaving from the second tier. Hopefully Jody will be able to work out a good trip for her," said O'Sullivan, who is enjoying his best year to date as a trainer with 114 wins and more than $3.7 million in earnings.
The New Zealand native originally had two starters in the Forest City Pace, but had to scratch Seriously earlier this week due to sickness.
That leaves eight very talented pacing mares to face off in Saturday night's feature event. The mares are the elite of their division this season and have collectively earned well over $10 million in their careers to date.
First-race post time on Saturday is 7:05 p.m.
To view the harness racing entries for Saturday at Western Fair, click the following link: Saturday - Western Fair.
(Western Fair)