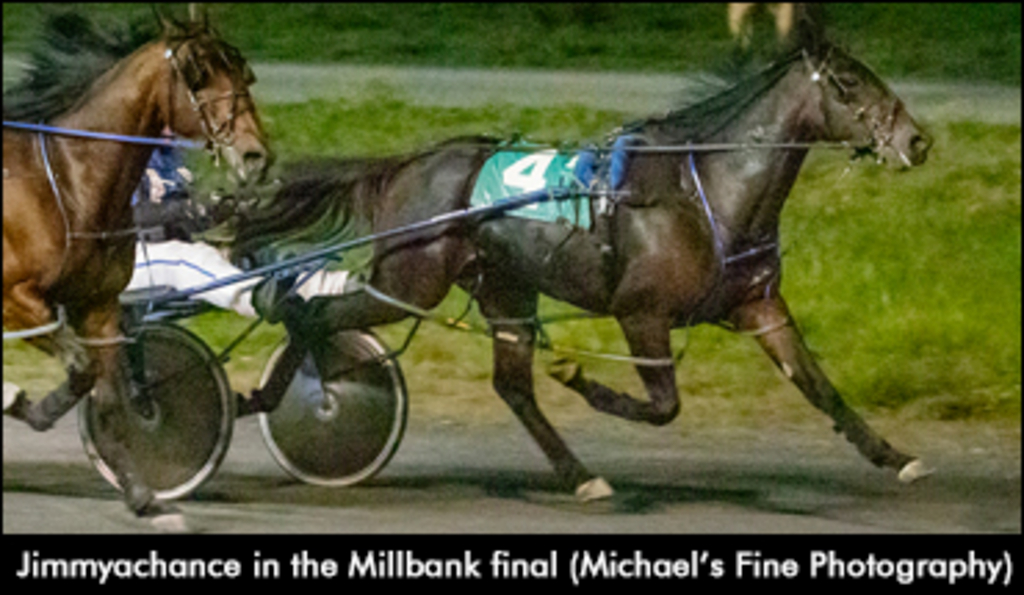 Published:
November 22, 2021 05:10 pm EST
It wasn't the winner's circle celebration trainer Dennis Johnston had envisioned when his two-year-old pacer Jimmyachance won the $75,000 Robert Millbank Memorial Stakes last Thursday at Fraser Downs, but catastrophic flooding in British Columbia has forced a change in plans for some horsepeople in Western Canada.
Heavy rain last week caused severe flooding and landslides in southern British Columbia resulting in evacuations and major route closures. Fortunately, the harness racing industry has been largely unaffected with racing continuing up to this point.
"A majority of our participants are just west of all the flooding so luckily there is no major impact [to racing]," Nigel Holmes, Executive Director of Harness Racing British Columbia, told Trot Insider. "There are a few that have been affected, people such as Dennis Johnston...He had the two-year-old gelding Jimmyachance, winner of the $75,000 Robert Millbank Memorial this past Thursday. Ever since last Tuesday, he has not been able to get to the track and, unfortunately, he was unable to see his promising two-year-old win."
While Johnston is fortunate to live outside the flooding zones, transportation in the region due to major road closures has prevented the horseman from making it to Fraser Downs in Surrey, where his stable of horses is located and races.
"We're safe and sound, so that's the most important thing," said Johnston, who resides in Lake Cultus, about 40 km east of the City of Abbotsford, which remains under a state of emergency. "Some people are really impacted -- it's really hard on them for sure -- but we're lucky enough we're not in it."
Johnston has had to rely on the assistance of staff and partners to care for his horses.
"I have a fellow who works for me, Grant Hollingworth, and he's been kind of keeping an eye on things there," noted Johnston. "Grant has been in the business for years and years. He's worked for me for probably about four years now so he's kind of looking after things while I can't make it in. In addition to Grant, my longtime partner Ray Thomson also lent a hand to keep things going."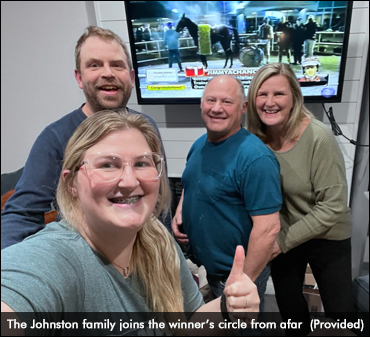 While Johnston and his family were not able to watch their star two-year-old Jimmyachance, driven by Doug McNair, win one of the B.C. Breeders Stakes championships at the track, they did manage to join in the winner's circle celebrations from afar with his wife Susan, daughter Stephanie and son-in-law Chris Stranaghan snapping a selfie in front of the television.
"Just for fun, because our daughter and son-in-law watched it with us, we actually took our own win picture with Doug in the background with the horse," said Susan. "It actually turned out kind of neat."
Stablemate Sammy Santana also picked up a cheque, finishing fourth in rein to Scott Knight. Both will race again on Thursday in the $35,000 Dan Ingram Memorial Stakes before likely getting a month-long break.
While Team Johnston couldn't attend the races in person on Thursday, the floods also hampered travel plans for some of the horsepeople looking to race and be on-hand for the opening card at Century Mile. According to Holmes, those participants were forced south through the U.S. to travel across Washington State and enter back into Canada at the Sweetgrass border crossing in southern Alberta. Normally a 12 to 14-hour trip, the detour would extend the driving time 17 hours, according to Holmes, who stated the situation is still fluid for the province as well as the harness racing industry.
"Further impact of the flooding will be felt moving forward as all the damage to the infrastructure will make it very difficult to get feed and supplies to the lower mainland of B.C."