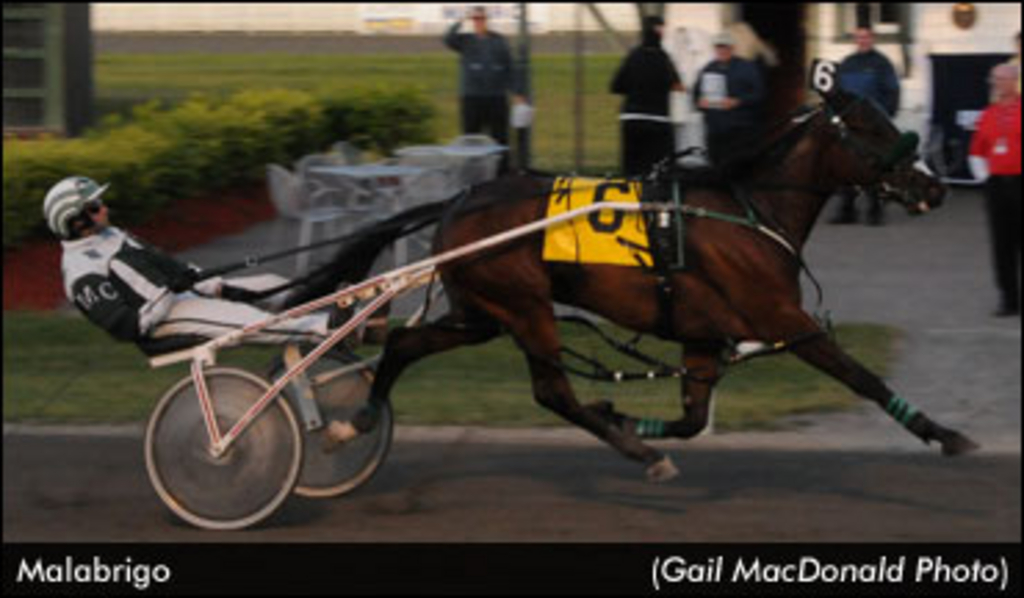 Published:
November 2, 2012 08:04 pm EDT
The final stakes event of the season at Red Shores' Charlottetown Driving Park will take place Saturday afternoon with the streaking Malabrigo looking to wrap up her perfect season with one more victory.
The stakes stars will tour the legendary CDP oval in the Island Breeders Championship with Malabrigo, trained and driven by Marc Campbell, going for her 16th win in a row in the 10th race three-year-old pacing filly final.
Angus Buntain, racing manager for her Buntainwood Farm connections, confirmed that the sensational filly remains sound going into her last start of her sophomore campaign.
"She raced in the first stake of the year and it's been a very long season with travel, including two heats in the Maritmer," Buntain told Trot Insider. "It's been a lot of fun. She was very well managed by Marc; he never over-raced her. It's a big reason why she lasted as long as she has."
The Maritime Breeders Stake and Atlantic Breeders Crown champion has earned $76,218 of her $128,025 bankroll this year.
Buntain said that an announcement on the plans for the filly's 2013 season will be made next week.
Malabrigo, the 5-2 morning line favourite, has drawn post four with 3-1 shot A As Glory getting the rail for Danny Romo. Romo gets the call to drive in the $13,000 final from trainer Gilles Barrieau, who will drive his other trainee, Ruby Vance, from post eight.
The glamour boys will hit the track in race 12 with 5-2 first choice Touch Of Lightning riding a wave of success lately. The colt won the Donnie Turner in Truro by six and half lengths to score his third in a row for Peter and Don Smith, Gerald Morrissey and Larry Chappell. Trainer Earl Smith will drive the Altantic Breeders Crown champion and will need to time the gate from the eight-hole. First Art Down, assessed at odds of 3-1, has the rail with Barrieau listed to drive, while 7-2 Mr Thompson and Mike Stevenson drew post six.
In the two-year-old colt final, Maritime Breeders champion Forever Paradise and Campbell will leave from post three as the 5-2 morning line favourite with second choice Untouchable One, the Atlantic Breeders Crown winner, and Brodie MacPhee leaving from post five at 3-1.
Meanwhile, two Brandon Cowboy fillies meet in the two-year-old filly final. Top Brand and Romo drew outside with Carol Alice leaving from post four. Kenny Arsenault will do the driving on the latter as Clare MacDonald, who drove her to her Atlantic Breeders Crown win, is assigned to West River Xtra. Dont Tell Cindy, with Barrieau listed to drive, and Ramblinglily and Darren Crowe are also favourites.
In other Island Breeders action, Atlantic Breeders Crown champion Oceanview Kate and Stevenson have been established as the morning line favourite in the two-year-old trot with early favourites B J Carmalyta, Sweetwater Rukkus and Dusty Red Lane doing battle in the three-year-old trot division.
Le Fugueur will be sent away as the favourite from the rail in the Joe Fogarty Memorial in race 11 for MacPhee.
The official cheque presentations will be made after race for the Drive For Charity event. Drivers and their businesses will present their donations to Island charities.
First-race post time is 1 p.m.
To view the harness racing entries for Saturday at CDP, click the following link: Saturday Entries - Charlottetown Driving Park.
(With files from Red Shores)