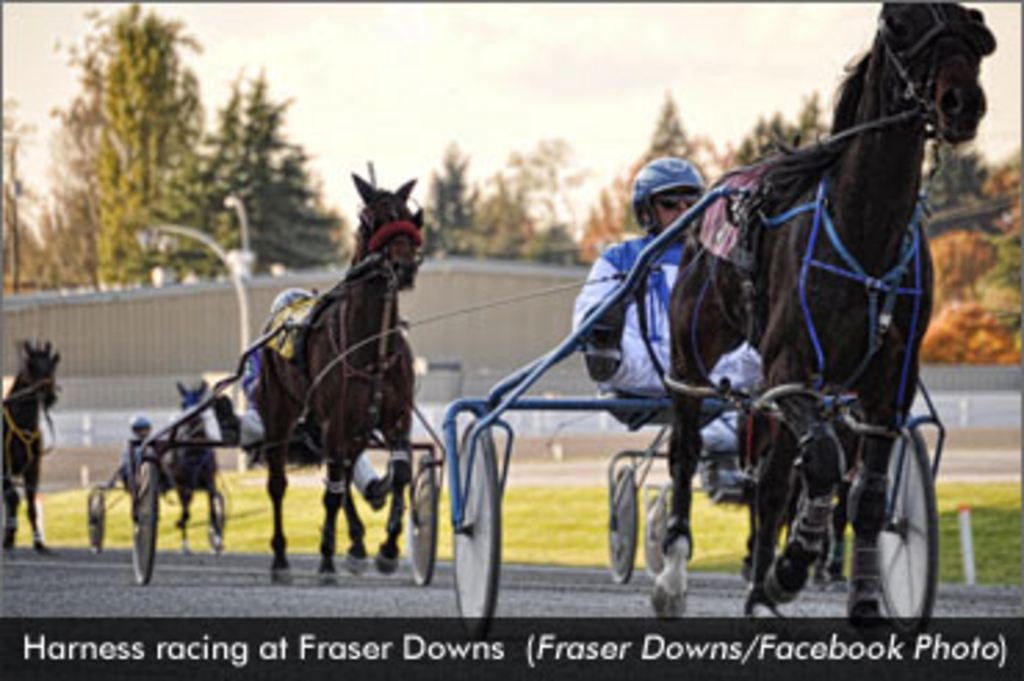 Published:
November 19, 2017 05:39 pm EST
Stakes action kicked off Fraser Downs' Sunday (November 19) program of live racing, as two divisions of both the Fraser Miss for two-year-old pacing fillies and Dan Ingram Memorial for two-year-old male pacers were front and centre from the word 'go.'
The ladies were up first, as the $25,000 Fraser Miss splits got the afternoon card underway in Races 1 and 2.
Building on her recent triumph in the $100,000 Betty Millbank Memorial Breeders Stakes, the Mark Anderson-trained and Paul Davies-driven Scardy Cat ($3.90) was sent postward as the odds-on choice in Race 1 and didn't disappoint her backers. After a Post 5 start, the brown daughter of Sportwriter rode a two-hole trip through the fractions (:28.4, :59.3, 1:27.4) and got up for a neck win in 1:56.4 over a 'sloppy' track that was rated one second slow. The pacesetting You Talk To Much (driven by Keith Clark) was just collared and finished second. After having made a break in stride behind the gate, Post 1 starter Nice Aint My Color (Serge Masse) recovered to finish third and was defeated by almost eight lengths. Scardy Cat is a homebred of J J J Stables of Prince George, BC.
The brown Mystery Chase lass Roaring Home ($7.60) did just that in the second of the Fraser Miss dashes (Race 2), as the Keith Clark-trained and driven juvenile was much the best during her gate-to-wire, 1:59 win. After having started from Post 3, Roaring Home, who was a winner in the recent Alberta Sires Stakes Super Finals, went to the top, cut the fractions (:29.1, 1:00.2, 1:30) and expanded her lead to four lengths before hitting the wire. The Post 1 starter and race favourite Pez Dispenser (Jean Francois Gagne) sat the pocket through the mile and finished second, while Hurried Romance (Rod Therres) got up late and bottomed out the exactor. Clark (of Foothills, AB) trains Roaring Home for his co-owners John Hind (Calgary, AB) and Doris McDougall (Cochrane, AB).
The $25,000 Dan Ingram Memorial splits continued the stakes action, as the pair of divisions went postward for Races 3 and 4.
The Jim Marino-trained and James Burke-driven Boiling Oar ($6.30) got the Dan Ingram festivities underway in Race 3 with a one and a half-length win in 1:59. The gelded son of Shadow Play started from Post 2 and sat third through the opening half mile, which saw Ron Bakardi (Jim Marino) cut the fractions in :28.3 and 1:00.2. Burke had Boiling Oar out and racing first-over in the third panel, and was up and challenging Ron Bakardi at the 1:29.4 three quarters pole. Boiling Oar would sustain his attack and get up for the win. Ron Bakardi finished second, while Its a Great White, who had stalked his prey from the pocket for driver Keith Clark, finished third and was beaten by one and three-quarter lengths. Boiling Oar is owned by J J J Stables of Prince George, BC.
After having stalked from third early in the final Ingram division, the Rod Therres-trained and driven Canadian Pharoh ($4.00) reigned supreme on the tote board, as the Mach Three gelding got up and posted a one and three-quarter-length victory in 1:58. Therres and his bay started from the rail and sat third through the :28.4 opening quarter and the 1:00.4 opening half. He had moved up to second by the 1:29 three quarters and showed everyone that he was more than game in the lane. Canadian Pharoh wanted it in the final quarter and was first to the wire in what was a mark-lowering performance. Ready And Steady (Serge Masse), who had done the work on the point, finished second, while Shales Storm, who finished well back of the top two, was moved up to third due to a placing. Canadian Pharoh is a homebred of Rod Therres (Surrey, BC) and Veikko Pajunen (Vancouver, BC).
To view the harness racing results for Sunday at Fraser, click the following link: Sunday Results – Fraser Downs.