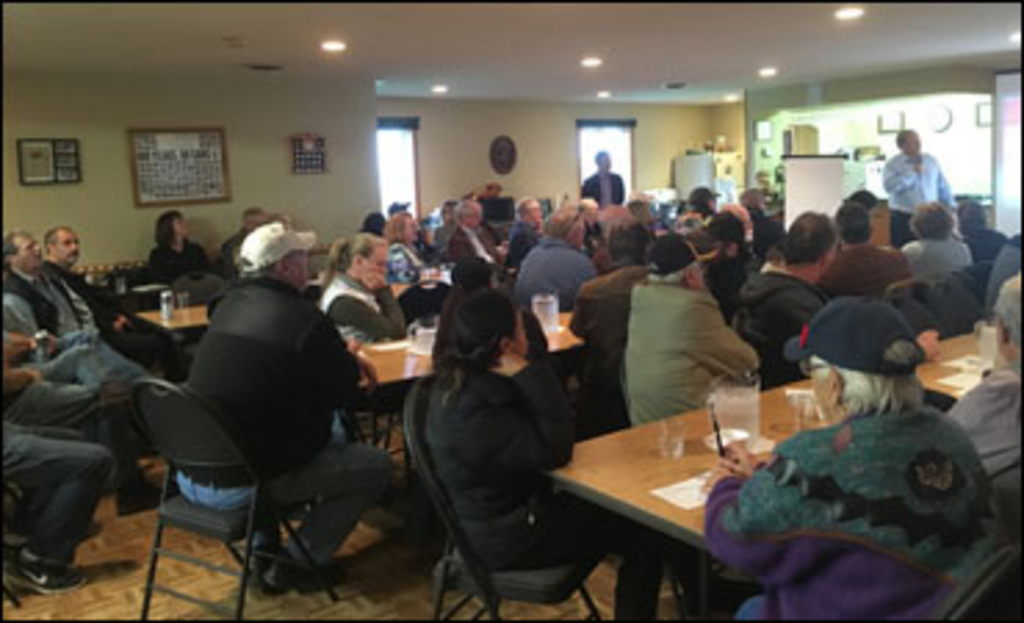 Published:
November 19, 2016 03:48 pm EST
Approximately 150 people attended Saturday's public consultation session in Port Perry, Ontario, hosted by Ontario Racing (OR).
The session, the sixth meeting focusing on the long-term funding framework for horse racing in the province, was the highest attended meeting to date.
Ontario Racing Executive Director Rob Cook hosted the consultation, which included passionate horsepeople from all three racing breeds.
Dr. Ted Clarke, General Manager of Grand River Raceway, talked to the audience about the current Standardbred Racetrack Alliance and spoke about some of the successes to date.
"The goal was to increase wagering and we've done that," said Clarke. "One of the significant things about the transfer payment that comes in through the Alliance is that all of the revenues go directly to purses."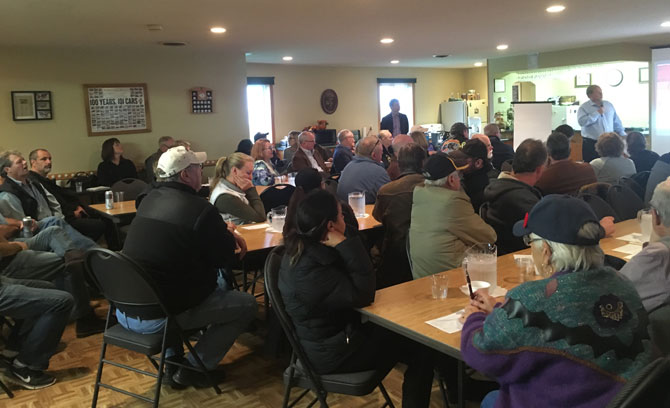 Questions raised, during the 2-1/2 hour meeting at Golfer's Dream Golf Club, Scugog in Port Perry, Ont., focused on some key themes.
There were a number of questions about tracks operating if they have no on-site casino gaming. Kawartha Downs was raised as a track that could become "extinct" without gaming.
"That might be a possibility," said Cook in response. "There's a limited amount of money. There's a risk that there's going to be casualties along the way."
In response, the crowd applauded the idea that Kawartha Downs be guaranteed racing dates throughout the year.
Justin Picov, representing Ajax Downs, asked, "In the event that (we lose slots), is there a plan from OLG to preserve quarter horse racing?"
"I can't answer that question," said Cook. However, Cook did mention that OR represents the interests of all three breeds.
Suggestions were made to pass a law that a percentage of wagering and slots go directly towards racing. The idea of inflation was also raised as a concern, as $93.4 million in 2038 (at the end of the term) is much lower than it is in 2016.
Cook said that inflation is an issue they will look at.
"The government is saying right now that $93.4 million is on the table," said Cook. "Do you want it or not? We'll take back any answer you give us but we have to be prepared with an alternative. Right now we have an opportunity to get a government commitment but we don't know that commitment will be there months from now.
"We have to know if you like the amount of money being proposed or if you need OR going to government asking for more," he said.
Bob Broadstock of the Quarter Horse Owners Association expressed his concern that quarter horse racing will end in 2019 unless there's a new agreement for the breed, and also concerns for each breed and its smaller tracks.
"The intent is that the horseperson's groups are at the table to ensure that the plan works for all breeds," said Cook. "We're working on governance to ensure checks and balances and make sure we represent everyone."
The attendees raised the issue of whether or not there is enough money in the plan, and whether B track horsemen can survive.
"Everybody knows there's problems with purses and people are struggling to survive, we know that," said Cook. "If there's ways to improve this, if you say that public consultation is needed going forward, we're open to that."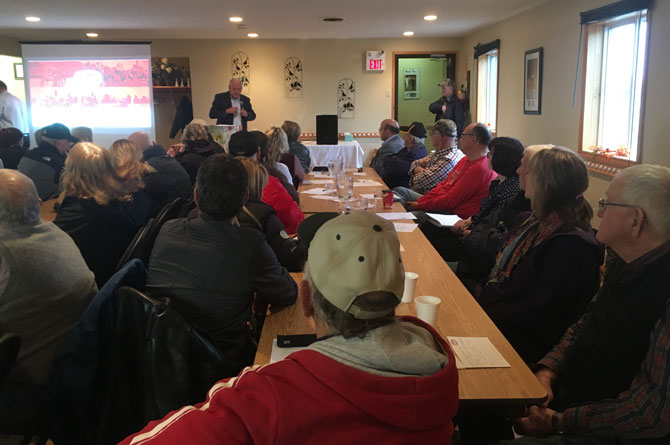 The question of Woodbine Entertainment Group's role in the program was also raised.
"The new Alliance is designed so that Woodbine doesn't control it," said Cook. "This model is designed to prevent some of these concerns. Can I guarantee you that this is going to be smooth, probably not, but we have the balances and counterbalances in place."
Cook also addressed the question on whether OLG will help with new gaming products to support horse racing.
"Developing new revenue streams is very important," said Cook. "Right now the OLG is not privatizing lotteries which opens up a new opportunity to look at products in that space. I think there's a new interest from OLG in talking to us."
Cook said it was anticipated that the agreement would be done, or in final draft form, by the end of March.
As for whether the current proposal is the only option, Cook said, "The game of all of this is not to create a system. It's about getting to an outcome, and we need to look at all options to get there."
The next in-person consultation session will held on Tuesday, November 22 from 2:00 p.m. - 4:00 p.m. in Milton (Gambrel Barn, Country Heritage Park).
---
This framework, subject to government approval, will be presented to the industry for feedback. If approved, this framework will provide the industry as a whole – from owners, trainers and breeders to racetrack operators – with the certainty they need to make investments in their businesses.
OR's primary objective, to this point, has been to engage directly with the Ontario Lottery and Gaming Corp. and the government to provide input to the development of a road map to sustainable funding for the industry. Now, OR's focus will shift towards engagement with the industry as a whole to garner feedback on this proposed framework.
This proposed framework is based on key principles including:
A new racetrack alliance: all Ontario racetracks that conduct live racing will be invited to create a new alliance. It is proposed that Woodbine Entertainment Group (WEG) will serve as the administrator of this new alliance.

Longer-term, predictable funding: Ontario's horse racing industry can invest in their businesses beyond 2021.

Ongoing accountability and transparency: decision-making based on evidence and agreed upon success indicators.

Industry leadership: racetrack business plans, race dates, purse levels will be aligned across racetracks for a coordinated approach. Ontario Racing will play a key industry leadership role in the future.
Widespread 'in person' conversations with the industry about these principles will continue across Ontario. Sessions will take place in every region of the province that has horse racing. The following consultation schedule has been updated. (dates subject to change)
Saturday, November 19 - 1:00 p.m. - 3:00 p.m. - Port Perry (Golfer's Dream Golf Club, Scugog)

Tuesday, November 22 - 2:00 p.m. - 4:00 p.m. - Milton (Gambrel Barn, Country Heritage Park)
Ontario Racing encourages all interested parties to submit their feedback about the future of the industry by accessing its online consultation portal here. The portal includes a series of questions and the option to attach a word document, for those who would like to share additional thoughts. The proposed long-term funding framework was outlined in a webinar, hosted on October 19, and can be viewed here.
Ontario Racing will collate feedback from the industry, and this perspective will inform recommendations to government.
(With files from Ontario Racing)