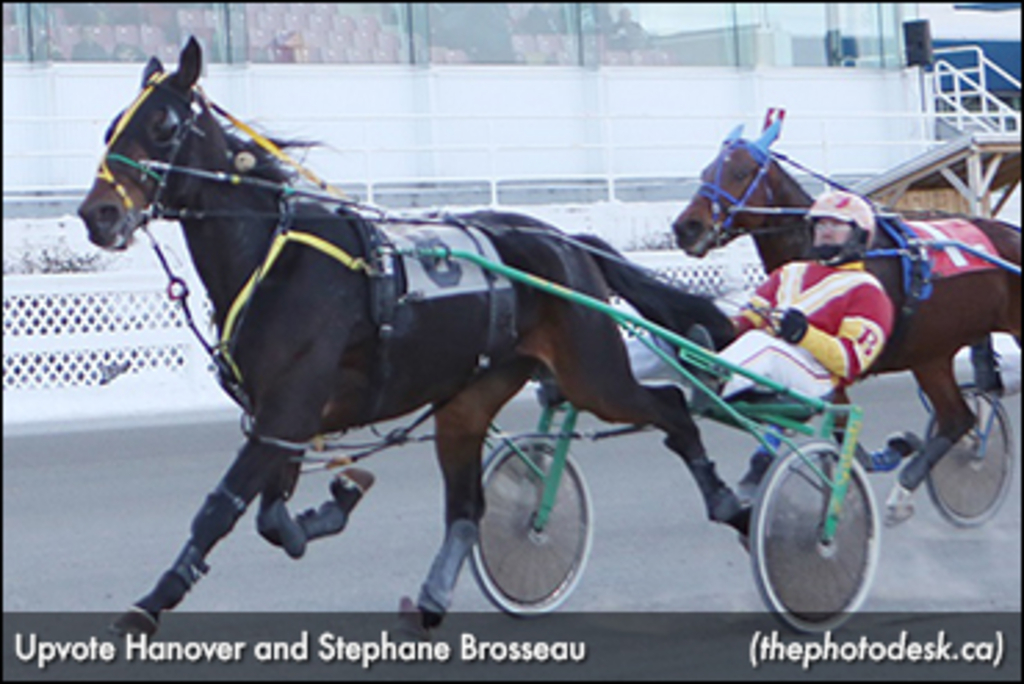 Published:
November 18, 2018 04:56 pm EST
Hippodrome 3R featured the first race program without the use of whips on Sunday (Nov. 18), and all 11 races went without a hitch. The experiment of 'whipless' racing will also take place next Sunday (Nov. 25), which is closing day for the 2018 season.
Stephane Brosseau, H3R's leading driver the past two years, put on a clinic on handling a trotter without a whip in the sixth-race Preferred Trot with Upvote Hanover.
Holiday Party (Pascal Berube) was first off the starting gate from post 5, grabbing the early lead with Caroluzzo (Stephane Gendron) sitting in the pocket seat and R Rkadabra (Franics Picard) stuck coming first-over.
They raced past the opening quarter mile in :28.2 as Holiday Party held firm to his lead. R Rkadabra was parked out and followed by Upvote Hanover as they passed the half-mile marker in :59.3.
In the backstretch, Brosseau moved Upvote Hanover three-wide, and they were able to clear past R Rkadabra before the three-quarters in 1:30 while gaining ground on leader Holiday Party.
In the stretch, Upvote Hanover kicked in another gear for Brosseau as they pulled away and won by two lengths in 2:00.2. Eau Naturelle (Simon Delisle) was second at 17-1, with Holiday Party third.
It was the third straight win and tenth victory on the year for Upvote Hanover. The four-year-old gelded son of Kadabra is trained by Yves Tessier and owned by Francois Morin. He paid $4.30 to win.
Rainbow Palace, a lone mare against seven male rivals, was able to show her heels to the boys and wire her field for driver Francis Picard in 1:58.1, the fastest mile on the below-freezing race card.
Chaleurs Ad (Berube) was first on the lead with Rainbow Palace challenging on the outside and taking the lead after a speedy opening quarter in :27.4.
Rainbow Palace then led the way to the half in :58 with Hooter Scooter (Stephane Brosseau) coming first-over and giving second-over cover to D J Power (Pierre Luc Roy).
In the backstretch, driver Stephane Gendron took Ufdragons Rocket three-wide and tried to loop the field past three-quarters in 1:28.1.
Coming down the stretch, Ufdragons Rocket began to fade and Rainbow Palace was able to hold off Hooter Scooter by a neck. Chaleurs Ad was third.
Sired by Royal Mattjesty, Rainbow Palace is trained by Dominique Picard and owned by Francis Picard. She paid $8.60 to win.
Track Notes: Both Pascal Berube and Pierre Luc Roy had driving doubles, and both Yves Tessier and Stephane Hubert had training doubles. Next Sunday is the final live race card of the 2018 season at the Hippodrome 3R and will also feature "whipless" racing. Both the leading driver and trainer awards will be presented. For more information, visit www.quebecjockeyclub.com.
To view Sunday's harness racing results, click the following link: Sunday Results – Hippodrome 3R.
(Québec Jockey Club)