Published:
November 17, 2020 10:23 am EST
Muscles For Life, handled by Wally Hennessey, took top honours in Pompano Park's Open Handicap Trot on Monday (November 16) stopping the timer in 1:54.2.
Starting from post seven, the seven-year-old son of Muscle Mass took charge a few long strides after the wings opened and carded splits of :27.4, :57.4 and 1:26.1 before an effortless :28.1 finale over a sloppy racing oval to report home 1-1/2 lengths clear of Sooo Handsome (Rick Plano), who raced a very credible mile after being bothered a bit around the first turn by a breaker. Explosivebreakaway (Tom Jackson) rallied for show honours, also after avoiding that first turn incident. Celebrity Miracle and Beguin Dugoutier got the last two awards in the field of nine, both benefitting from the judges' placings.
Muscles For Life earned his 30th career win on this night, vaulting his lifetime bankroll to $395,434. He's trained by Steve Oldford for owner Jerald Hawks and returned $3.60 to his multitude of faithful.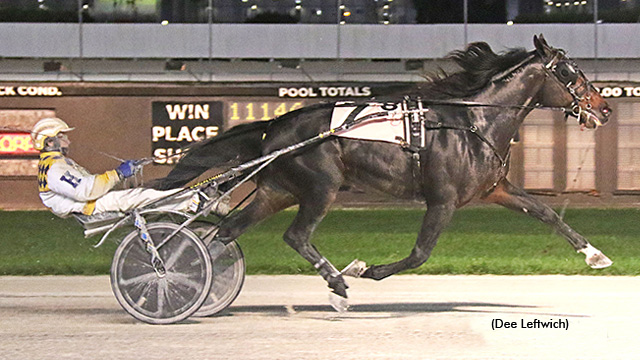 After the event, Hennessey lamented, "He really qualified handily last week getting ready after a little 'R and R' and he's such a handy horse that likes to join the action from the get-go. He was sharp and just went on under no strain whatsoever."
Four non-wagering divisions of the FSBOA sponsored Sunshine State Stakes for three-year-olds were contested on Monday night with Hurrikanekingjames, Rhinestone Cowboy, Laurie Lee and Callin On Sunday reported to the winner's circle.
Hurrikanekingjames took advantage of the misfortune of his competition in scoring a "Secretariat" like 48-3/4 length win in the pace for sophomore colts and gelding. The son of So Surreal led from gate-to-wire and posted fractions of :28.2, :58.3 and 1:27.3 with a :28.3 finale stopping the timer in 1:56.1.
Trained by Rod Lorenzo for Jonathan Klee Racing, Kuhen Racing and George Vierno, the "King" earned his 11th lifetime score -- fourth this year -- to send his career bankroll to $128,065.
Goldstar Bunniholly, bothered at the beginning of the mile, finished second for Corey Braden while Repeal Or Replace, handled by Rick Plano, was third after losing his composure around the first turn and again on turn three. Shuldahadahunemoon completed the order of finish.
Rhinestone Cowboy took top honours in his event for the sophomore trotting geldings as this son of Proud Bushy was perfectly mannered through panels of ::30.2, 1:02 and 1:32.2 before a :28.2 sprint home sealed the deal in a lifetime best 2:00.4 for Mike Micallef, who handled the lines for trainer and co-owner Kim Sears, in partnership with John Campagnuolo.
Prairie Gold Mine (Wally Hennessey) was next after a mile in the garden spot, while Prairie Romeo (Corey Braden) rallied for show honours over YD Dream Machine.
The win kept the "Cowboy's" record perfect for the year—two-for-two—and send his career scorecard to 4-3-2 in nine starts.
In the filly pace, Laurie Lee, with Wally Hennessey in her sulky, fought off a very courageous Gold Star Igotdis to prevail by three-parts-of-a-length in 1:56.4, just one tick off her mark.
The daughter of Royel Millennium used the rail post to perfection in sprinting out alertly when the wings folded to secure the top spot as arch-rival Gold Star Igotdis made a miscue to drop some 10 lengths back.
With Alil Touch of Pink now in the cozy two spot, Laurie Lee put up panels of :30.1 and :59.4, allowing Gold Star Igotdis to close the gap in third, less than four lengths away. On the backside, Gold Star Igotdis began a :27.4 blast and stuck her neck in front at the third station in 1:28.1. These two raced side-by-side through the lane with Laurie Lee finally prevailing at the wire.
Trained by Kim Sears, who co-owns with Richard Dunmire, Laurie Lee has wins in her only two starts of the year in seeking to defend her crown as a sophomore, as she did last season at age two.
Finally, in the filly trot featuring only a duo, Callin On Sunday led every step of her mile in scoring handy 2:01 victory for Mike Simons over Brasen Bo (Mickey McNichol).
Callin On Sunday, a daughter of Shibboleth Hanover owned and trained by George Coblentz, earned her second straight win and carded fractions of :29.1, :59 and 1:29.3 along the way. The lightly-raced filly now has a scorecard of 2-2-1 in just six starts, good for $24,346.
On the wagering side of the ledger, there were, again, some noteworthy payouts as the 20 cent fourth race pentafecta returned $7,995.46 and the 50 cent pick-5 paid a generous $2,062 -- even with the first three events won by horses sent off at 4-5, 2-5 and 8-5. It was Burn Notice, off at 39-1, that triggered the generous payoffs in those two wagering items on the menu.
Burn Notice was also involved in the Pick-6 sequel with that 5-3-3-4-5-7 combo returning $3,490.00 for the 50 cent ticket.
Tuesday's Pompano program is a true extravaganza -- 14 races -- with first post of 7:20 p.m., capped by a Super Hi-5 carry-over of $5,062.26.
(Pompano Park)