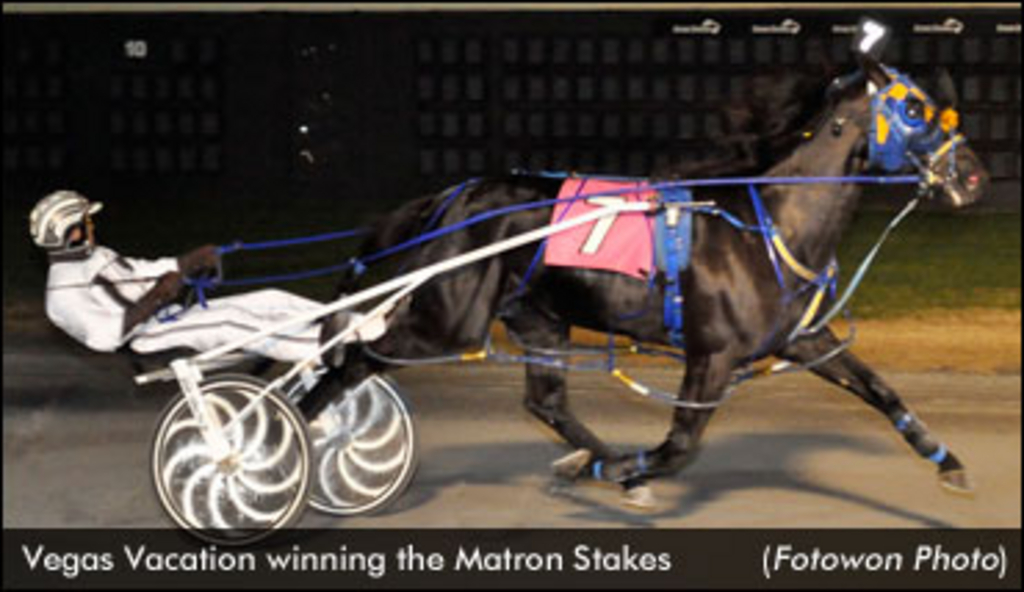 Published:
November 17, 2013 06:05 pm EST
Dover Downs hosted the richest program in Delaware racing history on Sunday night featuring eight Matron Stakes.
Ma Chere Hall opened the card with a seemingly effortless track record victory in the $164,250 Matron for three-year-old trotting fillies.
Leaving from post four, the overwhelming 1-9 favourite cruised through fractions of :27.1, :56.2 and 1:25 en route to the 1:53.2 triumph for trainer Jonas Czernyson. She equalled the divisional track record held by last year's Matron champion Personal Style. Time To Kill (John Campbell) and Deja Vu Too (Matt Kakaley) followed in second and third.
"I've had a really fun summer with Ma Chere. It was a good way to culminate the year," said winning driver Corey Callahan. "I was pretty confident. She's been racing some tough fillies all year along and she looked like the best one in here today. They bet her down to 1-9 and if she did get beat it was pretty much going to be all on me. My plan was to cut it and she was perfect tonight."
The Deweycheatumnhowe filly is owned by breeder Walnut Hall Limited, Aldebaran Park Inc. and Joe Sbrocco. She has won nine of her 16 starts, including the Kentucky Sires Stakes Championship and a division of the Bluegrass Series, while banking $343,619.
All Bets Off turned in a track record performance of his own winning the $154,575 Matron for two-year-old pacing colts and geldings in 1:50 flat.
The Ron Burke trainee left from the outside post position in a field scratched down to six and briefly tucked into the three-hole before driving on past the :26.1 opening quarter mark. All Bets Off made the lead in front of the grandstand and then carved out middle fractions of :54.2 and 1:22.3 while turning back first over challenger Carracci Hanover (Yannick Gingras), who eventually finished third. Stevensville (Tim Tetrick) closed up the pylons down the stretch, but came up short, finishing half a length behind All Bets Off.
"He went a big trip, he raced super," said driver Matt Kakaley. "The Burkes always have him ready, so he was ready to roll today. I'm fortunate to be in the spot I am and Ronnie and Mickey look after me pretty good. It's always a pleasure to drive horses like this and I can't thank them enough.
"I think they've had him for a few weeks now and he's just getting better," added the winning reinsman. "I think the sky is the limit for him right now."
All Bets Off earned a new lifetime mark while improving his record to 4-4-0 in 12 starts. The Bettors Delight colt, who has banked $186,683 in purses, is owned by Burke Racing Stable LLC, Frank Baldachino, The Panhellenic Stable Corp., and Rosemary Shelswell.
The former divisional track record of 1:50.4 was co-held by 2008 Matron winner If I Can Dream and Heston Blue Chip, who won as a two-year-old in 2011 and again at three the following year.
Nuncio destroyed the track record for two-year-old trotters with his 1:53 triumph in the following $166,650 Matron. He shaved two full seconds off the colt mark of 2008 Matron champion Explosive Matter.
The heavy 1-9 favourite retook the lead from Skates N Plates (Simone Allard) past the :26.3 first quarter mark and fronted the field past panels of :55 and 1:24 with Don Dorado (Tim Tetrick) advancing first over from third. However, Nuncio took off down the stretch to win by three lengths. Skates N Plates finished second over Don Dorado.
"He raced very well," said driver John Campbell from the winner's circle. "Last week [in the elimination] he was almost on the bit too much even though he was on the front. Tonight he was a bit more manageable and I was able to get him to relax the third quarter and he finished up strong.
"He's raced well every start this year, he's just had the misfortune of going up against Father Patrick and it's a tall order to beat him, but I've been happy with his races all year long."
Nuncio has won five times while never finishing worse than second in nine career starts for earnings amounting to $337,387. He was the runner-up to Father Patrick in the eliminations and finals of the Peter Haughton Memorial and Breeders Crown.
"He's got a tremendous amount of natural talent," added Campbell. "He's very good on his feet; it doesn't seem to matter what kind of track he races on, he gets around all of them very well. I'm looking forward to him coming back next year and being a horse that will race in the top stakes."
Scott Andrews trains the son of Andover Hall for Stall Tz Inc.
Locally-owned Table Talk pulled off a 19-1 upset victory in the $132,525 Matron for two-year-old pacing fillies as she wore down even-money favourite Ali Blue in the homestretch.
Instant Respect (Ron Pierce) established the early lead over Beach Body (Brian Sears) through a contested :25.4 first quarter, but Ali Blue (Yannick Gingras) was on the move after leaving from post seven and worked her way to command in front of the grandstand. As the new leader carved out middle splits of :55 and 1:23, My Lady Day (David Miller) advanced first over with Table Talk following her cover. Driver Andy Miller sent Table Talk three-wide around the final turn and she powered home to prevail in a career-best 1:52 flat, paying $40.20 to win. Ali Blue held off Tyra (Tim Tetrick) for the runner-up honours three-quarters of a length behind.
"You know there was a couple of good fillies in there and I hoped they mixed it up a little early and I just bidded my time until around the last turn and she just took off for me," explained Miller after the race.
Bart Dalious trains the Bettors Delight filly for The Wiz Kids Stable LLC. She has won three of her 13 starts with her latest more than doubling her bankroll, which now stands at $124,626.
"We were hoping we could win. We really were," said Dalious of their expectations for the filly.
"She was a cheap [$3,500 purchase] from Harrisburg, but right from the start she was pretty good," he said. "We trained her down and she's turned out pretty good."
Heavily backed at the betting windows, Breeders Crown champion Shake It Cerry delivered as expected in the $140,100 Matron for two-year-old trotting fillies with a motionless Ron Pierce in the sulky.
The popular Donato Hanover filly was the 1-9 favourite with the rest of the field at odds of 99-1 just minutes prior to post.
When the gate swung open, Noon Tea Party (Andy Miller) left for the lead while insider Shake It Cerry let the parked out Fashion Huntress (John Campbell) settle into the pocket before making her move from third at the :27-second opening quarter. She quickly brushed to the top in front of the grandstand and proceeded to lead the field, which was scratched down to seven starters, past the half in :56 and three-quarters in 1:26.1. Around the final turn, Shake It Cerry widened her leading margin to three lengths and cruised home for the 1:55.2 victory. Ruby (Yannick Gingras) closed for second one and three-quarter lengths behind while Scream And Shout (Tim Tetrick) finished third.
"No question, she is by far the best two-year-old filly I've ever driven," stated Pierce in the winner's circle. "I don't even know if I ever drove a two-year-old colt as good as this filly is.
"It was like a training mile for her," he noted. "I never even pulled the earplugs. I tapped her once with the whip down late in the lane just to make sure she trotted to the wire, but that's it, I just sat there."
Owned by Solveigs Racing Partners, Shake It Cerry is now seven-for-10 with earnings soared to nearly $600,000. She is trained by Jimmy Takter, who also conditions top freshman trotting colt Father Patrick.
"I'm really fortunate to have both of those horses in the same year," commented Takter. "These are definitely the two best two-year-olds I've ever come up with."
Vegas Vacation engaged slight favourite and eventual breaker Sunshine Beach in a battle down the homestretch and persevered to win the $160,388 Matron for three-year-old pacing colts and geldings.
With the victory, Vegas Vacation became harness racing's newest millionaire as his career bankroll climbed to $1,071,788.
Emeritus Maximus (Simon Allard) grabbed the lead off the gate and forced a leaving Ronny Bugatti (Jason Bartlett) to take back into the pocket spot through a :26-second opener. But the parked out post eight starter Sunshine Beach (John Campbell) pressed on to take over in front of the grandstand. The 4-5 favourite led the way through fractions of :53.2 and 1:21.1 while Little Brown Jug champion Vegas Vacation and Brian Sears moved underway from mid-pack and began to edge by the leader into the stretch. Sunshine Beach tried to fight back, but Vegas Vacation persisted to win in 1:48.3 by two lengths. Sunshine Beach broke stride near the wire, but stayed for second over Emeritus Maximus.
"Going two heats in the Jug, that's always tough on them, and he was able to bounce back," said Sears from the winner's circle. "They've done a great job with him. He raced super tonight. His kind of game is off-the-pace, first over and it worked out perfect for him tonight. It's a good positive note to go into the Progress [Pace] on."
The Bettors Delight gelding is trained by Casie Coleman for Ontario owners West Wins Stable, Adriano Sorella, Anthony Beaton, and Phyllis Saunders. He's won half of his 20 starts this year while earning $976,037.
Shebestingin made her move in front of the grandstand and powered home to a 1:49.1 victory in the following $130,650 Matron for three-year-old pacing fillies.
With the inside three horses firing off the gate led by Ms Caila J Fra (Andy Miller), driver David Miller settled Shebestingin into fourth through a speedy :25.4 opening quarter. But Shebestingin quickly rolled to command before the clubhouse turn and carved out middle splits of :53.4 and 1:21.2 before opening up two and a half lengths on her rivals down the stretch. Ms Caila J Fra finished second and Ufs Dragon Queen (Tim Tetrick) finished third over nine lengths behind.
"There were some really good fillies in here, but when my filly is on her game she's as good as anybody," said winning trainer Joe Holloway.
The world champion filly by Bettors Delight now has 11 wins in 18 starts this year and seasonal earnings totalling $554,876 for owners Val Dor Farms, Theodore Gewertz, and L And L Devisser LLC.
"Two weeks from now we go to the Nadia Lobell and that's it for the year," said Holloway.
Three-year-old trotting colt Smilin Eli fought off a determined Tirade Hanover in another track record mile to wrap up the Matrons.
Leaving from post three in the final $153,225 event, Smilin Eli worked his way to the front of the field through a :27.2 opening quarter. The 2-5 favourite led the way to the half in :56 and three-quarters in 1:24.1 with pressure mounting in the form of first over Tirade Hanover (Yannick Gingras). The top two battled down the stretch with Smilin Eli eventually prevailing by a neck in 1:52.4 to match the divisional track record held by 2011 Matron champion Big Rigs. Possessed Fashion (Brian Sears) came on to make it a three-across finish at the wire.
Smilin Eli now sports a record reading 6-4-3 in 16 starts during his debut season and earnings of $742,000.
"He's done really good," said driver Tim Tetrick in a post-race interview. "He's made quite a bit of money facing the top colts and he's danced every dance and will come back as great four-year-old. He still hasn't figured everything out about racing."
The homebred Muscles Yankee colt is trained by David Smith and owned by Nicholas Cimino.