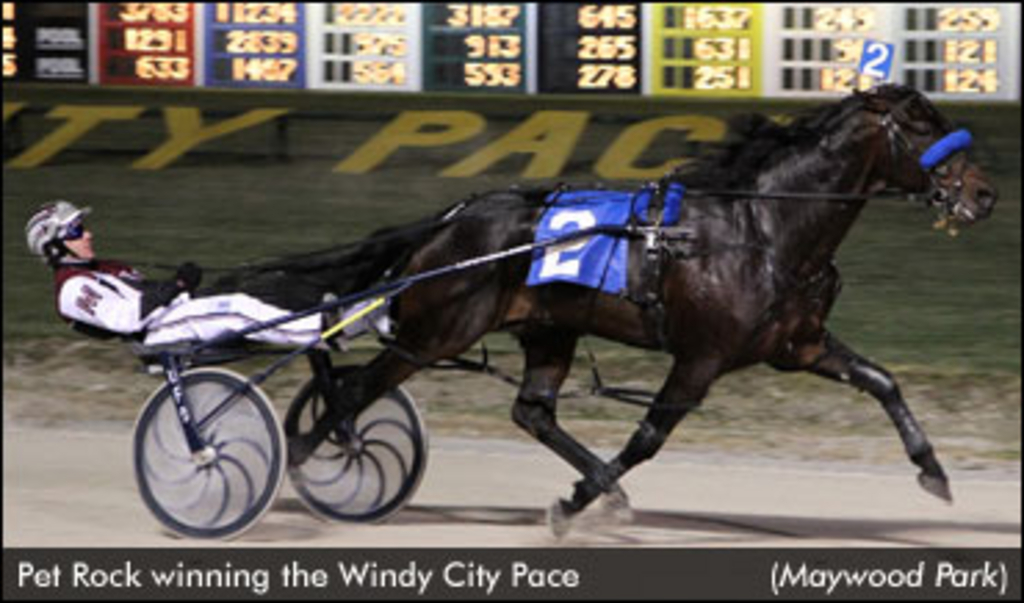 Published:
November 16, 2012 10:39 pm EST

Three-year-old pacing colt Pet Rock swept to command early on and cruised around Maywood Park's half-mile oval to capture the 30th edition of the $215,000 Windy City Pace in rein to driver Doug McNair during Friday's stakes-filled card.
Leaving from post two in the main event, McNair settled favourite Pet Rock into the two-hole behind early leaver A Rocknroll Dance (David Miller) before sending him to the top by the :27.2 first quarter mark. Once in control, Pet Rock led the way past middle splits of :56 and 1:24.3 en route to the 1:51.4 triumph. Dynamic Youth (Andrew McCarthy) advanced first over to place one and three-quarter lengths behind while A Rocknroll Dance followed behind in third.
"I got off on the right foot and let David go in the first turn," explained McNair. "I came back and I think he knew I had the best horse and he let me go soft. The one first up, he wasn't coming real fast so we got away with cheaper fractions than I thought we would have. I just sat into him until the stretch and I kicked the earplugs and he paced home. He did it all on his own."
The Rocknroll Hanover-Causal Beauty colt is trained by Virgil Morgan Jr. for owner Frank Bellino of Bronxville, New York.
Pet Rock notched his eighth win of the season in 20 starts. He's earned most of his $977,736 bankroll this year with a victory in the Art Rooney and top three finishes in the Meadowlands Pace, Confederation Cup, Battle of the Brandywine, Cane Pace, Bluegrass Series, and Messenger Stakes across tracks of varying sizes.
"He gets around a half just as good as he does the big track," added McNair. "He's a great half-miler."
McNair earned his second Windy City Pace title in the last three years. He also won the 2010 edition with Aracache Hanover for his father, trainer Gregg McNair.
"I love this track," commented McNair, who recently picked up the drive on Pet Rock. "I've had great horses to drive here so it's worked out. I'd like to thank Frank and Joe Bellino for letting me drive this horse, and Virgil, he's done a great job with him."
Earlier on the card, Market Share surpassed the $2 million career earnings mark with a stakes and track record performance in the $108,000 Galt Stake for three-year-old trotting colts.
With Tim Tetrick in the sulky, last week's American National champion Market Share settled away fourth from post five while Prayer Session (Dave Magee) crossed over to command from the outside post position and carved out early fractions of :28 and :56.4.
Tetrick sent the heavy 1-9 favourite first over near the half and cleared to command past the 1:25.3 third quarter station. Market Share then opened up three and three quarter lengths on his foes into the stretch en route to victory in 1:54.4, the fastest trotting mile in Maywood Park history. Lindys Jersey Boy (Dan Dube) and Appomattox (David Miller) rounded out the top three finishers.
"I knew there would be some speed and Dave's horse is a real strong leaver and he had the angle from the outside," said Tetrick after the race. "My horse is better following and I know he has a lot of guts. He wore him down first over and just got the job done."
Linda Toscano trains the Revenue S-Classical Flirt colt for owners Richard Gutnick of Blue Bell, Pennsylvania, the T L P Stable of Kearny, New Jersey and William Augustine of Hammonton, New Jersey.
Market Share pushed his career bankroll to $2,022,202 -- most of which was earned this year thanks in part to victories in half of his 20 seasonal starts, including the $1.5 million Hambletonian and $1 million Canadian Trotting Classic.
With the lion's share of the purse, Market Share became just the fourth trotter in harness racing history to bank $2 million in U.S. earnings in a single season, joining such greats as Muscle Hill ($2.45 million in 2009), Donato Hanover ($2.33 million, 2007) and Deweycheatumnhowe ($2.21 million, 2008).
"It's surreal," said Toscano in the winner's circle. "It's one of those things you work a lifetime and you hope to be able to be around a horse like that and have it all come together and be as good for as long as he has been."
Another stakes record was set by the Ontario-owned Big McDeal and driver Jody Jamieson in the $83,000 Cinderella Stake for three-year-old pacing fillies.
Jamieson fired the popular Ben Wallace trainee to the lead from post six in the full field of 10 and carved out fractions of :27.3, :55.4 and 1:23.3 before holding off the pocket-pulling Eighthunrdolarbill (David Miller) and Blackjack Princess (Dan Dube) in a photo finish. The winning time was 1:51.4.
"When you're on the gate in a 10-horse field on a half-mile track you're doing better than you are from the [trailing] nine or 10 spot," noted Jamieson following the victory. "I knew where I was going to go early. We got to the lead and she did the rest. She stuck her nose out [at the wire]. I have to give her credit; it's been a long year of travelling around and she's been getting chunks and I'm just happy to finish out the year right here in Chicago."
The McArdle-Ideal Gal filly notched her fifth win of the season in 19 starts for owner Bradley Grant of Milton, Ont. She has banked $425,816 of her $731,047 bankroll this year while hitting the board in the Fan Hanover Stakes, Pennsylvania Sires Stakes Championship and Breeders Crown.
Our Dragon King and driver Brian Carpenter got up in deep stretch to win the $110,000 Abe Lincoln Stake for two-year-old pacing colts, giving him a Chicago stakes double.
With the inside post advantage, Blatantly Best (Marcus Miller) won an early three-horse battle for the lead with Big Brad (Robert Smolin) settling into the pocket and last week's American National champion Our Dragon King taking back to third during the :27.1 opening panel.
Blatantly Best led the field past middle splits of :56.1 and 1:25 with Lbs Alamericanjoy (Tim Tetrick) advancing first over from fifth and Our Dragon King rallying three-wide.
Our Dragon King confronted the leading Blantantly Best around the final turn and pushed ahead with the wire approaching for the 1:54.2 triumph. Blantantly Best settled for second half a length behind with Big Brad following in third.
"I was surprised Bobby left. I knew he could, but I was surprised he did. And I just ducked off third," explained Carpenter in the winner's circle. "It was a short field [of six]. If it was a full field I would have been out and rolling.
"I wasn't going to pull first over," he continued. "I was just going to let them go on. Luckily for me, Mike's horse [Mike Oosting and Greg And Flex] couldn't keep up and I was able to squeeze out. I was three-deep up the backside and had cleared by the turn and I knew I had him them. About halfway through the last turn I was pretty confident I had him."
Dirk Simpson trains Dragon Again-Fox Valley Monika gelding, who has won seven of his 15 races this year while banking $279,148, for Illinois owners Desyllas Racing Llc of Alexander, William Beck of Edinburg, and Ashland's Carol Rieken.
Illinois' 2011 Horse of the Year Well To Do Guru completed a sweep of the Maywood Park Illinois Bred Championship Series for the second year in a row with a victory in the $30,000 Leester McKeever Stake for state-bred pacers three years old and up.
Leaving from post two, driver Casey Leonard rated the eight-year-old Richess Hanover-Gurus Girl gelding through fractions of :27.3, :57.1 and 1:26.2 en route to the 1:54.4 two and a half length score. Njs Big Deal (Sam Widger) and Forte Silky (Todd Warren) finished second and third, respectively.
Well To Do Guru, the three-time defending McKeever Stakes champion, earned his ninth win of the season in 24 starts. The 41-time career winner now boasts a bankroll totalling $666,498 plus a $20,000 bonus for the stakes sweep for trainer Terry Leonard and owner James Gorman of Schaumburg, Illinois.