Published:
November 16, 2011 01:44 pm EST
National Football League Hall of Famer Franco Harris has reportedly been let go from his position as a spokesman for The Meadows Raceway after some controversial remarks regarding the recent scandal at Penn State University.
.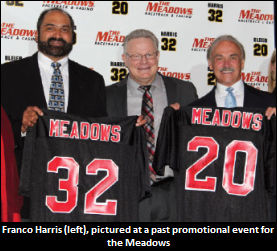 According to a report by the Pittsburgh Tribune-Review, Harris was quoted as supporting legendary former Penn State Football Head Coach Joe Paterno, who was let go from position amid a shocking sex abuse scandal involving former Penn State defensive coordinator Jerry Sandusky.
"I feel that the board made a bad decision in letting Joe Paterno go," Harris was quoted as saying. "I'm very disappointed in their decision. I thought they showed no courage, not to back someone who really needed it at the time. They were saying the football program under Joe was at fault."
In turn, the Meadows issued a press release on Tuesday, November 15 stating, "In light of the recent developments with Franco Harris regarding Joe Paterno's dismissal, Franco and The Meadows have mutually decided to put their business relationship on hold at this time, while these matters are looked into further."
Steelers legends Harris and Rocky Bleier were announced as representatives of The Meadows Racetrack & Casino in early October to "assist the entertainment facility with various outreach activities, charitable events and public appearances."
(With files from Pittsburgh Tribune-Review)