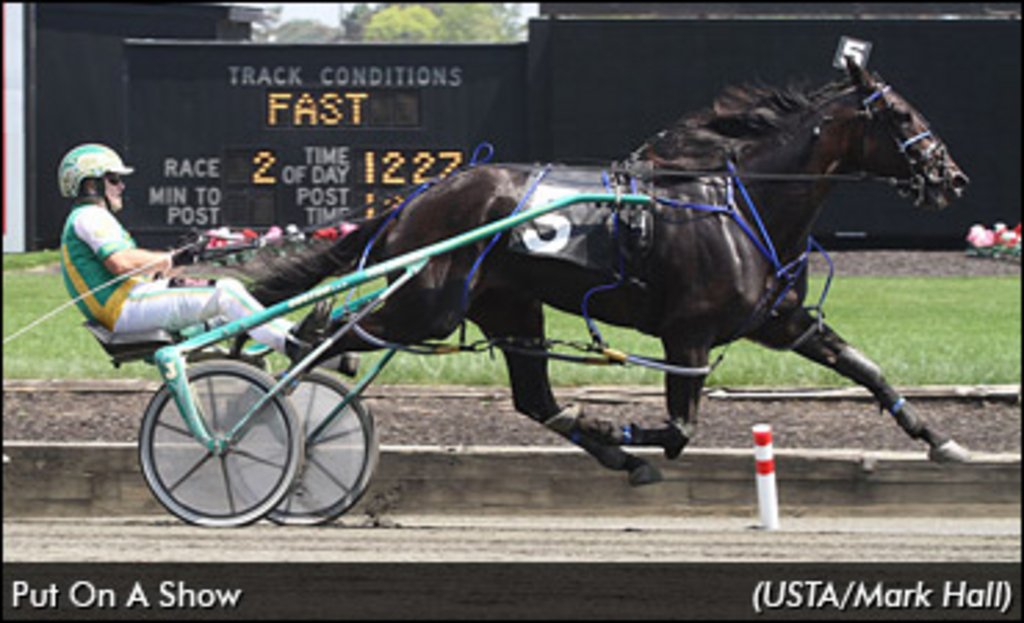 Published:
November 13, 2012 12:46 pm EST

The fastest pacing mare on the planet will soon take her curtain call. Trot Insider has learned that Put On A Show will be bred in 2013, but she might head to broodmare duty after another tussle with the boys.
Four weeks ago, the news broke that Put On A Show would race in the 2012 Breeders Crown Open Pace against the boys and not race against the girls. The gamble didn't pay off as Put On A Show finished a lacklustre tenth, timed in 1:51.2. A similar performance against the mares wouldn't have garnered a cheque that night either. Known as a strong closer, Put On A Show's last quarter was timed in :27.2, one of her slowest of the year.
"According to the groom, she may have tied up even before the race. We knew something was wrong the minute the wings of the gate folded," co-owner Richard Young told Trot Insider. "It was an absolute shame that it happened when it did, but it wasn't the first time it had happened either. You can tell those races when it happened before."
Young notes that when he campaigned Put On A Show's sister Dolphins Can Talk, that mare also had issues with tying up. So much so, that she became impossible to race and had to be retired.
"It just adds to the other issues [Show] has had along the way," continued Young. "It's a tough one for me, I'll hate it when she stops. I want to see her race but on the other hand I want to see her babies on the ground."
A five-year-old daughter of Rocknroll Hanover - Stienams Place, Put On A Show has won 30 of her 47 races while banking over $2.41 million for trainer Chris Ryder and owners Craig Henderson and Richard and Joanne Young. Her 1:47.3 race record makes her the fastest aged female pacer of all time and her $1.94 million combined purses for her two- and three-year-old campaigns set the record for a filly pacer. It was near the end of her three-year-old season that Young recounts his favourite Put On A Show moment.
"To go into the 2010 Breeders Crown with such pressure and to win the way she did, was incredible," Young noted. "From a race standpoint, most will remember the 2012 Lady Liberty. But the Breeders Crown was the culmination of what she did all year, that was the win that really stamped her."
With the mare still strong and sound, Young will continue to campaign his pacing powerhouse. On Friday, she'll make her Yonkers debut against some of New York's best older pacing mares in a $35,000 Fillies & Mares Open Handicap. Given the issues with her knee that kept her out of racing for the 2011 campaign, Young notes that this race will serve as a barometer of her ability to race over a half-mile oval - something that the connections have consciously stayed away from in the past.
With no regrets for racing against the older male pacers in the Breeders Crown, Young didn't discount the idea of possibly racing against the boys one more time.
"If we're still racing in January we might take a shot at racing her against the boys again in the Presidential before breeding her."
If Put On A Show does race through to January, she will get a few months of rest and relaxation before a date in April with a stallion yet to be determined.