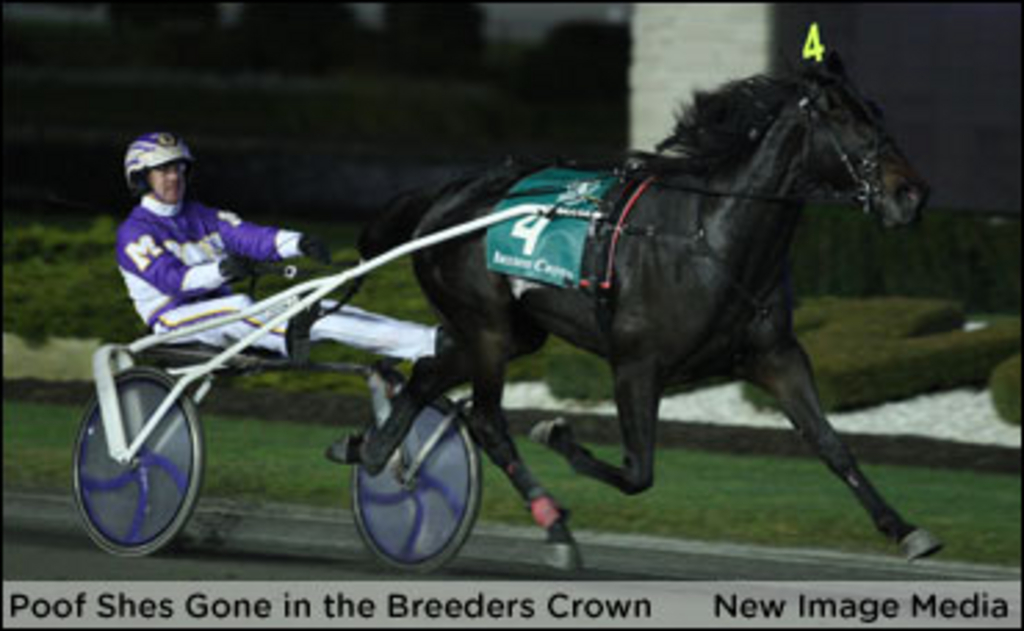 Published:
November 13, 2009 09:23 pm EST
Two weeks ago John Fielding made the long trek from the Woodbine Racetrack grandstand to the winner's circle after two Breeders Crown finals, and the Toronto resident is hoping this Saturday's $2.4 million Super Final event sees him getting just as much exercise over the course of the evening
.
"I will definitely be at Woodbine Saturday, and I'm hoping to have the same kind of night as I had the week before at the Breeders Crown," says Fielding, who owns shares in four Super Final starters. "Poof Shes Gone should be very good, Keystone Raptor is going to be tough, and Code Word, as an outsider, has got a legitimate chance."
Two-year-old trotting filly Poof Shes Gone is the superstar of Fielding's contingent, heading into Saturday's fourth race with a record of nine wins, one second and one third in 11 starts. The gifted daughter of Kadabra and Travelin Superlite was scratched from a Gold elimination at Western Fair Raceway on October 31 due to sickness, but Fielding says trainer Richard "Nifty" Norman is reporting that all systems are go for Saturday's $300,000 outing.
"Nifty took her back to New Jersey when she got sick, but she's back now," says the longtime owner. "If she does what she's supposed to do and behaves herself, she should give a good account."
Regular reinsman David Miller will steer the winner of $926,326 from Post 9 in Saturday's Super Final, but Fielding is not concerned about the outside post.
"She got beat by my other filly, Costa Rica, in the final of the Peaceful Way, and in her first start she was way back and came flying home, but other than that she's been flawless," he explains. "She's a very exciting filly."
Fielding shares ownership on Poof Shes Gone with Melvin Hartman of Ottawa, Herb Liverman of Miami Beach, Florida and David McDuffee of Nashua, New Hampshire. The partners offered up $170,000 for the regally bred youngster at last fall's Harrisburg Yearling Sale and have been well rewarded for their judgment, hoisting trophies after the Merrie Annabelle final, a Gold Series elimination and final, divisions of the Champlain and International Stallion Stakes, a Peaceful Way elimination, and the elimination and final of the Breeders Crown.
While Poof Shes Gone will occupy most of Fielding's attention in the freshman trotting filly event, he will also be keeping an eye on Warrawee Lassie, who will start from Post 8 with Oakville resident Rick Zeron in the race bike. Early in the season Warrawee Lassie recorded three straight victories — two in the In Free Trotting Series and one in Gold elimination action — but she has been absent from the winner's circle since August 3.
"She started off like a house on fire, but she's slowly moved to the back of the class," says Fielding, who shares ownership on the Kadabra daughter with breeder Dr. Michael Wilson of Rockwood, trainer Frank O'Reilly of Orton, and his brother Jim Fielding of Toronto. "She didn't draw a very good post in that group."
Of Fielding's four starters, two-year-old pacing colt Keystone Raptor landed the most advantageous post, getting the six-hole in the sixth race, and the owner expects a strong performance from the Astreos son, who captured the November 7 Gold final at Western Fair Raceway.
"John Kopas asked my friend Clay Horner if we would each take a share of Keystone Raptor, and without looking at a pedigree page I said sure, and Clay said sure," recalls Fielding. "And what a nice little ending to that story — that's a good colt."
Fielding, fellow Torontonian Horner, Milton resident Kopas and High Stakes Inc. of Moffat share ownership on Keystone Raptor, who will have regular reinsman Jack Moiseyev in the race bike for his Super Final test.
Along with Keystone Raptor, Fielding also owns a share of freshman pacing colt Code Word, who will start from Post 7. Tony O'Sullivan trains the son of Western Terror and Numberone Treasure, who was a $110,000 yearling at the 2008 Forest City Sale, and Rick Zeron will steer the colt for Fielding and partner John Carver of Moline, Illinois.
"That colt, training down and going through the early part of the season, back in July, I thought he was as good as any pacing colt I had," recalls Fielding, whose other Breeders Crown victory came with freshman pacing colt Allspeed Hanover. "He just hasn't taken it to the next level."
Unlike Code Word, sophomore trotting filly Elusive Desire has competed at maximum intensity from her earliest starts. Trainer Mike Keeling says the winner of $1,136,348 takes her work so seriously that she can be a little tough to deal with after a loss like the one she suffered in the October 24 Breeders Crown final.
"She's always a little grumpy the day or two after she didn't win," says the Cambridge resident. "She knows the difference; she stomps around the farm for a day or two."
First up into the fierce wind whistling around Woodbine on October 24, Elusive Desire was caught at the wire by arch-rival Broadway Schooner in the Breeders Crown final and had to settle for the runner-up's share of the $617,880 purse. The rivals delivered a similar result in the Hambletonian Oaks in August, with Broadway Schooner getting a head in front of Raising Rachel and Elusive Desire.
Regular reinsman Paul MacDonell of Guelph will steer Elusive Desire from Post 6 in Saturday's last Super Final event, and Keeling says that, in spite of the date, the daughter of Angus Hall and Valley Amber may be the best she has been all season.
"She's uber-sharp right now," says the horseman, who conditions Elusive Desire for P C Wellwood Enterprises Inc. of Cambridge, Charles Armstrong of Brampton and Robert Fasken of Oakville. "She's as good as she's been all year I think, in terms of her health and whole attitude. Usually, at this time, horses are tired, but she's been raring to go."
Preferring to save her best efforts for race night, Elusive Desire has never been an enthusiastic trainer, so Keeling and MacDonell shipped into Mohawk Racetrack last Friday and put the filly's nose on the gate in a schooler.
"We did take her to Mohawk and school her a week ago today [Friday], just because she doesn't like to train," explains Keeling. "She schooled very well. Paul was very pleased when he got off the bike, and it's always a good sign when your driver is pleased."
Elusive Desire and her three-year-old trotting filly peers will wrap up the rich Super Final card in Race 10. Woodbine Racetrack sends its first race in behind the starting gate at 7:30 p.m. on Saturday night, and the stars of the Ontario Sires Stakes program will strut their stuff in Races 3 through 10.
To view Saturday's harness racing entries, click here.
(OSS)