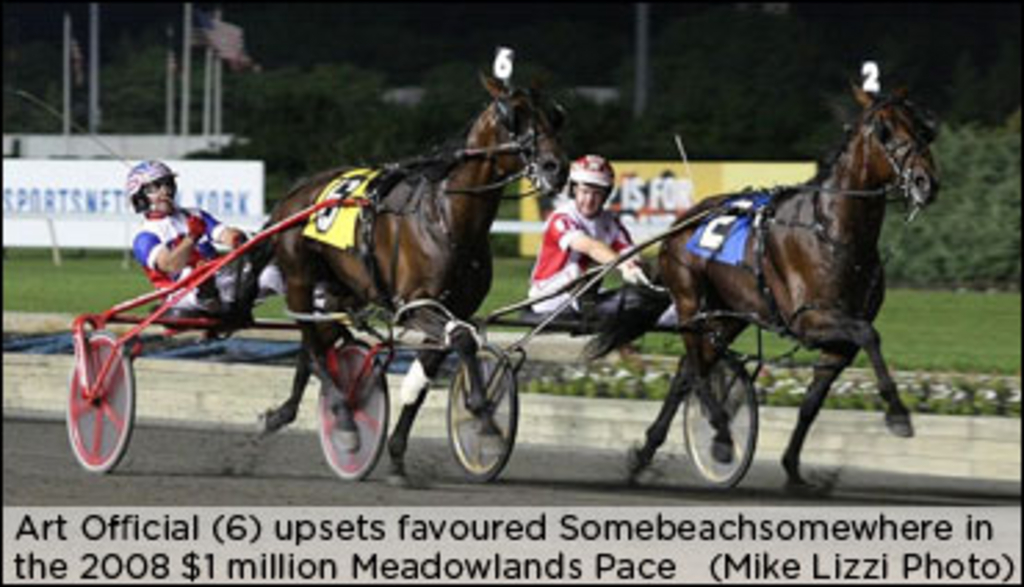 Published:
November 13, 2009 10:58 am EST

Rumours have been swirling all week regarding the sale of Art Official. It came as no surprise Friday morning when owner Jim Jesk confirmed with Trot Insider that there is a deal in place to see the four-year-old son of Art Major switch hands
. In addition to some of the details of the deal, Jesk commented on the horse's comparison to the great Somebeachsomewhere.
"Art Official will next race in the American National on Saturday," Jesk told Trot Insider. "After that, his fertility will be tested. If everything is in good order in terms of his fertility, he will change hands."
Earlier this week, Jesk told Trot Insider that the deal, worth $2.75 million, is with Joseph Muscara. Details on breeding arrangements are not available at this time.
From 53 career starts, Art Official sports a record of 18-11-11 with a mark of 1:47 (taken in the 2008 Meadowlands Pace) and career purse earnings of $2,041,185.
To this day in some harness racing circles there is still much debate as to which was the better three-year-old pacing colt in 2008, Art Official or Somebeachsomewhere. Jesk spoke with Trot Insider about the comparison.
Art Official & 'SBSW' in the 2008 Meadowlands Pace
"You can't deny that Somebeachsomewhere was a great horse," Jesk told Trot Insider. "I think that the connections of Somebeachsomewhere would have liked it if they beat Art Official in the Meadowlands Pace, but I think that race and many others really showed the world what kind of horse Art Official is.
"One thing that cannot be denied is that both Somebeachsomewhere and Art Official left a long standing impact on their connections. It's a complete understatement, but Art Official has just been an unbelievable horse for us."