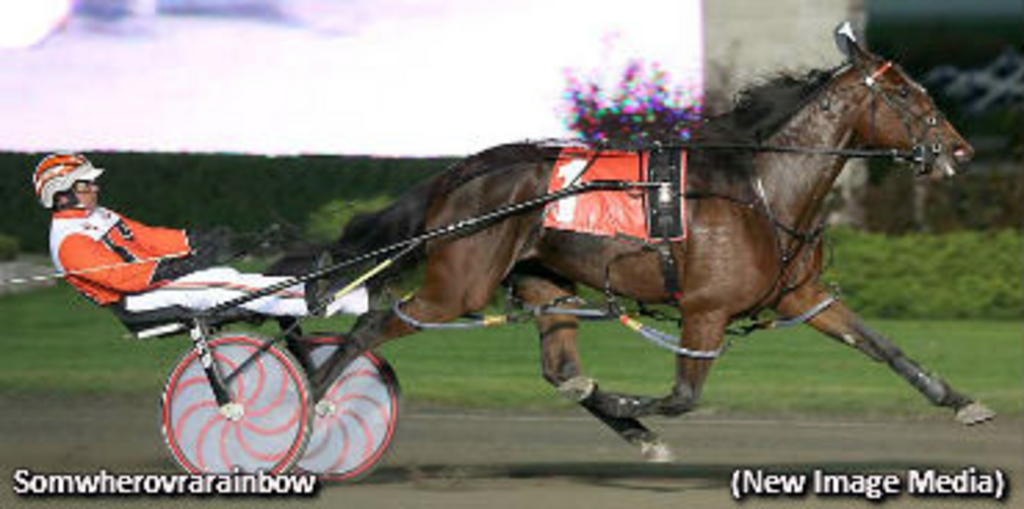 Published:
November 12, 2012 08:41 pm EST
When George Teague Jr. first began training Somwherovrarainbow, he thought she resembled her dam, Hall of Fame pacer Rainbow Blue. With each passing win, the similarities appear clearer.
Somwherovrarainbow has won five consecutive races entering Sunday's (Nov. 18) $160,650 Matron Stakes for two-year-old filly pacers at Dover Downs. Among those victories were the Matron preview on Nov. 11 at Dover, with Montrell Teague handling the driving, and the $600,000 Breeders Crown for two-year-old filly pacers on Oct. 27 at Woodbine Racetrack, with Andy Miller at the controls.
"The more she's raced and the more she's trained, she looks more like her mom," Teague said. "She's got the competitive side like her mom; her mom was really, really competitive. She has that same characteristic. Her gait is very similar, her appearance is very similar.
"Now she's kind of developed a little bit of a feisty attitude like her mom. The more she matures, the more I see her mom in her. I always saw a resemblance, but now that she's racing I can see her style to be the same."
For the year, Somwherovrarainbow has won six of 10 starts and earned $442,112. She is owned by George Teague Jr. Inc., K & R Racing and Ted Gewertz. She was bred by Teague and brothers Kevin and Ron Fry, which is the same group that owned Rainbow Blue during her racing career.
Rainbow Blue was the 2004 Horse of the Year and won 30 of 32 lifetime races, earning $1.4 million. Somwherovrarainbow's sire, Somebeachsomewhere, was the 2008 Horse of the Year.
"You always hope a mare like (Rainbow Blue) throws that kind of foal (like Somwherovrarainbow) and we're lucky that it happened," Teague said. "Statistically, it doesn't always happen in our favour."
Somwherovrarainbow will start Sunday's Matron from Post 2 with Montrell Teague, Teague's son, handling the driving. Montrell Teague has three wins and two second-place finishes with Somwherovrarainbow.
"Andy did a wonderful job," Teague said, referring to Miller's efforts in the Breeders Crown. "It wasn't the easiest decision because he really clicked with her and did a great job. I'd promised Montrell the drive before. He does a good job. I have a lot of confidence in him. He doesn't have the experience of Andy Miller of any of the other guys, but he does, in my opinion, have the talent. I believe in him and I think he'll do a good job, and he did."
Somwherovrarainbow won her debut in a conditioned race at Harrah's Philadelphia before twice finishing second in divisions of the Pennsylvania Sire Stakes. She was third in a division of the Eternal Camnation at Mohawk Racetrack, where she raced on the outside and made up more than five lengths in the stretch with a :26.2 final quarter-mile. She then was sixth in her elimination for the Shes A Great Lady Stakes at Mohawk, barely missing the final despite racing three wide.
Following the elim, she began her current win streak.
"It's been a real credit to her," Teague said. "She got bad trips in Canada her first two times up there and never got into the races. I think if she would have gotten into them, she would have looked as good as she has for the last five starts. She just never had a shot. But she's a real nice filly."
So nice that when Teague first started training Somwherovrarainbow he thought she was faster than Rainbow Blue at that stage of her career.
"She was training down and she kind of blew my mind with her ability to pace fast," Teague said. "But it takes more than that to be a great horse. Speed is only one factor, then they've really got to want to be good."
As a two-year-old, Rainbow Blue won six of seven races and $102,674, so Somwherovrarainbow has exceeded mom's money-winning ability through the first stage of her career.
"One thing I can say is that she's outdone her mom on her two-year-old year," Teague said. "That's definitely a bonus."
---
This story courtesy of Harness Racing Communications, a division of the U.S. Trotting Association. For more information, visit www.ustrotting.com.