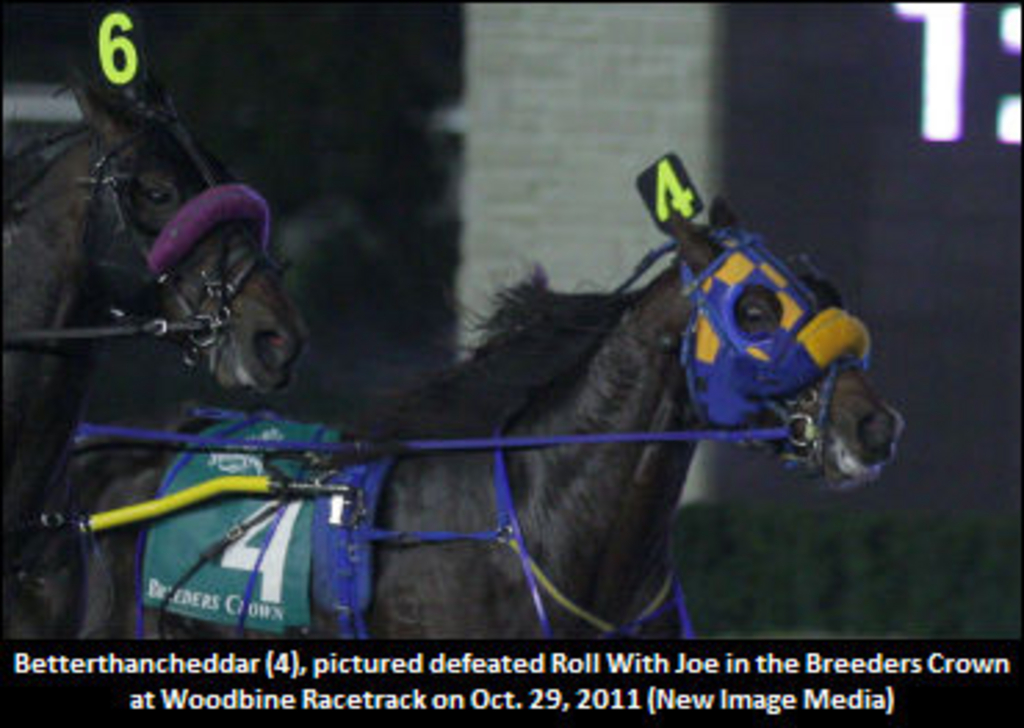 Published:
November 10, 2011 04:15 pm EST
Sporting victories in four of his last six starts, Steve Calhoun and West Wins Stables' Betterthancheddar, this season's three-year-old Breeders Crown champion, will be looking to parlay a big late season rush
into divisional honours when he takes on nine other sophomore pacers in Saturday's $225,000 American National Three-Year-Old Colt Pace.
Coming off a thrilling triumph in which he snatched victory from the jaws of defeat in the Breeders Crown, the Casie Coleman-trained son of Bettors Delight has been accorded the 3-1 morning line favouritism after drawing the advantageous inside starting spot.
In the Breeders Crown, Betterthancheddar appeared to be hopelessly locked in at the pylons after being up close throughout the early action. With nowhere to go, driver Mark MacDonald had very few options other than to sit on the pylons and hope for something to happen. After making a breathtaking move outside and then darting back inside, MacDonald managed to kick out the earplugs with about 100 yards left in the mile. That proved to be the winning maneuver, as the colt seemed to find another gear and went on to nail Roll With Joe in the final stride. The final time was 1:49.2.
Betterthancheddar also boasts a victory in the first leg of the pacing Triple Crown, as he captured the Cane Pace at Pocono by a neck in 1:49.2. That win really helped draw attention to the colt who was unraced as a two-year-old.
"I've been really high on this horse from Day 1," said Coleman, who is a four-time winner of Canada's trainer of the year award. "I know some people were skeptical and he hasn't proven it to everybody yet, but it really feels like he's starting to get that recognition right now. He's definitely peaking at the right time."
Boasting a record of 8-2-2 from 16 starts with earnings of $586,283, the colt will be handled by George Brennan, who guided him to victory in a career best of 1:49.1 in his Breeders Crown elimination.
In order to keep his winning streak alive, Betterthancheddar will once again need to knock off Little Brown winner Big Bad John, who wound up tiring badly after a very tough trip in the Breeders Crown.
The pride of trainer Ron Potter and owner Winchester Baye Acres Inc. thrilled the hometown crowd in Delaware, Ohio by taking the second leg of the pacing Triple Crown in straight heats with Columbus, Ohio native David Miller at the controls.
A winner in 17 of his 24 career starts with earnings of $979,559, the bay son of Western Hanover has impressed both his conditioner and owner with his winning attitude.
"He wants to win so bad every time he goes out there that it's just amazing," said Potter. "He's got the biggest heart in the world and he doesn't need a lot of work and likes to be fresh so we are just going to stay with what we've been doing with him."
"He's got more energy than any other horse I've ever had or been around," said Ed Telle. "When you take him to the paddock there is no doubt about it, you are going because he's ready to get there. You are not going to lead him. He is going to take you to the paddock."
Carter Trained Duo Ready For Showdown In 2yo Colt Pace
Trainer Steve Carter has a right to be optimistic when it comes to Saturday's $121,100 American National Stakes for two-year-old pacing colts, as he will send out last week's elimination winner, Star Recruit, and the runner-up in that event, Caviart Key.
The two finished just a neck apart in last week's preliminary action after having engaged in a stirring stretch drive. When the smoke cleared from the battle, it was the late-rushing Star Recruit that managed to stick a nose in front of the pacesetting Caviart Key in the final strides. Although they were coupled in the wagering last week, they will perform as separate betting interests in Saturday's battle.
The win was the second straight for Star Recruit, who stopped the clock in 1:53.2 in his elim. Prior to his elimination score, the gelded son of Dragon Again--Remarkable Star captured a division of the Circle City Stakes at Indiana Downs in similar stretch-rushing style.
Starting his career on the Pennsylvania sire circuit under the tutelage of veteran conditioner Bruce Riegle, the nineteen-thousand-dollar 2010 Lexington Select purchase showed immediate talent when he captured a division of the Albatross in 1:53.1 at the Meadows on July 2, which at the time was the fastest mile of the year by a two-year-old gelding on a five-eighths mile track. The striking brown gelding who is owned by the partnership of Steve and Peggy Carter, Robert Reid and Chuck Grubbs would wind up right back in the charmed circle just 10 days later, as he snared a division of the Reynolds Stakes at the Meadows in 1:53.3.
"He was a big horse when he came to me," said Riegle. "He really continued to mature very quickly. A couple of changes were made on his bridle and a few other things and that really seemed to make him much more aggressive about passing horses which is why I think he's done such a good job of racing from off the pace."
A model of consistency throughout his first season, Star Recruit comes into the American National sporting a record of six wins, three seconds and three thirds in 13 starts with earnings of $195,667.
Although he played second fiddle to his stablemate last week, Caviart Key is more than capable of turning the tables in this event.
The son of Ponder--Dees Shark, who sold for just $12,000 at the 2010 Lexington Select sale, is no stranger to the winner's circle at Balmoral, as he captured a division of the Hanover Stakes in a career best of 1:53.1 on July 16. He also proved victorious in Springfield, as he won a division of the Review Stakes for North America's leading dash winning driver, Dan Noble, who will also be in the bike for Saturday's American National. A five-time winner in 14 career starts, Caviart Key boasts career earnings of $145,802.
In order to get back to the charmed circle, the Carter-owned and trained duo will need to knock off the Roger Welch-trained Indiana-bred champion Fridaynightflight, who leads the field in earnings with a bankroll of over $320,000 while posting a record of 6-5-2 from 13 starts with a mark of 1:52.2.
(Balmoral)