Published:
November 1, 2017 01:30 pm EDT
The FSBOA sponsored Sunshine State Stakes finals were contested at Pompano Park on Tuesday (October 31), as four classes of three-year-olds were seeking a share of $48,000 in total purses.
When all was said and done, Atlantic Crest, Azzaro, Gold Star Aurora and Prairie Panther all claimed the top awards in their respective $12,000 events.
Atlantic Crest kicked the festivities off with yet another gate-to-wire win – her fourth straight – for owner-driver-trainer Sergio Corona in the sophomore filly trot. The daughter of Crest wired together early fractions of :30 and :59.4 before picking up the pace on the backside (1:28.2) and strolling home in :29.2 to hit the wire in 1:57.4. Her margin of victory was one and a half lengths over a gallant Famous C (driven by Wally Hennessey) with Prairie Pixie (Jim Meittinis) just another neck back in third. Sparkling Comet and Bonnie Blue Banker completed the order of finish.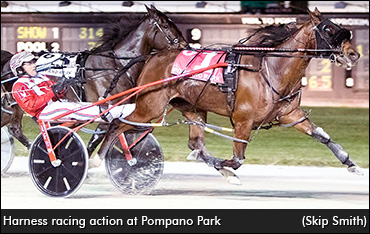 Atlantic Crest, last year's champion in her juvenile division, now has 14 wins from 31 career starts with earnings of $89,074 to go along with a 1:55.2 mark at Plainridge Racecourse.
Next, the '15th Round' of the rivalry between Azzaro and Im Done was contested, and, after they slugged it out in the lane, Azzaro emerged victorious in yet another decision that was determined by the photo finish camera in the sophomore trot for the colts and geldings. The gelded son of Proud Bushy, trained by Kim Sears, who co-owns with Jay Sears, was driven by Wally Hennessey. A neck separated the pair of horses at the wire in 2:01. The two had traded light jabs through panels of :31.1 and 1:02.4 before the slugfest began five-sixteenths from home. After reaching the third station in 1:32.3, both were on their way home with a :28.2 finale. The duo traded punches right to the wire. Im Done was driven by John MacDonald.
"It was quite something," Hennessey said after the race. "It's become quite a tussle between these two and it looks like it's going down to the wire this year, too."
Azzaro now has the eight-to-seven edge in wins over Im Done in their 15 rounds. Azzaro has now banked $60,724 in career purses. Im Done, last year's champion by virtue of his Super Night win, has the edge in career earnings with $79,746.
The three-year-old filly pace was won by Gold Star Aurora, who was handled by Walter Ross Jr. for trainer Maggie Audley and owner Marianne Audley. The Rock On lass won the early tussle with Prairie Cowgirl (driven by Jim Meittinis) and was well rated through panels of :28.2, :57.4 and 1:27.2 before a :27.4 sprint home sealed the deal by six and a half lengths in 1:55.1, a new lifetime mark.
"She went a very nice mile, so let's give all the credit to her!" said Gold Star Aurora's soft-spoken driver, Walter Ross Jr.
Gold Star Aurora is now four-for-five this year and is 11-for-13 lifetime with career bounty of $72,354.
While those first three events were non-wagering contests, the Sunshine State Stakes for the three-year-old colts and geldings was held on the pari-mutuel card, and Prairie Panther, driven by Jim Meittinis, was home free in 1:55.3.
Trained by Mike Deters, who co-owns with Laurie Poulin, the gelded son of Royel Millennium made a sharp quarter move to the front after the opener in :27.4 and then went on to slice through subsequent fractions of :57.4 and 1:26.2 before putting away a serious challenge on the backside through the final turn to score by a handy two and three-quarter lengths over Maybe Ned (Bryce Fenn) with Gold Star Spider (Walter Ross Jr.) third. Gold Star Bugsy and Fifth Son picked up the minor awards in the field of nine.
After the event, Meittinis said, "Wally's (Hennessey) horse (Fabiano) made a big move on the backstretch and he may have put a nose in front of us along the way, but (Prairie) Panther is a fighter and doesn't like it when another horse gets alongside of him. He fights back!"
Prairie Panther swept through his four Sunshine State Stake legs before sweeping to victory in Tuesday's final, which sent his 2017 scorecard to 5-1-0 from nine starts. Lifetime, he's 12 for 17, with earnings of $76,170. Off at 1-5 on the toteboard, Prairie Panther paid $2.60 to his many faithful.
The $11,000 Open Handicap Trot went to Born To Thrive, driven by trainer Rick Plano in 1:56.1.
Racing will continue on Sunday night. First post is scheduled for 7:20 p.m.
(With files from Pompano Park)