Published:
November 1, 2016 09:48 am EDT

Hannah Beckett of Lynden, Ontario, is the photographer of this stunning shot of Yankee Bounty at Stephenson's Training Centre in Flamborough, Ont.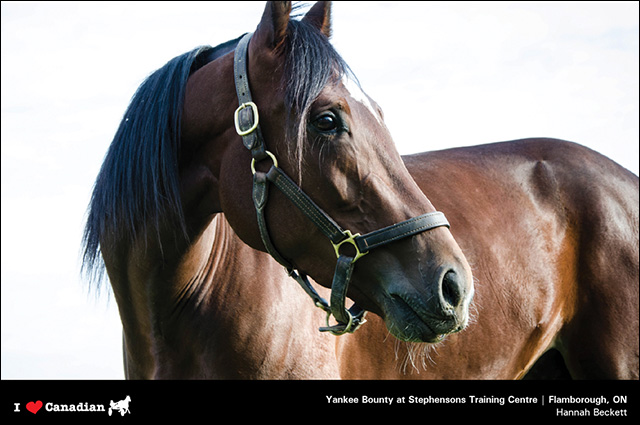 The photo was taken in advance of the North America Cup in 2015. "Mickey Burke arranged a morning for me to come by and he was turned out in one of the paddocks behind the barn, "she explained. "After we overcame the distraction of Sassa Hanover and her love for a very large mud puddle, my camera was on Yankee Bounty. He was much more interested in trying to scrounge for a few blades of grass in the relatively bare paddock. Because he refused to keep his head up, I had to get down low to the ground to try and get a more flattering angle."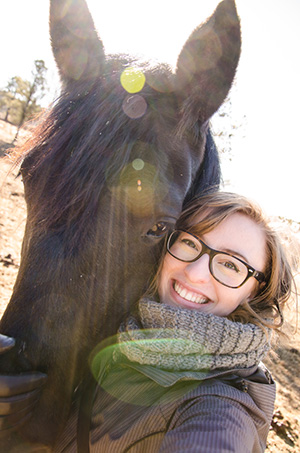 Beckett, 22, has been involved in the industry her entire life -- first as a spectator on the rail at Flamboro Downs, then as a groom and now as a trainer. "My Dad ended up with a horse-crazy little girl and taught me the ropes of harness racing. I learned how to ride at a young age and I ended up with an off-track Thoroughbred who solidified my interest in racing in general. Since then, I've had the chance to see the industry from all sides. I have worked for Standardbred Canada and WEG, seeing the inner workings of the industry and getting to work and interview people from all facets of it. I got my trainer's license when I was seventeen and my Dad and I have raised and raced a few homebreds since."
When he's not working with the horses, Hannah's Dad, Peter (Beckett) can be found in the winner's circle at Flamboro Downs and Georgian Downs where he works as track photographer, and he also managed to pass along his passion for photography to his daughter. "My Dad is an incredibly talented photographer and I have been fortunate to have him there to teach me. He put a DSLR in my hands when I was in the sixth grade and I've been working on my skills ever since. He has always emphasized the importance of producing high quality, professional images every time the shutter clicks because in racing, you often only have one chance to get it right."
Photography is part of Hannah's personal, professional and academic life. "Seeing one of my photos published is always a special feeling. Whether it was this photo of Yankee Bounty, or seeing my photo on the cover of the O'Brien Awards program this past year, it's always very cool. I've always preferred being behind the camera and it's always an interesting way to see the world around me."
Hannah is going into her fourth year at the University of Waterloo. She is in the Bachelor of Arts program, studying Political Science and Digital Arts Communications, and is currently on a four-month internship while living in Los Angeles, California. Hannah reinforces the fact she'll be "back to school and the barn in the new year," and then she can be reunited with her favourite horse, Costantino, a six-year-old trotter she trains and co-owns with her Dad.