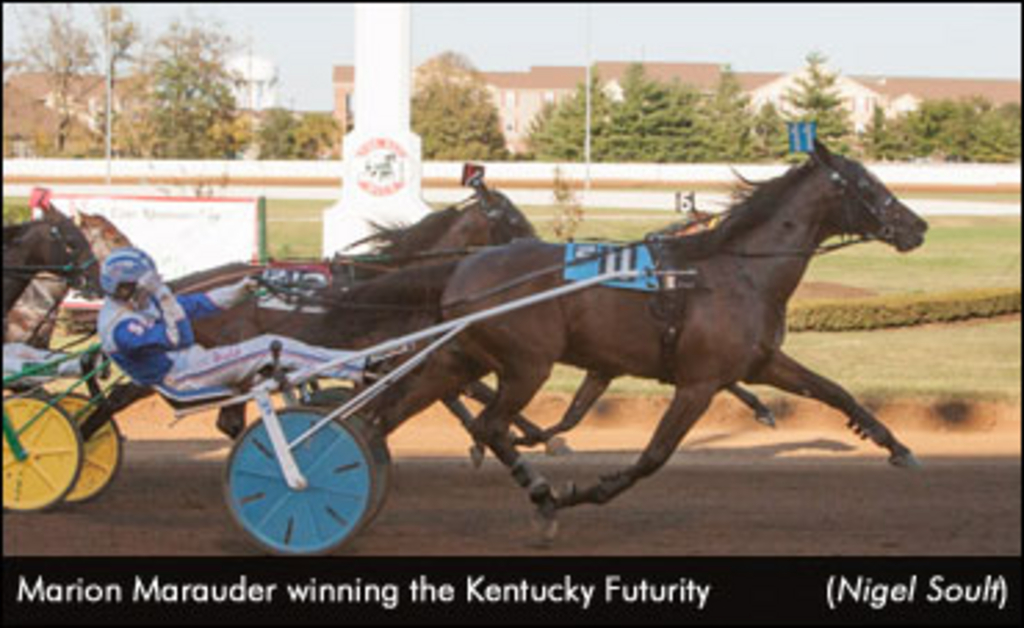 Published:
October 9, 2016 01:57 pm EDT

The Canadian-campaigned Marion Marauder became the ninth horse to win Trotting's Triple Crown as he defeated Southwind Frank in a Kentucky Futurity photo finish during the final history-making day of the Grand Circuit meet at The Red Mile on Sunday, Oct. 9.
In a stretch drive reminiscent of the Hambletonian, Marion Marauder lunged at Southwind Frank towards the center of the track to narrowly win the 124th running of the $431,000 Kentucky Futurity in 1:52.3, becoming the ninth horse to complete the Trotting Triple Crown.
Marion Marauder was wide for the entirety of the mile, managing to get cover from Bar Hopping (Tim Tetrick) while Blenheim (John Campbell) trotted to the lead in :28.1. Love Matters (Brian Sears) was flushed first over heading to the :56.2 half, carrying Southwind Frank (Yannick Gingras) and Bar Hopping on his back.
Love Matters engaged with Blenheim around the far turn. Southwind Frank began to edge three-wide from second over, while Bar Hopping fanned wider of him and Marion Marauder wider of Bar Hopping. Blenheim held a narrow lead as a wall of horses stampeded towards him through a 1:25.1 third quarter.
Southwind Frank swung to the lead in the stretch. Bar Hopping was moving down the center of the track, with Marion Marauder alongside. Marion Marauder accelerated by Bar Hopping and was trying to out-sprint Southwind Frank towards the inside. The two had their noses extended heading to the line, with Marion Marauder inching to victory.
Marion Marauder, by Muscle Hill out of the Donerail mare Spellbound Hanover, earned his 11th win from 26 career starts and boosted his bankroll to $1,897,338 for owners Marion Wellwood of Stratford, Ont. and Devin Keeling of Cambridge, Ont. He is trained by Paula Wellwood and Mike Keeling, and was driven by Scott Zeron, 27, who became the youngest driver to the win a Triple Crown.
"I had to have no game plan going into that race," Zeron said. "I had no clue what was going to happen; earlier there was a 12-horse field and the 11 and 12 got away 11th and 12th. I wasn't too optimistic, but the way it unfolded and Bar Hopping really pushed to get away up close, I just glued my horse to his helmet. We were able to get [Southwind] Frank out and it was a perfect train.
"I just had my eyes on Yannick's and Timmy's horses. I didn't want to make a move too quick because I knew we'd be sprinting really hard down the lane. I was confident down the lane when I moved him over; probably watching the race, you might not have been as confident, but he dropped his head about two feet and just dug right through the wire. I was very confident he got up, but nobody else was, so thank God he got up. He was amazing."
"All I can say is that I wish my grandma was with me, the co-owner," Devin Keeling said. "I'm just thinking about her right now."
Marion Marauder wasn't eligible to race in the Kentucky Futurity. However, after finishing second in the $687,000 Canadian Trotting Classic, his connections supplemented him for $47,261.
"I was a little leery [of supplementing him]," Paula Wellwood said. "But he showed after the Canadian Trotting Classic that he wanted to race, so we brought him."
"It was the only way to go after he showed us how sharp he was with a week off," Mike Keeling, who also trains Marion Marauder, said. "It has just been a tremendous year with a tremendous group of horses. I think we gave the fans a lot of thrills."
Marion Marauder is the first winner of the Trotting Triple Crown since Glidemaster in 2006. He won the Hambletonian by a nose, the Yonkers Trot by a head, and the Kentucky Futurity by a nose.
"They don't write down on the cheque how much you beat them by," Mike Keeling said.
Marion Marauder paid $9.20 to win.
$312,000 Kentucky Filly Futurity
After winning her elimination, Broadway Donna returned to the track hours later to claim victory in the $312,000 Kentucky Filly Futurity.
Earlier on the card, Broadway Donna trotted in 1:51.1 to win the first of two eliminations for the Filly Futurity, paying $7.00 to win.
Sitting fourth through a :27 quarter set by Southwind Hope (Andy Miller), Broadway Donna moved first over from fourth to brush to control before the :55 half-mile mark. She began kicking away from Southwind Hope chasing in second and Spicedbourbongirl (Jeff Gregory) in third to three-quarters in 1:23.1. Broadway Donna remained in front by open lengths through the stretch, coasting home while Earn Your Wings (Scott Zeron) came down the center of the track for second and Flowers N Songs (Doug McNair) for third. Spicedbourbongirl finished fourth and Dream Child (Tim Tetrick) was fifth.
"She wasn't at the top of her game last week," Jim Campbell said. "Part of it was probably my fault; I should've pulled her hind shoes last week, but she warmed up so good that I thought she was okay with them on. Dave [Miller] thought the track kind of stuck to her and wore her out more than anything, so I'll take the blame for last week.
"I was just watching David and he was just letting her trot along. I was just hoping that she would bounce back and be like her old self, and if she was, the fractions wouldn't bother me. David didn't even look like he was asking her; she looked real strong all the way down the lane. I was paying more attention to David than I was the fractions."
Dancing In Thehall, an Ake Svanstedt trainee by Cantab Hall out of the Donerail mare Doin The Town, pulled off a 47-1 upset in the second elimination, winning in 1:53.
Womans Will (Andy Miller) led the field through a :28 first quarter before losing the lead to Side Bet Hanover (Corey Callahan). Celebrity Eventsy (John Campbell) pulled first over from fifth with Wildflower (Svandtedt) on her back at the half, timed in :55.4. Dancing In Thehall was trotting at the rail in sixth around the far turn while Side Bet Hanover progressed to three-quarters in front of Celebrity Eventsy stalled first over in 1:24.4.
Side Bet Hanover drifted off the rail through the stretch, leaving room for Dancing In Thehall and driver Yannick Gingras to sweep up the rail while Wildflower, Gin And Lindy (Tim Tetrick), and Double Exposure (Scott Zeron) tried to advance towards the center of the track. Side Bet Hanover tried to fight off Dancing In Thehall to her inside heading to the line, but Dancing In Thehall edged by. Double Exposure finished third, Gin And Lindy fourth, and Gracie Hanover fifth.
"[We] just tried to stay close to the rail and hope that something opened up," Yannick Gingras said. "She felt really strong around the last turn, so I figured at that point I made the final, but all the way through the stretch she kept picking them off one by one."
Dancing In Thehall paid $96.80 to win. She is owned by Vanersol Inc.
In the second heat, Broadway Donna grabbed command before the half and strolled to a 1:51.2 victory.
Sent off the 3-5 favourite, Broadway Donna edged off the cones passing the quarter in :27.3 to take the top from Spicedbourbongirl (Jeff Gregory). She trotted to the half in :55.3 as Side Bet Hanover (Corey Callahan) initiated a first-over bid into the turn, being tracked by Flowers N Songs (Doug McNair). Side Bet Hanover matched strides with Spicedbourbongirl heading to the 1:23.4 third quarter mark about two lengths off of Broadway Donna. Broadway Donna kicked away in the stretch under wraps while Spicedbourbongirl chased for second and Flowers N Songs kicked off cover for third.
Broadway Donna, by Donato Hanover out of the Broadway Hall mare Broadway Schooner, won her 14th race in 20 starts, pushing her earnings to $933,494 for owner Fashion Farms LLC. Trained by Jim Campbell and driven by David Miller, she returned $3.20 to win.
"It was pretty much an identical trip [to the first heat]," David Miller said. "She was just the same in the second heat as she was in the first."
"[We] couldn't be more proud of her today," Jim Campbell said. "She showed what she can really do, and for her to go two heats like she did today was just impressive. She's an amazing filly.
"She started off on a good note; she was really good in her first start. And then in her second start she was sick. She bled a little bit in the Hambletonian Oaks and we put her on Lasix, but it didn't seem to kick in until today. She went out and did what we were hoping to see today.
"Mr. Segal will make the final decision on [racing her at four]. I'm sure he's leaning towards it, but as long as everything finishes up good this year, I'm sure he'd be in favour of that. They probably have a spot for her all reserved for whenever that time comes, but hopefully it's not for a couple years."
$138,000 Allerage Farms Open Pace
Always B Miki electrified the crowd at The Red Mile with the fastest mile in harness racing history in the $138,000 Allerage Farms Open Pace.
David Miller settled Always B Miki into fourth as Shamballa (Scott Zeron) outsprinted Split The House (Brian Sears) to the front through a :26.1 opening quarter. Miller right-lined the 1-9 shot from third and confidently brushed to the lead in advance of a spicy :52.2 half-mile mark.
Always B Miki showed no signs of relinquishing his lead through a 1:19.4 third panel and opened up in the stretch. With a :26.1 final quarter, Always B Miki tripped the timer in a mind-blowing 1:46. The time of the mile shattered the one-mile race standard of 1:46.4 shared by Somebeachsomewhere, Warrawee Needy and Hes Watching while also shaving one-fifth off the 23-year-old record of Cambest set in a 1993 time trial.
A five-year-old horse by Always A Virgin out of the Artsplace mare Artstopper, Always B Miki won his 27th race in 50 starts, earning nearly $2.4 million for owners Bluewood Stable, Roll The Dice Stable and Christina Takter. He is trained by Jimmy Takter and paid $2.10 to win.
"It's a moment I'm never going to forget," Jimmy Takter said. "You don't get horses like this for long, and it's definitely emotional to be around him. I can't wait to see him as a stallion. His personality and everything about him will be well-received through the sport. He's not the easiest horse because he had a lot of injuries, but what this horse overcame every single day nobody else did.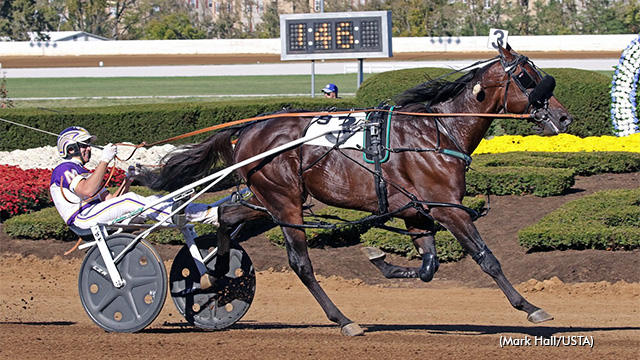 "He has the Breeders Crown and TVG Final; those are the only two races left for him."
"I really thought the three-quarters was maybe a little too slow," David Miller said. "But like I've said: he's an incredible horse and does incredible things. I couldn't be happier with him."
$208,000 Tattersalls Pace - second division
As expected, Racing Hill captured the second elimination of the Tattersalls Pace on Sunday at The Red Mile.
Brett Miller confidently and patiently guided Racing Hill to the front from post seven, allowing second choice Lyons Snyder (Yannick Gingras) to find the front before clearing to the lead just past the :27.1 opening panel. Racing Hill then chopped out fractions of :55 and 1:23.2 before sprinting home in :26.2 to hold off first-over challenger Big Top Hanover (Corey Callahan) by a diminishing length. Lyons Snyder couldn't close ground on the pacesetter and settled for third.
"This is a tremendous colt and to be honest with you, I have to start racing him a different way," said driver Brett Miller after the win. "I've been racing him very aggressive all year and the colt's getting tired of doing all the work. I was planning on not leaving with him today but he kind of [dragged] me out of there. I didn't want to fight him and we ended up on the front. I really wasn't wanting to cut it with him today and I just have to start taking better care of him."
Tom Hill owns and Tony Alagna trains Racing Hill (Roll With Joe - Chasing Ideals), now sporting a 6-5-2 summary from his 13 seasonal starts and nearly $1.4 million in sophomore earnings.
$208,000 Tattersalls Pace - first division
Stolen Glimpse gave driver Brian Sears his second winner of the card as the 19-1 shot stuck his nose in front of a four-across finish in the first Tattersalls Pace division for three-year-old pacing colts.
Western Fame (Mark MacDonald) cleared to the lead after the :26.4 opening quarter and fronted the field through fractions of :54.1 and 1:22.2. Dr J Hanover (Scott Zeron) applied pressure to the pacesetter from the half-mile point heading into the stretch but couldn't get past Western Fame. Lindy Beach (Tim Tetrick) tipped off his second over cover from behind Dr J Hanover, with a third-over Stolen Glimpse fanning four-wide. A cavalry charge stormed down the stretch in a tightly-bunched group but Stolen Glimpse managed to trip the timer in a lifetime best 1:49.2 score over a persistent Western Fame with Dr J Hanover completing the top three.
"We played a little game there and pulled his back shoes and the horse just really seemed to respond to it," said assitant trainer Mickey Burke after the race. "Plus, Brian drove him perfectly."
Trained by Ron Burke, Stolen Glimpse (Art Major - Jted Love) nearly doubled his lifetime bankroll for owners Burke Racing Stable LLC, Stable 45, J And T Silva Stables LLC and Weaver Bruscemi LLC.
$108,000 Tattersalls for three-year-old filly pacers - 2nd division
The trip was sweet, and the end result was even sweeter for Darlinonthebeach who disposed of the seven foes she sparred with in the second division of the Tattersalls.
David Miller scooped up a second-over trip for the Nancy Johansson trainee, and the filly used it to her advantage en route to posting a North American season's record-setting performance of 1:48.1. The performance shaved one-fifth of a second off Pure Country's record-setting mile from earlier in the afternoon.
There was plenty of battling on the lead as Blue Moon Stride and Penpal exchanged punches to the quarter pole in :26.2 before the latter cleared to the top. Blue Moon Stride came right back around Penpal to reclaim the lead, and she zipped across the backstretch and put the field at the half in :54. She came under pressure from Rock Me Baby around the final turn, and the hit the three-quarter pole together in 1:22.1. David Miller launched off cover with Darlinonthebeach as the field stepped into the lane, and the daughter of Somebeachsomewhere-Darlins Delight easily drew clear to post the win over Kiss Me Onthebeach and Penpal.
Bred and owned by White Birch Farm of Allentown, NJ, Darlinonthebeach won for the 10th time this season and for the 12th time in her career. The lion's share of the loot upped her cash stash to $902,869.
$101,000 Allerage Farms Open Trot
JL Cruze found himself in the role of the tempo-setter in the Allerage Farms Open Trot, but Flanagan Memory found himself in the role of the winner when the dust settled.
Brian Sears rallied from out of the clouds to win the rich tilt with the Ontario Sires Stakes graduate, who matched his lifetime mark when he halted the teletimer in 1:51.2 for trainer/co-owner Rene Dion.
JL Cruze left hard from Post 8 and went on to hang up panels of :27.2, :55.4 and 1:24.1, but he couldn't seal the deal. Sears, who was third-over with Flanagan Memory, flipped the switch coming off the final turn and the six-year-old son of Kadabra-Classy Stacy roared home to post the win in convincing fashion over Crazy Wow and JL Cruze.
Liette Flanagan of Repentigny, QC shares ownership on the homebred who improved this year's record to 5-1-3 from 12 starts with the win. The 18-time winner, who is Canada's representative to the upcoming International Trot at Yonkers Raceway, lifted his lifetime earnings to $1,222,779 with the victory.
$105,500 Tattersalls for three-year-old filly pacers - 1st division
Pure Country became North America's fastest three-year-old pacing filly of the season thanks to her gusty, first-over score in the Tattersalls for the tandem of driver Brett Miller and trainer Jimmy Takter.
Miller got away third with Pure Country while Call Me Queen Be rushed to the top and supplied the field with first-half fractions of :27.1 and :55. It was an all-out sprint in the third quarter when Pure Country popped off the pylons and went after Call Me Queen Be. They motored to the three-quarter pole in 1:21.4 thanks to a :26.4 third quarter. Pure Country sustained her first-over drive and hauled down Call Me Queen Be in the closing strides. Pure Country went on to stop the teletimer in 1:48.2 while defeating Call Me Queen Be and Lakeisha Hall.
The daughter of Somebeachsomewhere-Western Montana, who races for Diamond Creek Racing of Wellsville, PA, now boasts an impressive record of 8-4-3 from 18 starts this season. The 18-time winner has racked up earnings totalling $1,816,727.
$112,500 Allerage Farms Fillies & Mares Open Pace
The betting public was all over Lady Shadow in the first major stake on the matinee card, but she came up with a rare clunker. Her misfortune was the good fortune of Prairie Sweetheart, a supplemented three-year-old filly who remains undefeated after a dozen starts.
Matt Kakaley got in the back half of the field while Lady Shadow shot to the top and sliced out fractions of :26.4, :54.4 and 1:22.2. Frost Damage Blues put heavy pressure on the pacesetter at the half, and that battle took its toll on both of those distaffers. Kakaley, who latched onto second over cover with Prairie Sweetheart, tipped off cover in the lane and forged to the front en route to posting a career-best and North American season's record-equalling clocking of 1:49.1. Bedroomconfessions was next best, with Venus Delight grabbing the show dough.
Ross Croghan trains the Florida-bred sophomore filly, who pulled off the 6-1 upset, for Let It Ride Stables Inc of Boca Raton, FL. The daughter of Royel Millennium-Taylors Lady, who went 7-for-7 as a rookie, is now 5-for-5 this season. The stakes score helped her boost her bankroll to $155,024.
(With files from The Red Mile)