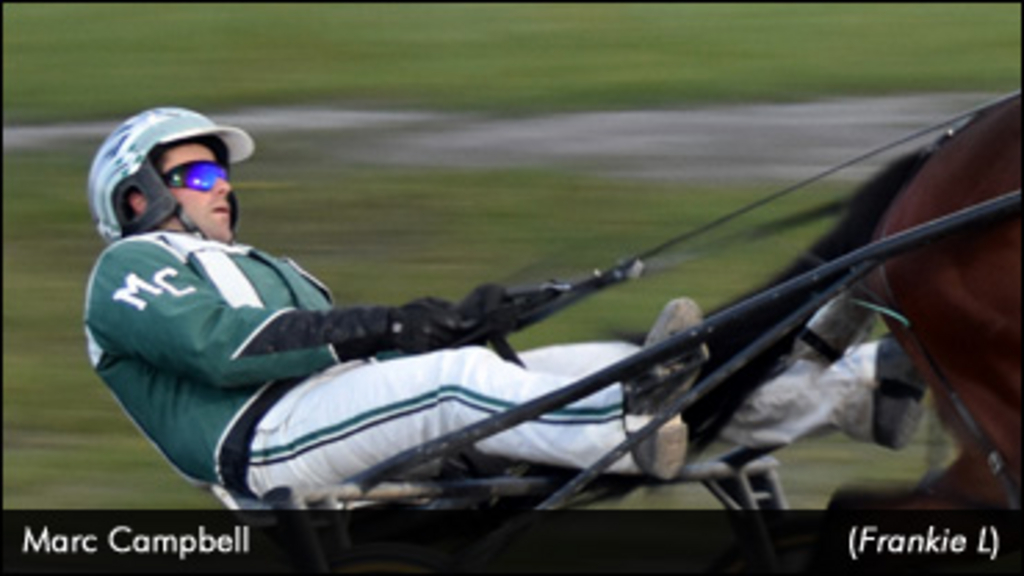 Published:
October 8, 2017 06:57 pm EDT
If a record exists, Marc Campbell seems determined to break it in the 2017 racing season, adding to his totals on the Weekend Of Champions at Red Shores Racetrack and Casino at the Charlottetown Driving Park.
The Atlantic Sires Stakes season culminated in the 2017 Atlantic Breeders Crown finals Sunday afternoon at the capital oval with Campbell winning five races on the day and becoming the richest driver in Atlantic Canadian racing history.
After the weekend of racing, Campbell now sits at $504,546 in seasonal purse earnings, eclipsing the previous record of $484,052 in earnings by a driver set by Kenny Arsenault during the 2009 season.
The 'King' of Island racing, Campbell kicked off Championship Sunday winning the $9,000 Atlantic Breeders Crown three-year-old trot, sponsored by Meridian Farms, with Pappy Go Go in a huge parked out effort of 1:59.4. The gritty son of Tad The Stud is still undefeated on the season as he won his 10th straight race in 2017 for trainer Campbell and owner Grayland Farms of Pugwash, N.S.
Filly Forty Seven repeated her 2016 Atlantic Breeders Crown performance, winning the $20,000 three-year-old pacing filly crown in 1:55.3 for trainer/driver Campbell and P.E.I. owners Darryl MacLean of Winsloe, Katelyn Smallwood of Stratford, Cory Carver of Montague, and Nova Scotia owner Tanya Tremblett of Sydney Mines.
Island Energetic posted a mild upset at 3-1 in 1:56.1 in the $20,000 three-year-old pacing colt final for trainer/driver Campbell and owners Bernadette Burgess of Dartmouth, N.S., and Grayland Farms.
Campbell's other wins came in the $5,000 Atlantic Breeders Crown Invitational Pace with a 1:54.1 victory aboard Elm Grove Kaboom for trainer Earl Smith of Hunter River, P.E.I., and in a $1,600 conditioned pace with Painted Pony for Raymond White of Murray River, P.E.I.
In other Championship action, Half Cut set a new two-year-old pacing colt track record, winning his $20,000 Atlantic Breeders Crown final in a 1:55.2 romp by seven lengths for driver Mark Bradley, trainer Tom Weatherbie and P.E.I. owners Kyle Gardiner and Mike Currie of Cardigan, Joseph Gardiner of Mount Stewart and Jerry MacKinnon of St. Peter's Bay.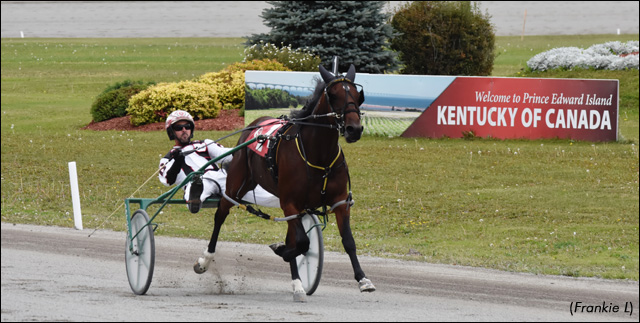 Half Cut and driver Mark Bradley in the Atlantic Breeders Crown on Sunday, Oct. 8 at Charlottetown Driving Park. (Frankie L)
Woodmere Ceilidh crowned herself champion in the two-year-old pacing filly division, winning her $20,000 Atlantic Breeders Crown in 1:57.1 for trainer/driver Clare MacDonald and owner Chris Neville of Sydney, N.S.
The $9,000 two-year-old trot final, sponsored by Meridian Farms, went to Windmeredontuworry with a 2:00.3 score for driver Gilles Barrieau, trainer and co-owner Terry Gallant and co-owner Eric Johnston of Summerside.
Kennel Buddy was victorious in the $2,500 Atlantic Breeders Crown Open Trot in 1:59.4 for trainer, driver and owner David Dowling.
Ramblinglily scored win number 55 of her career in the $3,500 Atlantic Breeders Crown for Open pacing mares with a time of 1:55.4 for driver Ken Murphy and trainer Allan Jones of New Brunswick.
Trainer Tom Weatherbie had two winners on the program as Dial The Bossman (driven by Jason Hughes) was victorious in 1:56.1. Corey MacPherson scored two driving wins on the 14-dash card.
To view Sunday's harness racing results, click on the following link: Sunday Results - Charlottetown Driving Park.
(With files from Red Shores)