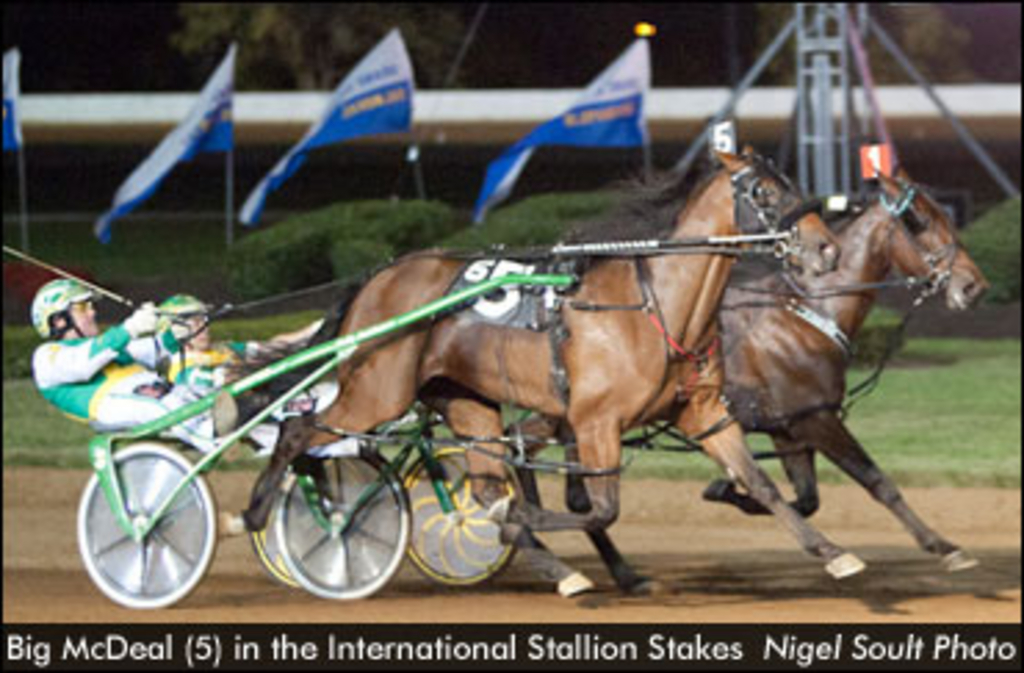 Published:
October 7, 2011 07:20 pm EDT
The Canadian-owned two-year-old pacing filly Big Mcdeal and driver Jody Jamieson nailed undefeated World champion American Jewel at the wire in their $84,200 International Stallion Stakes division to join that filly in the record books on Friday night at The Red Mile
.
Bound To Rock (Mike Lachance) crossed over from the outside Post 7 to take control of the field with longshot Darena Hanover (Yannick Gingras) getting away second and Jack Darling trainee Big Mcdeal and American Jewel (Tim Tetrick) landing the three and four-hole early on.
As Bound To Rock passed the first quarter in :28.1, Big Mcdeal rushed up to take over command with American Jewel hot on her heels. American Jewel cleared the lead past the :55.1 half-mile marker and the top two fillies drew away from the rest of the pack as they raced to three-quarters in 1:22.4.
Jamieson pulled Big Mcdeal from the pocket down the stretch and fired home to edge out American Jewel in a photo finish. The winning time of 1:50.2 equalled the American Jewel's World Record, set on Sept. 3 in the Shes A Great Lady Stakes at Mohawk Racetrack.
The daughter of Mcardle-Ideal Gal, a Champlain Stakes winner on Sept. 10 at Mohawk Racetrack with Paul MacDonell in the sulky, earned her second win in nine starts for the Jack Darling Stables of Cambridge, Ont.
"I am just happy to be involved in any race here, let alone the race of the meet and being the winner in the photo finish," commented Jamieson after the record-setting victory. "This filly has been awesome all year. I made a mistake a couple of starts back by booking off her in the Champlain and Paul MacDonell gave her a great drive to win that race. Jack approached me and asked me to drive her down here and I was incredibly happy to get the chance to drive her again.
"She's been racing against her [American Jewel] all year and the only way we were going to beat her was if we got to track her for a ways and it worked out," he continued. "[Tetrick] put me in front of him early in the race thinking I was probably the second best -- I figured I was the second best. We got to go to the lead and he was out there for a little bit, but his filly looked so awesome going around the last turn I figured we were still racing for second. I kept her on his back a little longer than maybe some people thought I should have, but it worked out. The filly measured it. She just got up there, it was a huge effort."
The lion's share of the purse pushed Big Mcdeal's bankroll to $275,114. She is being pointed towards the upcoming Breeders Crown.
Big Mcdeal paid $27.20 for the upset win.
"This is a beautiful place to race," added Jamieson, when asked about the fast track, which also produced a North American season's record for two-year-old trotting colts in the earlier International Stallion Stakes divisions. "I was talking to some guys from Ontario here tonight and I said if you haven't been out on it you better walk out on it at least before you go home. It's an amazing surface and just an amazing place to race horses."
The second pacing filly division went to the hard closing even-money favourite Economy Terror and driver Brian Sears in 1:50.4.
Marty Party (Dave Palone) took control of the field off the gate and led the way to the first quarter in :28-seconds with Destinys Chance (Yannick Gingras) in the pocket, Shelliscape (John Campbell) in third and Economy Terror positioned fourth.
Shelliscape made a backstretch brush and took over command before the :55.3 half-mile mark. From there, Economy Terror angled off the pylons and picked up cover from Destinys Chance, who went head-to-head with the leading lady as the approached three-quarters in 1:24.3. However, as the fillies entered the stretch, Shelliscape drew clear.
Unleashing a :26-second ferocious final quarter kick, Economy Terror sprinted home off cover and reeled Shelliscape in en route to the one and a half length victory, just two-fifths of a second off the World Record. Shelliscape held for second. Podges Lady (Ron Pierce) finished third, but was disqualified and placed back to eighth for coming out without sufficient clearance and causing interference to Red Shadow around the final turn. Marty Party, who was fourth, inherited third as a result of the placing.
"She raced good. She warmed up real good tonight, a lot more relaxed. Last week she was a little bit hot and tonight I figured she'd race really good," said trainer Chris Oakes. "I think she'll be one of the fillies in there [the Breeders Crown] to beat. Obviously, Jimmy's filly American Jewel is a great horse. Jack Darling's horse, who beat her tonight, showed up big. It's a really, really strong group of two-year-old fillies, that's for sure."
Economy Terror also has the Matron among her final stakes engagements this year, but Oakes said he's just taking it week by week with his filly.
Chuck Pompey, Howard Taylor, and Edwin Gold share ownership of the Western Terror-Mattatonic filly, who was beat by just a half-length with a flat tire in her Bluegrass division last week by Destinys Chance. She now has six wins and three seconds on her nine-race record. The PASS champion and Shes A Great Lady runner-up boasts a bankroll of $433,267.
She paid $4 to win.
Rockaround Sue overcame an outside Post 8 start and prevailed in a photo finish to capture the final filly pace division in a career-best 1:53 for driver Brian Sears and trainer Tony Alagna.
Frontierpan (Dave Miller) established the lead from Post 6 during a :28.1 opening quarter and raced to the half in :56.3. At that point, Another Hanover (Marcus Johansson) moved first up from fifth flushing out cover in the form of Sha Delight (Ron Pierce) from third.
Sha Delight was only able to get to the leader's wheel though as they neared three-quarters in 1:25. Entering the stretch, the backfield began to gear up with Rockaround Sue rallying home in :26.4 from last place to prevail in the photo finish. Miss Mojo (Jody Jamieson) split horses for second-place honours and Im Fondue Of You (Tim Tetrick) came on for third.
Rockaround Sue recorded her third win from 10 starts this year for trainer Tony Alagna, who co-owns with the Uncirculated Stable of Burlington, Ont. and Alan Alber of Thornhill, Ont. The Shes A Great Lady Consolation runner-up has banked over $100,000 in her debut season.
"I knew the way she raced last week if she got a shot at them in the stretch [tonight] she'd have as much go on the end as anybody," said Alagna. "She's been knocking on the door, which she showed getting photoed out in [1]:51[.2] in the consolation of the Shes A Great Lady. She's a little bit of a fly-under-the-radar filly that gives a big effort every time."
Alagna said he is looking forward to the Rocknroll Hanover-Promysquous Lady filly's sophomore season.
"I'm not sure if we'll go to the Breeders Crown or not, it just depends on what some of the other fillies look like they're going to do," he said. "She's going to be a nice filly coming back next year I believe. Five-eighths [racetracks] are really going to suit her next year so we'll just try to keep her starts to a minimum and hopefully have a nice three-year-old."
Rockaround Sue paid $10.80 to win.
In the first $75,750 division for two-year-old trotting colts, Big Chocolate delivered on his 3-5 pari-mutuel promise with driver David Miller working out a perfect pocket trip.
Nagini (Ron Pierce) rolled to the top from the seventh starting spot and settled in front of Post 4 starter Big Chocolate, Lindys Jersey Boy (Tim Tetrick) and Mr Chicago (Yannick Gingras) during a :28.2 opening quarter.
Nagini took a breather to the half in :58 while World Cup (Mike Lachance) moved underway from the backfield after avoiding the early breakers in the field, and flushed cover from Mr Chicago.
Mr Chicago moved up to second by the 1:27 three-quarters mark, but began to lose ground around the final turn. At the top of the stretch, Miller pulled the pocket aboard Big Chocolate and the pair collared the pacesetter, who made a break, and opened up five lengths on the field before hitting the wire in 1:54.3. Lindys Jersey Boy finished second with Mr Chicago settling for third.
The time of the mile just missed the North American season's mark by one-fifth of a second.
The son of Chocolatier-Shez Mine, who has never missed a paycheque in his first 10 career starts, proved to trainer Homer Hochstetler that he was going to be a nice colt training down this past January.
"I liked him from the get-go," noted Hochstetler. "He was always a nice, big, strong and very kind horse. He's had a few issues -- not soundness issues but just physical issues this summer -- but he looked like he was good tonight.
"I think he's one of the best colts going. I felt that all summer," he continued. "We'll go up to Canada after this [to the Breeders Crown]. I'll probably give him a week at home and then go up."
Big Chocolate was a runner-up in the NJSS Championship, Historic Stakes, American National and Bluegrass Stakes, and a third place finisher in the Peter Haughton. He has banked $201,560 so far this season for owner-breeder Richard Keys of Chicago, Illinois.
He paid $3.20 to win.
Fresh off a victory in the Bluegrass Series last weekend at The Red Mile, Possess The Will turned in another stakes winning performance in the second division of the International Stallion Stakes for trotting colts while lowering the North American season's record to 1:54.
Money On My Mind (Andy Miller) led the field through fractions of :28, :56.2 and 1:25.4 while Possess The Will and driver Tim Tetrick, sitting fourth through the early fractions, secured a second over tow from Gym Tan Laundry (Brian Sears).
Tetrick sent the son of Donato Hanover-Aurora Hall three-wide off cover down the homestretch and he swept past his rivals to score the victory. Gym Tan Laundry finished just a neck back to his inside with Muscolo (Ray Schnittker) coming in third.
After the win, Tetrick said that he wasn't too worried about Money On My Mind getting the jump start on his colt.
"You're always worried about all of them, but I've got a lot of confidence in my colt," said Tetrick. "He's been good all year except for his little stint in Canada where he got sick. He raced really well last week and today we changed it up and came off cover and he was just as good today. He trotted all the way to the wire and beat some nice colts doing it.
"I think he's right up there," added Tetrick, when asked where the colt ranks in this year's freshman trotting colt division. "He's got a lot of speed and he can carry it a long way. Every week he gets better and stronger and he's a really big, growthy colt so he's catching up to his gait quicker than a lot of them do and he's carrying it well."
Owned by Fashion Farms of New Hope, Pennsylvania and trained by Jim Campbell, Possess The Will has now won half of his eight starts this year while banking $173,289.
He paid $5.60 to win.
From Above also scored back-to-back stakes victories at The Red Mile with his 1:54.4 victory in the third International Stallion Stakes division for freshman trotting colts.
Pekoe Fashion (Dave Palone) cleared the lead ahead of Delano (Ray Schnittker) at the :29-second opening quarter mark, but gave way to Power Play (Dave Miller) down the backstretch. Power Play swept to command from third and posted the half in :56 and three-quarters in 1:25.2 with Delano edging out.
Heading down the stretch, Pekoe Fashion squeezed up the rail and hooked wheels with the breaking Power Play while From Above came flying home from fifth to prevail on the far outside over favourite Uncle Peter (Jimmy Takter), a late breaker. Longshot Norway Hanover (Jody Jamieson) rounded out the top three.
From Above, a Bluegrass Series winner last week, scored his fourth consecutive win in five career starts for trainer Greg Peck, who shares ownership with Jeffrey Snyder, Patricia Bolte, and the Guida Racing Stable.
"I am so excited. We've had a tough time with all the wonderful horses that were in the race today and I just knew because of Greg he would do something tonight," said Bolte.
"We have our fingers crossed on that one," she said when asked if the colt will be heading to the Breeders Crown.
"Assuming that he comes out of the race good and fresh, we'll head to the Breeders Crown," added Peck. "I'll talk to Lou, Jeff and Pat and we'll go from there.
"I think that he can [go with the very best] because he has a lot of class and he's light on his feet and he has an impeccable pedigree. As Lou Guida said when we bought him last year, 'If you look at the pedigree [on a scale] from 1 to 10, he's an 11,' so let's hope that carries with him."
From Above, who has banked $83,050 to date, is a son of Donato Hanover out of 2000 Hambletonian Oaks champion Maritas Victory. He is a half-brother to Quite Easy, a Champlain Stakes, International Stallion Stakes and Goodtimes Trot winner.
From Above paid $13 to win tonight.
Magic Tonight, an eight length Bluegrass Series winner last weekend, also made a return appearance to The Red Mile winner's circle following tonight's final International Stallion Stakes for the two-year-old trotting colts.
The 2-5 favourite, driven by Ron Pierce, took control of the field from Post 3 and strolled to the opening quarter in :30.2. Magic Tonight picked up the pace en route to the half in :58.3 while Frost Bites K (Tim Tetrick) was flushed first over from third.
Three-quarters was up in 1:28 and as the field turned for home Magic Tonight took off for the two and a half length victory in 1:55.4. Melt In Your Mouth (Jody Jamieson) finished second off a pocket trip. Highland Yankee (Andy Miller) came in third, but was placed back to fifth for a pylon violation in the stretch. Scary Good (Brian Sears) inherited third.
The son of Andover Hall-Miss Possessed, a winner of three races in five starts and $93,800, is trained by Noel Daley for the Adam Victor And Son Stable.
"The two-horse [Pilgrims Power] ran behind the gate and Andy's horse didn't look like he was set real well so we just trotted around him and nobody came so we just took advantage of it," explained Pierce in the winner's circle. "We cruised down to the quarter in :30.2 and I stepped it up a little down the back, :29-seconds or so. He felt fine going into the last turn -- he was still trotting real nice and was very relaxed -- and I asked him to go a little bit more and he did. Turning for home, they started to come at us and then I asked him to go a lot more and he just took off.
"Noel did great job pointing him towards this meet," added the meet's leading driver. "He's really come a long way."
Pierce also noted that this year's two-year-old trotting colt division is full of some strong competitors.
"You never know, you've seen the top colts in the country here tonight earlier and we have a new one to deal with too -- that thing of Peck's looks like he can go a little bit. But Uncle Peter, he was the talk of the two-year-olds. He looked like the best two-year-old in North America and he got beat tonight so if this guy [Magic Tonight] steps up his game a little bit more he could [go with the best colts]."
Magic Tonight paid $2.80 to win as the bettor's choice.
The International Stallion Stakes will continue on Saturday with two-year-old pacing colts stepping into the spotlight. Three-year-old pacing fillies will also face off in the Glen Garnsey Memorial Stakes.