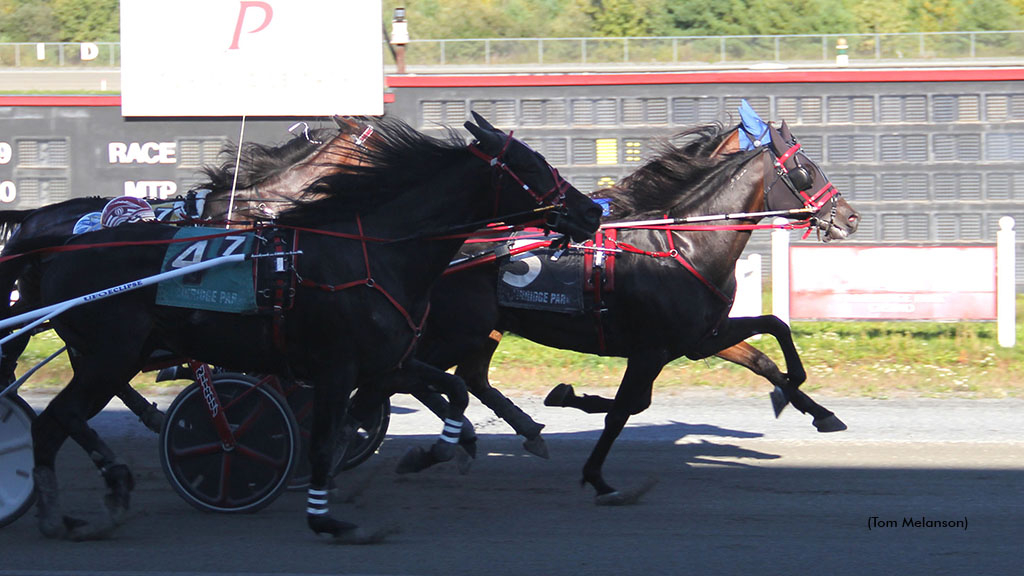 Published:
October 6, 2022 05:19 pm EDT
In his patented come-from-behind style, Raybarnz went from worst to first in the $17,500 trotting feature at Plainridge Park on Thursday afternoon (Oct. 6). 
Joey Bats (Brett Beckwith) and Blue Knight (Shawn Gray) traded turns on the lead with the latter gaining control past the :28 quarter. As they moved past the stands towards the half, Raybarnz (Ivan Davies) moved to the outside from sixth and started the long trek to meet up with Blue Knight. Raybarnz got to within one length of the leader at three-quarters but could not shorten that deficit until the stretch. It was there that Raybarnz finally engaged Blue Knight and matched strides with him all the way to the line where Raybarnz got a head in front in the photo to win in 1:54.2. 
Raybarnz ($4.80) has now earned $66,525 this year on the strength of that victory, surpassing his personal best one-year total amassed in 2021.  Earl Beaman, Kathy Beaman and Shirley Michaud own the Ivan Davies-trained trotter. 
In the co-featured $15,000 conditioned trot, Nick Graffam put Heartofgold Devie on the point, led every step from there and won by two lengths in 1:55.3. The Mona Dodd-owned Heartofgold Devie ($11.60) is trained by Charlene Cushing. The win was one of two for Graffam during the afternoon. 
Drivers Brett Beckwith and Bruce Ranger also had two wins on Thursday and were joined by trainer Melissa Beckwith in the "double club." 
Live racing resumes at Plainridge Park on Sunday afternoon (Oct. 9) at 2 p.m. Free full past performance race programs for all live race days can be downloaded by visiting the track's website at plainridgeparkcasino.com and clicking the "Racing" tab. 
(Standardbred Owners of Massachusetts)