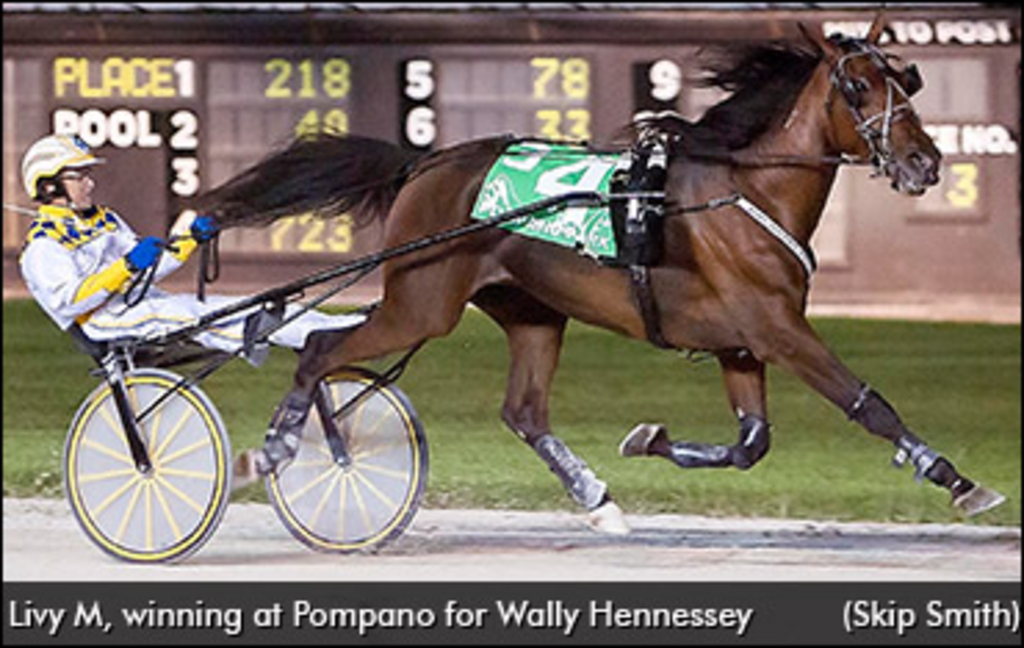 Published:
October 5, 2015 09:18 am EDT
Pompano Park opened its 2015-2016 season of harness racing on Sunday night with Wally Hennessey, Oho Diamond and Audreys Dream providing the fireworks on a magnificent 80 degree evening.
Hall of Famer Wally Hennessey, coming into the 126-night racing season at Pompano with 8,818 lifetime wins, added seven more of them on opening night including six in a row encompassing races three through eight.
Hennessey began his winning evening in the non-wagering Sunshine State Stakes for two-year-old trotting fillies by guiding Kevin Kelly's Gold Star Briana, a daughter of Basil, to a handy win in 2:05.2 in her first purse start.
Two other non-wagering Sunshine State Stakes were also contested with Dave Myrick's Proud Joe T scoring for Rob Hoffman in his racing debut for juvenile colts and geldings in 2:08.1 and Prairie Fortune annihilating his foes in the sophomore event for colts and geldings in 1:57.3. Prairie Fortune is a son of Arapa Victory, driven to victory by trainer and co-owner Mike Deters on behalf of co-owner Laurie Poulin.
The only other Sunshine State Stakes contested was on the card with Livy M, a three-year-old daughter of Proud Bushy, scoring a handy five-length win for Wally Hennessey on behalf of trainer Deters -- who is part of the Deters, Morosini, Fritz and Fritz consortium -- with the win time of 2:00 being a new lifetime mark.
As the overwhelming 1 to 10 favourite, Livy M paid $2.20 to her many backers and was the start of a rare consecutive driving streak stretching through race eight. In the next race, Hennessey guided Goldstar Classic to an upset ($47.60) win for the foursome of Rzepka, Kelly, Connors and Giorlando. Dan Hennessey trains this five year old son of Classic Photo, covering the mile in gate-to-wire fashion timed in 1:56.3.
Hennessey used the same strategy in the fifth race for trainer Bill Kapinos, when he guided Jay and Melissa Appleblatt's Tim Whiskers ($11.80) to a game win in 1:55.1.
In race six, Paul and Patricia O'Neil's Verdi ($3.60) were the beneficiaries of Hennessey hot hands with a photo finish win in 1:55. Verdi took the lead right at the :28.1 opener and led the rest of the journey, scoring by a head for his 10th win of the year.
In the next race -- the seventh -- Hennessey got the garden trip with Di It For Annie ($10.00) and scored in 1:59 for Denis Goyette and co-owner-trainer Normand Dessureault.
Hennessey then completed his 'six-pack' with Pacing Pretty Stable's Bold Willie ($6.80), enjoying a picture perfect journey to score a handy win measuring 2 1/2 lengths in 1:52.3.
Hennessey also played a key role in the ninth race, the $10,000 Open Trot, won, in track record time, by the four-year-old mare Oho Diamond in 1:53.3, a new track standard, eclipsing the near 25-year-old mark of 1:54.2, set by the great Peace Corps back on November 2, 1990.
Hennessey drove Count Speed in that one and pressured the winner from the final turn on home before finishing fourth.
For Oho Diamond ($3.80), driven by Mike Micallef for owner Dan Clements and trainer Renaldo Morales III, it was her 11th win of the year in 21 starts, sending her yearly bounty to $88,333, by far the most successful campaign of her career.
After that event, driver Micallef said, "Renaldo said she'd be good tonight and can gulp a lot of air, so I brushed her early and she made the top easily and, when she felt that little pressure around the final bend, she just pulled away all by herself."
In the $10,000 Open Pace, Audreys Dream ($6.00), co-owned by driver Ed and trainer Ashleigh Hensley, took advantage of the draw (post one) to win an early battle for supremacy and go on to wire the competition with a 1:52.2-:55 mile.
The classy seven year-old son of Rocknroll Hanover won for the third time this semester and 24th lifetime to send his lifetime bounty to $346,127.
After the event, driver Hensley said, "With such a short field -- five -- I thought it be best if I tried to control the pace and, when I got over to the half in :57 and a apiece, I was very confident in this horse's ability to get us home.
"And my confidence was justified tonight."
The next racing night is Tuesday with a 7:30 post time and a $5,000 guarantee on the Pompano Park Pick-5, which begins on race one.
There is also a carry-over in Pompano Park's Super Hi-5, which is contested on the last race -- the 10th -- on the card.
(with files from Pompano Park)