Published:
October 31, 2012 10:22 am EDT
New Meadowlands LLC President Jeff Gural has named Jason M. Settlemoir as General Manager and Chief Executive Officer of the New Meadowlands, effective Tuesday, November 6.
Settlemoir has run Gural's two New York racetracks, Tioga Downs and Vernon Downs, since operations began in 2006 and will remain Vice President of Racing and Sponsorships for both of those properties. Settlemoir, the 2006 Lew Barasch Breakthrough Award winner, is the current USHWA Chairman of the Board, a USTA and HTA Director and the Simulcast Director/second Race Announcer for The Little Brown Jug.
"Our focus is on improving the racing experience for the fans, with emphasis on customer service and strict attention to detail," Settlemoir explained. "Jeff's desire is to return the Meadowlands to its rightful position as the greatest harness track in the world and I am honoured and excited to have the opportunity to help him realize that goal. I have the support of a strong staff we have assembled at Tioga and Vernon and look forward to working with the existing Meadowlands employees and New Jersey horsemen. After seven seasons, I know Jeff's priorities and how he wants things done at his racetracks."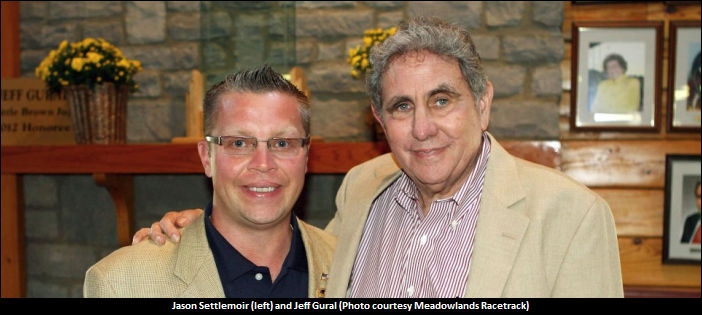 Gural had this comment on the decision: "I'm confident in Jason's ability to execute my vision for the New Meadowlands. We share a passion for racing, realize that the status quo isn't working and remain convinced that new ideas and promotions are vital to racing's survival. The success that Jason has enjoyed at Tioga and Vernon along with the experience he has gained and people skills he has developed while in that position have prepared him well for this next step in his racetrack management career."
Settlemoir will spend the next two months cultivating the simulcast business at both the Meadowlands and Winners at Bayonne while preparing for the return of live racing at the Meadowlands on December 28. He will commute between the New York and New Jersey properties for the near future and may be reached by phone at 201-460-4025 or 607-699-7588 and by email at [email protected].
(Meadowlands)