Published:
October 30, 2020 03:59 pm EDT
Conway Hall, one of the most influential trotting sires of the modern era, has been retired from stallion duty.
Soon to be 26 years old, the infirmities of his age have rendered Conway Hall unable to continue as an active breeding stallion. The announcement of his retirement was made by Alan J. Leavitt, manager of the Conway Hall Syndicate.
Leavitt also stated that Conway Hall is now back at Walnut Hall Ltd., in Lexington, Ky., where he will live out the rest of his days in the comfort and love he so richly deserves.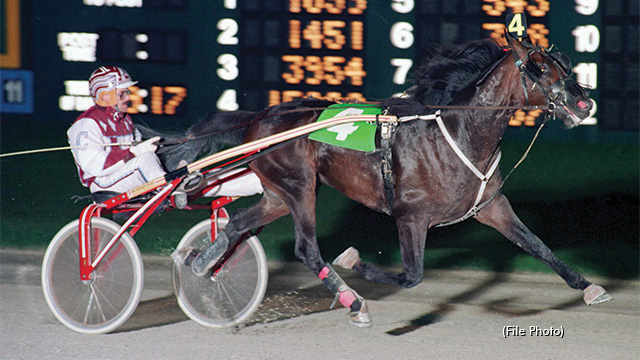 ​Trained by Bob Stewart, Conway Hall won $818,884 at two and three. At two he was unanimously voted as the top trotting colt on the continent, winning USHWA's Dan Patch Award, H & H's Nova Award, and Standardbred Canada's O'Brien Award.
​At three he got off to a late start due to an injury, but he continued to compete at the highest level. After finishing 2-1-2 in the Kentucky Futurity, he flew to Italy and won the classic Orsi Mangelli in straight heats, both times whipping the Italian champion Varenne.
Conway Hall - 1998 Breeders Crown elim - Colonial Downs
​Retired to stud at four, Conway Hall from his first crop had both the Champion Two-Year-Old Colt, the undefeated Broadway Hall, and the Champion Two-Year-Old Filly, the sensational Pizza Dolce.
​From his second crop Conway Hall got the Triple Crown Champion Windsongs Legacy, who, although ill-fated to die after his fourth year in the stud, sired Chapter Seven, a top stakes winner and now a leading sire. Chapter Seven's credits include the undefeated Walner, whose first crop are bringing record prices at the 2020 yearling sales.
​Conway Hall sired a total of 1,658 foals registered with the USTA, and they have won more than $89.5 million to date, and counting. In addition to the aforementioned Broadway Hall, Pizza Dolce, and Triple Crown Champion Windsongs Legacy, Conway Hall's other outstanding progeny include the Kentucky Futurity winning double millionaire Wishing Stone; Win Missy B., winner of the Peaceful Way Stakes, Goldsmith Maid, and Kentucky Filly Futurity; Wellwood winner Habitat; and Creamy Mimi, winner of the Hambletonian Oaks.
"​A great racehorse and then one of the most influential trotting sires of the modern era, Conway Hall now will enjoy the retirement he has so richly earned many times over," said Leavitt.
(Walnut Hall Ltd)