Published:
October 30, 2020 11:56 pm EDT
Perfect Sting has become the first two-year-old pacing colt to win the Breeders Crown and finish his season undefeated after capturing the $600,000 Breeders Crown for two-year-old pacing colts and geldings on Friday (Oct. 30) at Harrah's Hoosier Park Racing & Casino. But he had to share to winner's portion of the purse as he hit the wire in unison with Summa Cum Laude, marking the first dead heat for win in the series' 37-year history.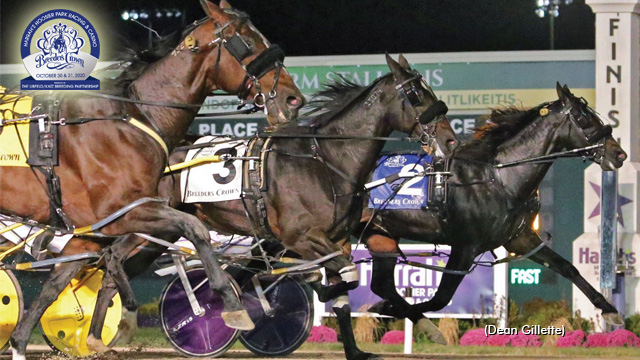 Driver David Miller and Perfect Sting left the gate strongly along with fellow elim winner Southwind Gendry (Yannick Gingras). Southwind Gendry forged to the front through a brisk :25.3 before Miller pocket popped with Perfect Sting in short order. Miller and Perfect Sting didn't back down the pace, throwing up middle fractions of :54.1 and 1:22.4 before facing the long Hoosier homestretch with perfection and likely divisional honours in the balance.
First over Abuckabett Hanover (Andy McCarthy) broke stride and erased the chances of the backfield. Southwind Gendry angled out from the pocket with fight left in him but Perfect Sting had enough to battle back. But Brian Sears had Summa Cum Laude flying late after a ground-saving trip in fourth along the rail. Once he had clearance around JK Going West, he closed with a furious rally and literally hit the wire with Perfect Sting in a time of 1:50.2.
The two-year-old colt pace is available around the 5:36:00 mark
"It means a lot. I had the mother, the father...we talked the talk early and said he was going to be the best and he backed it up," said Holloway after the victory, his eighth in the Breeders Crown series. "He raced really huge tonight."
Perfect Sting (Always B Miki - Shebestingin) picked up his 10th win in as many outings for breeder-owners rittany Farms LLC of Versailles, Ky. and Val D'Or Farms of Spring Lake, N.J. The colt banked $541,800 in those starts, and Holloway stated previously that the Breeders Crown would be his final race of the season.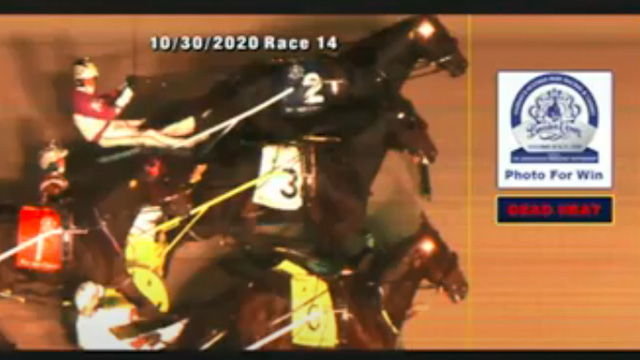 Summa Cum Laude (Somebeachsomewhere - Western Graduate) picked up his fourth win of the season and a new lifetime mark in the process for trainer Ron Burke and owners Burke Racing Stable LLC of Fredericktown, Pa., Phil Collura of Mountain Top, Pa., JandT Silva Purnel & Libby of Delray Beach, Fl. and Weaver Bruscemi LLC of Canonsburg, Pa. He's stashed away a solid $350,900 in his 13 rookie season appearances.
"I was just trying to take what I could get out of the gate and be as aggressive as possible," noted driver Brian Sears. "They were pushing out of there pretty good and getting away fourth I didn't think was the worst spot. Yannick was pushing the pace a little bit going to the half and I thought Lewayne's horse could follow along pretty good. I sat in fourth and figured I'd be able to shake loose, and I was following the right horses and it worked out."
Sears and Burke add to the totals that have them ranked second in series history. For Burke, that's his 18th Breeders Crown and the 33rd for Sears. Both lead all active participants in Breeders Crown victories.