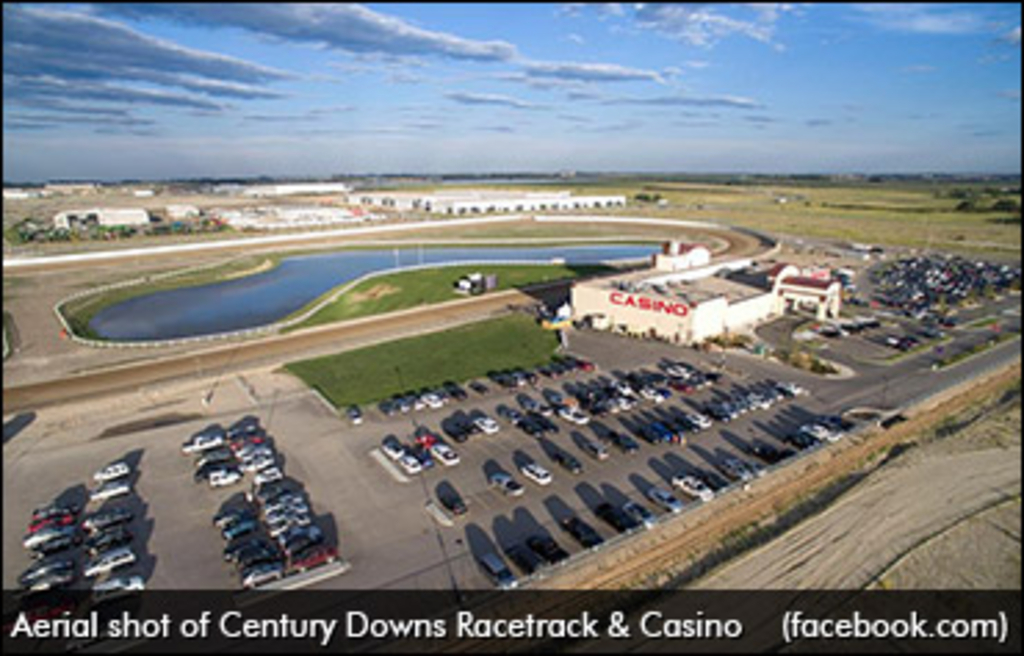 Published:
October 30, 2015 04:35 pm EDT
Consider it the "Super Bowl" of harness racing. The brightest pacing stars of the Alberta Sires Stakes program are ready to put on a show this Saturday at Century Downs.
The idea of the Super Finals was born during the lean years with respect to harness racing in Alberta. Several racing directors were looking to keep the Alberta Stakes program high on their agenda and for the benefit of this sport. The result was the birth of the Super Finals which has been a huge success and should only get better in the future.
The Halloween day card will showcase the last set of stakes for the 2015 live race meet. Using a graded point system, horses this summer had to qualify to get into the finals.
Four finals will each have $80,000 up for grabs, and in some cases may also decide which horses will get divisional horse of the year honours. Four consolation races with purses of $15,000 are also scheduled.
Century Downs racing secretary Jackson Wittup has put together a fantastic card for Super Finals day. While the Consolations races are carded early on Saturday from races 2 through 5, the Super Finals will take place during races 7 though 10, and will be presented in the following order:
Two-Year-Old Fillies – Race 7
Jet Blue Burner has been a very dominant filly this season. The Travis Cullen-trained homebred has a superb 4-for-5 record this year, bankrolling just over $40,000 so far in her career. In her latest victory the daughter of Blue Burner-Blinkanyoumissit was sent off as the 1-9 favourite and was parked to the quarter pole in :29 before eventually working her way to the lead through middle fractions of :58.4 and 1:28.3 en route to a convincing win by 3-3/4 lengths in a final time of 2:00.
The daughter of Blue Burner holds the track record for two-year-old fillies, which she set back on September 26 this summer stopping the timer in 1:57.4. She is owned by Keith Hannah, Travis Cullen, Dwayne Taylor and Jodie Cullen.
One to watch is Divas Dragonfly who earlier this summer lowered Jet Blue Burner's divisional track record by two-fifths of a second to 1:58 (which was equaled and later broken by the aforementioned Jet Blue Burner). Owner/trainer Carl Archibald feels she has had excuses for her recent performance but is close to rebounding to her old self after recent dull efforts.
"She caught a virus just before the Neal Adler stake and just had no get up and go in that race," advised Archibald. "We had to scratch her out of the Stardust stake but we have been treating her and I was very happy with her second place finish against older non-winner of four types. I trained her [Thursday] at Century and she looks like she is almost back to her original form. Hopefully she will be 100 per cent on Saturday, but I think Jet Blue Burner is the horse to beat in our race."
Divas Dragonfly has four stakes victories to her credit this year and has only missed the board once in nine career starts for trainer Carl Archibald and owner/breeder Meadowlark Farms of Airdrie, Alberta. She now boasts a career bankroll of $39,786.
Two-Year-Old Colts & Geldings – Race 8
Blue Star Jet is the winningest and the richest in the field and he'll look to add to his impressive totals for driver/trainer Rod Hennessy, who is still looking for his very first Super Finals victory. The son of Blue Burner-Movin Uptown will start from Post 2. The virus factor may have come into play in his latest effort finishing a dismal fifth in the Alberta Shooting Star Stakes, the first time he was off the board in his young career.
"He was plugged up real bad," commented trainer/owner Rod Hennessy. "Due to that virus, he had no pace whatsoever down the backstretch. We have been treating him with antibiotics for close to three weeks now and he is training real good now. He should be a lot better on Saturday."
Blue Star Jet, a $12,000 yearling purchase has a couple of fast siblings being a half brother to multiple stake winners Blue Star Admiral and Blue Star Texas, Hennessy shares ownership on the career winner of $43,454 with Lorne Duffield of Edmonton, AB.
Punters looking for a live alternative may want to take a close look at Royal Dragon, who blew away the field in his division of the Shooting Star stakes. The son of Blue Burner-Albertas Dragon was tracking the field using a three hole trip before brushing to the lead down the backstretch on his way to a whopping 14-length score over Outlaw Gettinrdone in 1:59.3. Owned and trained by Greg Manning of Airdrie, AB, this homebred now boasts a 3-1-1 record from six starts bankrolling $27,367 and could just be peaking at the right time.
Three-Year-Old Fillies – Race 9
You may have to punch the "All" button in this race for your Pick 4 wagers as this tilt appears to be the most wide-open Super Final on the card. Take On Da Boys must feel like the female version of Rodney Dangerfield. After going winless in nine races as a freshman, Take On Da Boys could be the now horse in this Super Final. She took on a transformation as a giant killer in her sophomore year with a 22-7-3-6 record banking over $100,000 in career earnings. Getting no respect on the board, Take On Da Boys pulled off a 20-1 upset in the $55,100 Diamond final of the Alberta Sires Stakes for three-year-old pacing fillies back on September 5 besting the heavy favourite Fire Watch by half a length. She came back to post the win as the favourite in the ASHA Filly stake on October 3.
On October 17, again with no support from the public, she played the role of giant slayer yet again as the daughter of JK Royal Flush-Doctor Ruth got away eighth from her outside starting spot, and she remained in that position through the opening half. Take On Da Boys worked her way into the flow at that point and was up to fourth on the outside heading into the final quarter. She showed a lot of heart coming home late in the lane to beat Cam Finish in a time of 1:57.2.
Trainer/driver Rod Hennessy has nothing but praise for this filly.
"She is real good at present and just keeps getting better and better. We drew post four which is a good spot," stated Hennessy. "We will see how good she is on Saturday, but actually several horses in here with some lucky breaks and a clean trip can win this."
Blue Star Texas, the top money earner this year of this field, set a Century Downs track record for three-year-old fillies in a time of 1:54.4 back in June. Lately she seems to have been stuck in a win-lose, win-lose pattern. Even the connections are baffled by this filly.
"She acts OK but her performance lately has been a mystery," said trainer Keith Clark. "She appears to be reasonably healthy but has not been racing as good as she can be. If she could talk we would know for sure how she would race...this is a wide open affair, and whatever horse come to play and is healthy and gets the right trip will win."
The Brandons Cowboy-Movin Uptown filly is owned by Doris McDougall and Robert Jones.
Another major player who will be scary if she regains her form will be Fire Watch. Top trainer/driver Travis Cullen last guided this filly to victory in the ASHA Filly stake back on October 3 and has not been close since. All she could muster were a couple of fourth place finishes in the Marquis stakes elimination and final, but was a terror earlier this summer. Cullen, his father Ron, and Dwayne Taylor co-own Fire Watch. The Camystic-Raging Red Head has four wins in thirteen nine starts this year and seasonal earnings totaling $92,485.
Value plays could come in the form of My Villas On Fire (Jamie Gray) who was a Super Final winner in 2014 but still winless in 2015, and has showed talent to compete with these.
Cam Finish also has the licence to pull off the upset win off her last valiant effort losing by a short neck to Take On Da Boys in the Alberta Marquis stakes final. The very capable driver Phil Giesbrecht will again be at the controls.
Three-Year-Old Colts & Geldings – Race 10
The path to victory may again be through Cool Cowboy, the 2014 Alberta Sires Stakes two-year-old champion, but as evidenced in the Maverick stakes it will all depend on how the race will unfold.
After trainer/driver Kelly Hoerdt sent Cool Cowboy on a coast-to-coast trip in winning the Alberta Maverick elimination stakes on October 11, a whole new scenario occurred in the $53,900 Alberta Maverick final. In that race, Cool Cowboy -- bet down as the heavy favourite -- was again sent to the lead, but at the half-mile mark Royal Renegade (Rod Hennessy) began his assault trading punches with Cool Cowboy. Putting that horse away, yet another attack began from the backfield in the form of Big Time Sunrise (Glen Hoerdt) who actually had a scant nose in front through the 1:25.4 third panel. Jim Marino had Johnny Gun watching this slugfest unfold before him and tipped three wide down the lane to post the upset at a healthy 17-1 odds.
"He sure is a nice horse," said trainer Harold Haining of Johnny Gun. "We keep getting the bad posts for stakes races but driver Jim Marino really gets along with him. He is eligible for the Western Canada Pacing Derby up in Edmonton but we will go through this and see what happens. We have not over-raced him as too many big miles can take a toll on your horse."
Haining admits it's hard to say how this race will play out. "In these types of big races quite often a speed dual may or may not develop. Cool Cowboy again looks like the one to beat. It will be an interesting race for sure."
A son of Brandons Cowboy - Jerrys Girl, Johnny Gun is owned by Donald Richardson of Cochrane, Alta. His win in the Maverick was his third of the season for Johnny Gun, and second Alberta Sires Stakes upset of the year -- winning the Alberta Plainsman in July at 10-1 odds.
Cool Cowboy knew he was in a dog fight in that race. "He came back ok," mentioned owner/trainer/driver Kelly Hoerdt. "I thought I could handle the slugfest with Rod's horse, but it just got the better of him. He is the type of horse that needs the trip. Actually he is a better horse when he follows and is not on the lead. I do not expect that type of pace scenario again in the final, but who knows. With the right trip any of four or five horses can win this."
Sired by Brandons Cowboy out of the Grintfromeartoear mare Cool Grin, Cool Cowboy was a $19,000 yearling purchase from the Meridian Farms' consignment at the 2013 ASHA Sale. He is owned by Hoerdt and Alberta partners Blair Corbeil of Beaumont and Witsend Consulting Inc. of Calgary. With lifetime earnings of $132,181 he is the richest money earner of the field and looks like a major player yet again. Kelly Hoerdt won the 2013 O'Brien Award of Horsemanship and will have to be dealt with again.
To view the entries for Saturday's card at Century Downs, click one of the following links:
(A Trot Insider Exclusive by Frank Fontana)