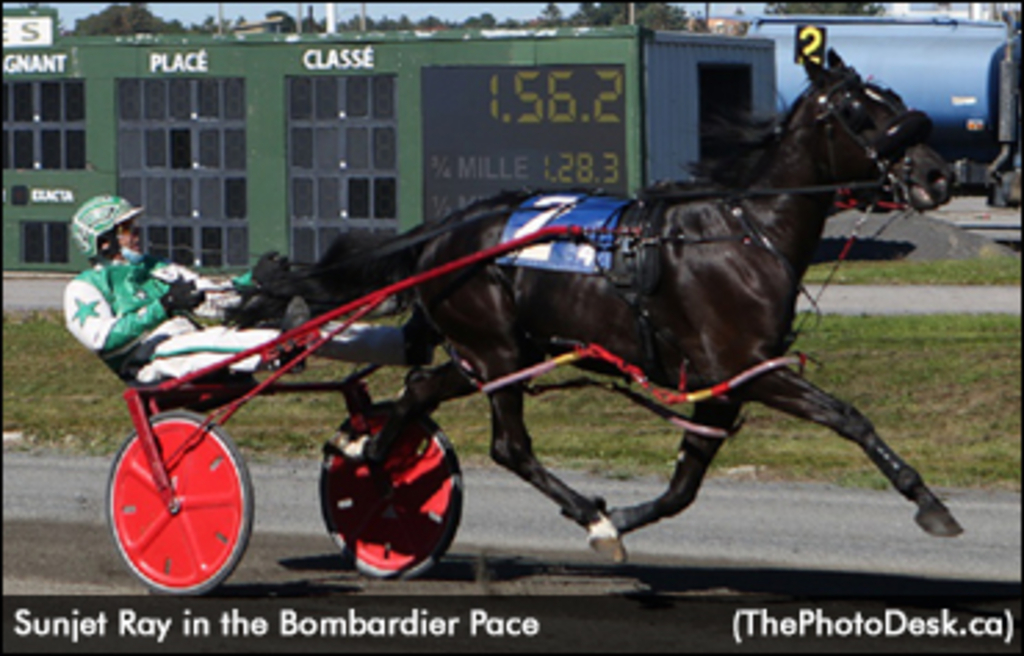 Published:
October 3, 2021 04:23 pm EDT
Once Sunjet Ray was on the lead, no one could pass her by as she breezed to a 1-3/4-length triumph in the $28,000 Lucien Bombardier Pace for two-year-old fillies on Sunday, Oct. 3 at the Hippodrome 3R.
Sponsored by the Quebec Jockey Club and Standardbred Canada, the race is named for one of the "pioneers" of horse racing in Canada, but especially Quebec. Lucien Bombardier devoted his entire life to the industry. Born and raised near Bedford, Bombardier retired in 1992 after 16 years on the board of directors of the Canadian Standardbred Horse Society.
In fourth race feature, driver Stephane Gendron left quickly with Sunjet Ray from post two as did race favourite Shezis A Beauty (Samuel Fillion) from post five. Sunjet Ray was too quick and Fillion right away put Shezis A Beauty into the two-hole.
They sped to the opening quarter-mile in :27 and the half-mile in :57.4 with Sunjet Ray comfortably on the lead. D Gs Shadow (Jonathan Lachance) tried coming first-over to no avail, then Fillion pulled from the pocket with Shezis A Beauty to come after Sunjet Ray at the three-quarters in 1:28.3 and quickly ducked back into the pocket.
Down the stretch, Sunjet Ray and Gendron were easy winners in 1:56.3. Shezis A Beauty was second with Dixie Bayama (Yves Filion) third.
The time of the mile was a lifetime mark for Sunjet Ray as the daughter of Sunshine Beach posted her fourth win of the season from six starts. She is trained by Francis Richard and co-owned by Ecurie Francis Richard Inc., Guillaume Desrochers, Dr. John Bradbury and Charles Marquis.
Sunjet Ray paid $4.70 to win as the second choice in the race and now sports earnings of $50,457. She was also the winner of the $50,000 Future Stars Series Final two starts back.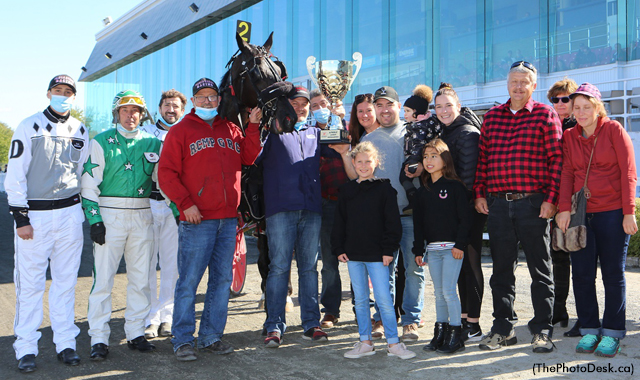 "Shezis A Beauty is a nice filly, but getting away on the front, I was pretty confident as my filly had a great week," said Richard. "I knew she would be tough to beat.
"A big shout out to Barry Robert," said Richard. "He looks after her every day and keeps her happy."
What is next for Sunjet Ray?
"Tuesday morning, we are pulling the shoes on her," explained Richard. "And she will head to my Dad Sylvain's farm where a nice grassy paddock is waiting for her."
In 10th race Preferred Pace for the mares, with a purse of $5,000, Shes Moving On (Samuel Fillion) cut the mile with You Rock Girl Kir (Stephane Gendron) sitting the pocket seat and Sophies Cam (Pascal Berube) third along the rail.
They went to the first quarter in :26.3, then the half in :55.4 as Fancy Girl (Francis Picard) came first-over with Kiss Me Bad (Steven Gagnon) second-over.
In the backstretch, Shes Movin On started to pull away with You Rock Girl Kir following her cover to the three-quarters in 1:25.1.
As the field came around the final turn, Sophies Cam caught up with the leaders and tipped out to challenge them in the stretch. With a mid-stretch burst of speed, Sophies Cam and Berube shot by the leaders to win by 1-1/2 lengths in 1:56.1. Shes Movin On was second with You Rock Girl Kir third.
Trained by Pierre Lepine for owner/breeder Yvanhoe Landry, the seven-year-old mare by Yankee Cam earned her fifth win from 25 starts this year. She paid $21.50 to win.
Track Notes: With a driving triple today, Pascal Berube tied Stephane Brosseau as the leading drivers this season, each with 52 wins. Both Stephane Gendron and Steeve Genois had driving doubles. Both Yves Tessier and Serge Houde had training doubles. Live racing resumes next Sunday at H3R. First race post time at 12:10 p.m.
To view Sunday's harness racing results, click on the following link: Sunday Results - Hippodrome 3R.
(With files from Quebec Jockey Club)