Published:
October 3, 2021 10:06 pm EDT
The second leg of the $2.24 million Massachusetts Sire Stakes (MASS) was contested at Plainridge Park with 34 three-year-olds going postward in six divisions for a total of $480,000 in purses. Each division went for $60,000 except for the trotting colts and pacing fillies, who went split divisions of $30,000 each.
There were two big headlines on Sunday. Driver Drew Monti stole the show as he won both male trotting divisions with Incommunicado and Lindys Booze Cruz and won with pacing filly Ideally Sweet and pacing colt Mullinax in four-consecutive MASS races, claiming a natural stake grand slam. Mullinax, as well as Purameri, also broke track records on the card.
The day opened with a non-betting event for trotting fillies, where Moni for Lindy (Credit Winner-Live Moni) made it two in a row in stake action.
Moni For Lindy got away fourth while Barmaid Express and Royal Envy battled to the half in :58.4. Driver Bruce Ranger tipped Moni For Lindy at that point and they made their way up the outside, eventually reaching second at the top of the stretch. Moni For Lindy then dug in and chased down Royal Envy in the stretch to win by 1-1/2 lengths in 1:56.2.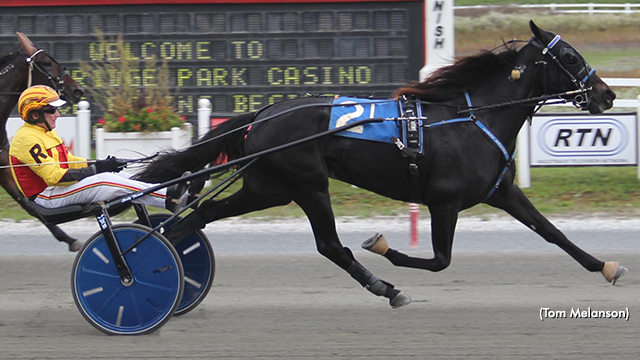 Scoring her seventh win of the year, Moni For Lindy pushed her earnings to $271,377 for owner Greathorse and trainer Domenico Cecere. Moni Maker Stable bred the winner.
Next came the first division of trotting colts where Incommunicado (Chapter Seven-Gran Cavalla) dominated for the second-straight week.
Incommunicado went right to the front, opened a three length lead and maintained a gapped advantage throughout the mile. After cutting fractions of :28.3, :58.2 and 1:26.4, Incommunicado turned for home and stretched to a 4-3/4 length margin at the line, where he won in 1:56.2 — a seasonal mark that also tied his lifetime mark.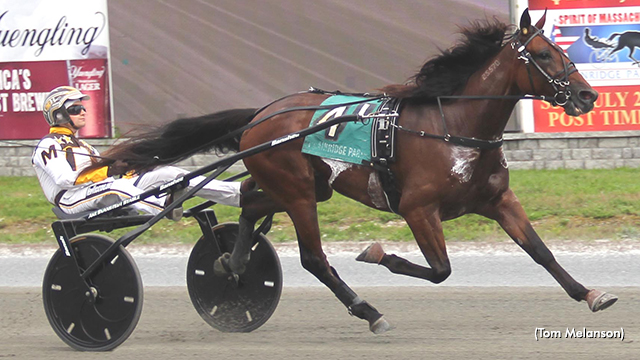 It was the second-straight MASS stake win and fourth win of the year for Incommunicado, who has now earned $175,015 this year for owners Knutsson Trotting, Little E, Arthur Geiger and David Stolz. Ake Svanstedt trains Incommunicado, who was bred by Moni Maker Stable. He paid $2.10 to win.
The second division for trotting colts went to Lindys Booze Cruz (Bar Hopping-Universal Success), who captured his first MASS win.
Lindys Booze Cruz got away third and watched as Twoscoopsforjack took the field to the half in :56.3. Past that station, Lindy On Stage pulled first over and Lindys Booze Cruz followed suit. Lindy On Stage took the lead from Twoscoopsforjack at three-quarters while in the middle of the track. And when he did, driver Drew Monti swung around him with Lindys Booze Cruz. Monti hit the pylons and Lindys Booze Cruz trotted away to a 5-1/4 length win in a lifetime mark of 1:57.4.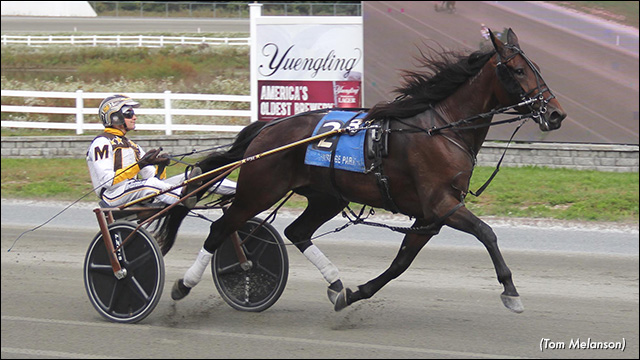 Three-time 2021 winner Lindys Booze Cruz is owned by Clark Stables and Tina Clark and is trained by Robert Clark. Lindy Farms of Connecticut bred the $4.20 winner.
The first division of pacing fillies was next and Ideally Sweet (American Ideal-Sweet Bettor) put in a career effort while taking her first stake victory.
Ideally Sweet left from fourth and dropped in second behind the heavily favoured Rightfully Mine and followed her through quarters of :28, :57.1 and 1:25.2. At the head of the stretch, Monti tipped Ideally Sweet and overtook Rightfully Mine, then held off a late bid from CBF Star Power to win by a half length in 1:54.3, which was a lifetime mark by almost two seconds.
Ideally Sweet is owned by Triple C Stables and Chris Lems — who also bred the filly — and is trained by Jessica Okusko. Drew Monti drove the $12.20 winner.
The glamour division of pacing colts was once again taken by Mullinax (American Ideal-Up Front Kellie Jo), who set two new marks with his victory.
Mullinax, with Drew Monti in the bike, got away third and let Call Me Maverick and American Maverick argue for the front in :26.4. When Call Me Maverick finally settled on the lead, Monti pulled Mullinax before the quarter and took the lead in front of the grandstand. When he got to three-quarters in 1:23.4, Mullinax had a 1-1/4 length lead over Call Me Maverick, and these two started separating from the rest of the field. Down the stretch, Call Me Maverick tipped off cover and started chipping away at his deficit. However, Mullinax would have nothing to do with it and paced through the light on top by a half length in 1:51.3.
The clocking was a lifetime mark for Mullinax and it also tied the MASS stake record for three-year-old pacing colts.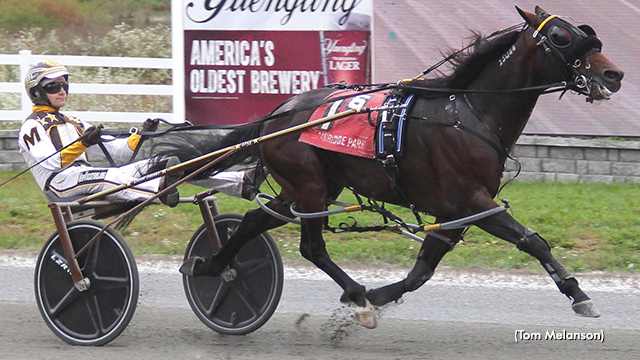 Mullinax, who was the two-year-old MASS champion, is halfway to repeating at three. Owned by William Varney and trained by Mark Ford, Mullinax has earned $144,547 this year on the strength of his three wins. Ed Mullinax and Mark Ford bred the $2.10 winner winner.
Mullinax completed Monti's stake grand slam, however he added one more overnight win to finish with a total of five victories on the nine-race card.
The final stake of the day featured the second division of pacing fillies and another two-year-old MASS champion, Purameri (American Ideal-JK Pure Pearl), looked like she's a candidate to repeat after putting in a record-breaking effort.
Purameri got away last in the short field of five as last week's winner and post-time favourite So Amazing scooted through quarters of :27.1 and :56.3. As the field made their way to three-quarters, So Amazing was starting to look vulnerable when Suzie Blue Chip drew alongside, while Purameri was following closely behind at that point. Suzie Blue Chip cleared by the seven-eighths but Purameri was under a full head of steam, blew right by in the stretch and then pulled away to a 3-1/2 length win in 1:53 flat.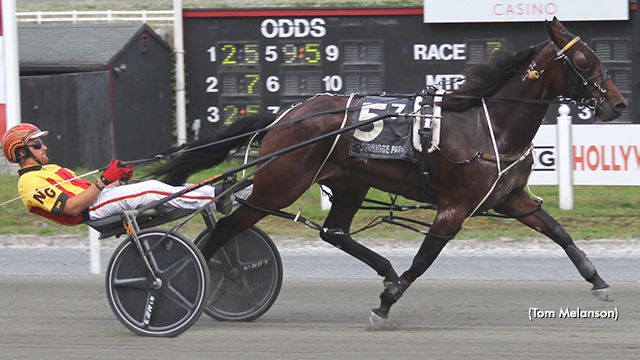 The time was a seasonal mark for Purameri and set a stake record for three-year-old pacing fillies. Purameri also holds the 1:52.4 stake record for two-year-old pacing fillies that she set last year.
Purameri pushed her 2021 earnings to $82,706 after scoring her second win for owner Purple Haze Stable. Nick Graffam drove the $5.80 winner. It was also the second MASS win on Sunday for trainer Jessica Okusko who sent Ideally Sweet to the winner's circle earlier in the card.
The Massachusetts Sire Stakes will resume at Plainridge Park on Monday (Oct. 3) when two-year-old competitors of both gaits and sexes will gather for their second leg. Post time for the first race is 2 p.m. (EDT).
(Plainridge Park)