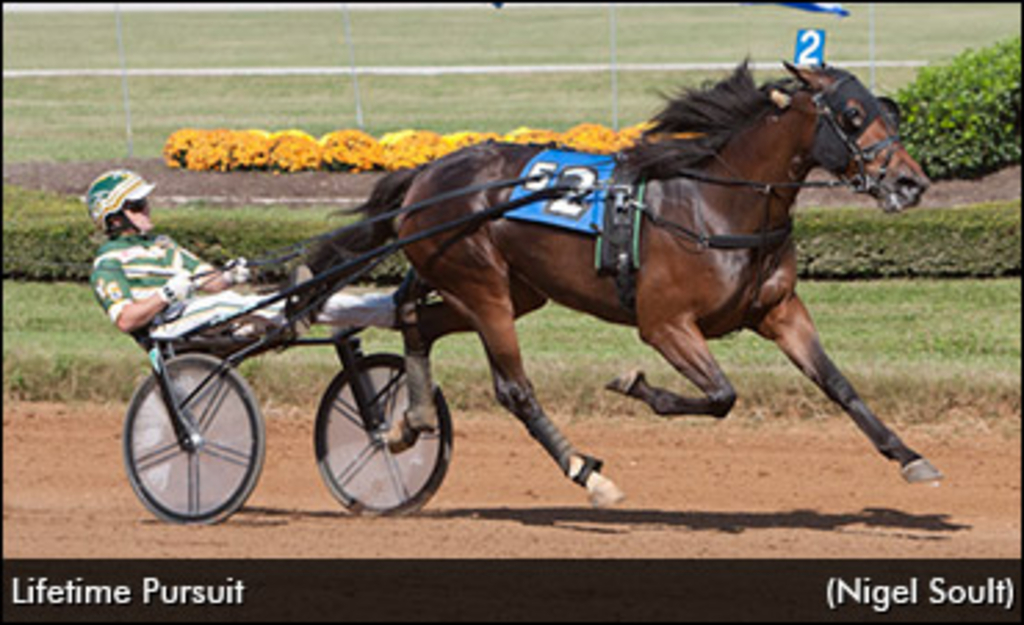 Published:
October 3, 2013 05:11 pm EDT
The opening race card for week two of the Grand Circuit meet at The Red Mile was held on Thursday afternoon, highlighted by the $266,500 International Stallion Series for two-year-old trotting fillies.
Lifetime Pursuit recovered from her miscue in the Bluegrass last week to crush her division in the opening of three International Stallion Stakes in 1:52.3.
Goddess cleared the front, with Juniata Hanover getting away in second and Lifetime Pursuit was under a hard hold in third. Goddess trotted by the opening quarter in :27.3. Heading towards three-eighths, Lifetime Pursuit edged out of the pocket and quickly made her way to the top before the half. Goddess was left in the pocket and Juniata Hanover was racing in third, through a half-mile timed in :56.2 (:28.4).
Tweet Me was the first to go two wide entering the far turn. Struck By Lindy tracked her cover from sixth and was soon third over, as Juniata Hanover decided to lead the flow onward to three-quarters. The tempo was still set by Lifetime Pursuit, passing three-quarters in 1:25.1 (:28.4).
Lifetime Pursuit entered a world of her own at the head of the lane, kicking away from Goddess under a hand drive. Juniata Hanover was racing in third and Struck By Lindy was passing dull cover into fourth as Lifetime Pursuit was sprinting to the wire, stopping the clock in 1:52.3 (:27.2). Goddess finished second, Juniata Hanover was third and Struck By Lindy finished fourth.
Lifetime Pursuit ($8.00) is a two-year-old trotting filly by Cantab Hall, out of the mare Queen Of Grace by Yankee Glide. She is owned by Brittany Farms, trained by Jimmy Takter and Yannick Gingras was in the bike.
"She was actually very good last week," driver Yannick Gingras said. "Like I told Jimmy [Takter] after the race, I really had no explanation [on her break last week]. She was just going to the gate the same way she was going today and the same way she went to the gate in every one of her starts. She just took off running, no warning or anything like it. I didn't think it was something to worry about. I'm glad they put her back in the box and she showed what kind of filly she is."
"If I knew I was that close to it [the world record] I might have chased her a little bit. But you know, they don't pay for world records and the Breeders Crown is next week, so I'm very confident going into it."
Vanity Matters pulled off a mild upset in division two, winning by open lengths over post-time favourite Heavens Door in 1:53.2.
Several fillies launched off the gate for a spot, including Vanity Matters, Royal Tabs and Scream And Shout. Vanity Matters protected the pylons and got command entering the first turn. Scream And Shout was wide around the turn, but cleared the lead heading to the quarter. At that point, Royal Tabs was hard to handle in third and David Miller took her first over to sweep to command, passing the quarter in :28.3.
Royal Tabs took the lead entering the backstretch. Scream And Shout took back into the pocket and Vanity Matters was racing in third. Vanity Matters pulled to the outside from third just before the half and flew to command. Herroyalhighness tracked her move as Vanity Matters led by the half in :56.2 (:27.4).
Vanity Matters kicked away to a four length lead entering the far turn. Herroyalhighness was left in second and Scream And Shout was racing in third, beginning to tip out. Heavens Door was making up ground from fifth and had a long ways to go to catch Vanity Matters, who was long gone at three-quarters in 1:24.2 (:28).
Vanity Matters was being chased home by Yannick Gingras through the stretch. Under minor encouragement, she went on to victory over Heaven's Door, Scream And Shout and Highest Peak closing for fourth, in 1:53.2 (:29).
Vanity Matters ($14.00) is a two-year-old filly by Explosive Matter, out of the mare Vanity Plates by Conway Hall. She is owned by Joe Sbrocco and Darlene McNulty, trained by Jonas Czernyson and was driven by Yannick Gingras.
"She was going to win last week too and she, at the last minute, kind of dove in on me [made a break]," driver Yannick Gingras said. "She runs out a little bit in the straight-aways. When you look at her program, she isn't the best finisher sometimes, but they changed the bridle on her and I think she's coming around at the right time."
Yannick Gingras returned to the winner's circle again, this time aboard Outsourced Hanover, pulling off an 11-1 upset in a 1:54.4 stroll.
Post-time favourite Cee Bee Yes went off-stride at the start. Red Hot Spicy and Thisgirlisonfire launched off the gate, with Thisgirlisonfire getting command. A Sundae On Sunday got away in third and Outsourced Hanover floated into fourth. Thisgirlisonfire led by the quarter in :28.2.
Thisgirlisonfire was left uncontested to the half-mile pole, until Outsourced Hanover took first over. A stalling Chivaree Hanover, with Demoiselle Hanover tracking her, flushed Outsourced Hanover to the half. Outsourced Hanover trotted to the half in :57.2 (:29).
Outsourced Hanover was the new leader entering the far turn, while A Sundae On Sunday became the new leader of the two wide flow, trotting first over to three-quarters. Chivaree Hanover continued to stall second over, while Thisgirlisonfire was trying to keep up in the pocket. Outsourced Hanover trotted to three-quarters in 1:25.3 (:28.1), sprinting well clear of the field.
Outsourced Hanover began to drift into the stretch, but was kept to her task. Red Hot Spicy came up the pylons into second and Demoiselle Hanover was trotting passed her dead cover into third, but they were still well clear of Outsourced Hanover, who trotted to the wire in 1:54.4 (:29.1).
Outsourced Hanover ($25.00) is a two-year-old filly by Donato Hanover, out of the mare Oaklea Opal by Mr Lavec. She is owned by Burke Racing Stable, Weaver Bruscemi and Howard Taylor, trained by Ron Burke and Yannick Gingras completed his sweep of the International Stallion Stake aboard Outsourced Hanover.
"She raced good, a little bit green finishing, but she felt really good going to the half," driver Yannick Gingras said. "Ronnie [Burke] told me to race her for a check, and I don't really drive a lot to get checks, I like to drive to win. Sometimes it works and sometimes it doesn't, but this time it did."
"It was a very good effort, I looked it [the race] over and didn't see how we could win, then Andy [Miller] ran behind the gate and Yannick put her in a great spot," trainer Ron Burke said. "It worked out perfect. [Her break in the Kindergarten] Was a one-time thing, I think Brett had her wound up that night. That was the only reason we kept her here, she had two breaks but a lot of trot."
The Red Mile meet continues tomorrow, with the $223,900 International Stallion Stakes for two-year-old filly pacers and the $260,500 International Stallion Stakes for two-year-old colt trotters on tap for Grand Circuit action. Post time for tomorrow's card is 1:00 p.m.
(The Red Mile)