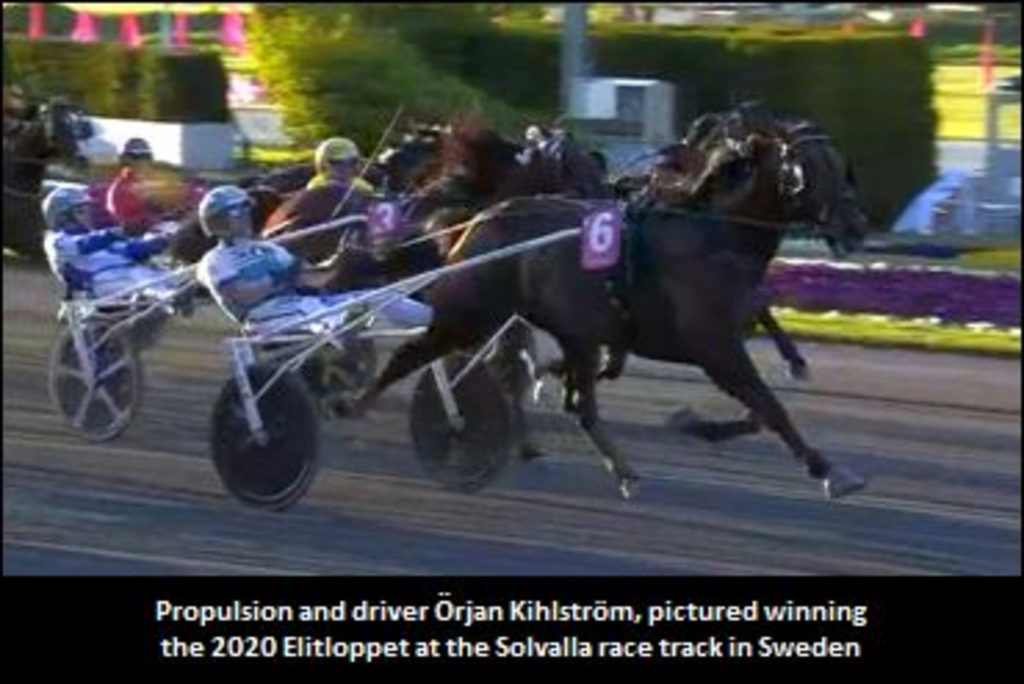 Published:
October 29, 2020 12:28 pm EDT
On Thursday morning (Oct. 29) in Stockholm, the Swedish Trotting Association (ST) announced its decision in regard to Propulsion, the multiple stakes winning trotter that has been the subject of an investigation this year.
The Swedish Trotting Association announced that because information had been provided that Propulsion had been 'nerved' in the United States before he was imported to Sweden, the horse will forfeit his earnings and 45 win titles from all starts in Sweden since he was imported in 2015.
In addition, any future offspring sired by Propulsion will not be eligible for registration in Sweden.
Propulsion (pedigree) was bred in the U.S. by Fredericka Caldwell and Bluestone Farms. A $250,000 yearling, he raced as a two and three-year-old out of the Tony Alagna Stable and then was sold as a four-year-old for $210,000, at the Tattersalls Summer Mixed Sale, to Bengt Agerup's Stall Zet. Agerup campaigns horses in North America under the banner of Brixton Medical.
At the time he was sold at auction, there was no notation on Propulsion's U.S. Trotting Association profile that he had been nerved, although paperwork had been turned in and was being processed when the horse raced at the Meadowlands Racetrack shortly before he was sold. When the USTA sent export papers to Swedish Trotting for Propulsion, USTA records show those papers included the notation that Propulsion had been nerved. At some point the information was added to Propulsion's profile that appears in the USTA's Pathway database, but it was not there when the horse was sold at auction.
During Swedish Trotting's investigation into Propulsion's nerving status, the USTA again sent Swedish Trotting the information it had provided, which had apparently been overlooked at ST.
The fact that Propulsion had been nerved in the U.S. — a procedure permitted in the U.S., but banned in the ST rulebook — came to light following the horse's win the 2020 Elitlopp. A Norwegian trotting journalist looked the horse up on the USTA's online database and saw the notation that the horse was nerved and published the discovery. However, according to reports, the horse's condition was first reviewed by an ST veterinarian in 2019 when rumours surfaced that the horse had been nerved.
The Swedish Trotting Association launched an investigation after Propulsion's Elitlopp victory this year and announced its initial decisions on Thursday. Approximately $3 million in purse money won by Propulsion in Sweden will be redistributed in December to other owners of horses beaten by Propulsion in those races.
According to Swedish media reports, ST admitted there were "shortcomings" in its handling of the import certifications, but it also said that trainer Daniel Redén should have had the opportunity to find out both before and after the purchase whether Propulsion was had been nerved.
At the press conference, officials also stated that Redén's possible responsibility in the matter will now be addressed.
Redén's, attorney, Jesper Arvenberg, was not invited to ST's press conference, but was permitted to listen via link.
"I think the decision is ill-considered and in any case as the internal investigation was presented, it does not feel as thorough as one would have liked because the responsibility in all parts seems to be unjustified," he said. "One comes to the conclusion that something went wrong and no one is responsible and it is a bit difficult to understand."
Arvenberg also said that he had not been given access to the details of ST's findings.
"And I do not know when we will get it, either," he added. "What can be stated regarding the administrative decision is that I think it is a bit hasty and an ill-considered decision to nullify the race performances, given that it also presupposes that you are completely convinced that there has been a nerve incision, that the nerve incision has been effective, and that the horse competed in violation of the regulations."
(Harnessracing.com)