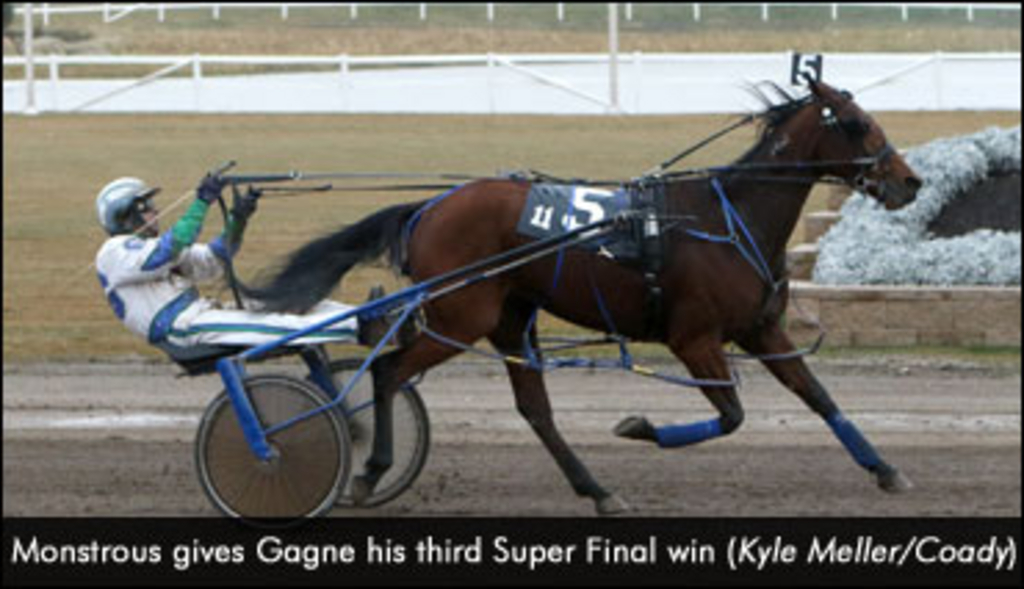 Published:
October 29, 2016 05:45 pm EDT

Driver J.F. Gagne dominated Super Final Saturday at Century Downs Racetrack and Casino, winning three of the four $80,000 Alberta Sires Stakes championships for two and three-year-old pacers.
Two-year-old pacing filly Outlaw Fireball remained undefeated competing against Alberta Sires Stakes company, capping off the season with a 1:59 victory over the 'good' track in the afternoon's first Super Final for driver J.F. Gagne and trainer Marjorie Dumont.
Sent postward as the 3-5 favourite with the inside post advantage, Outlaw Fireball settled away third as Wedding Dance (Gerry Hudon) and then Shesamysterytome (Ryan Grundy) forged ahead off the gate leaving just to her outside. Shesamysterytome led the way through opening panels of :28.3 and :58.1 with the rest of the field following in single-file alignment.
At the midway mark, Wedding Dance launched her backstretch challenge from the pocket with Outlaw Fireball tracking hot on her heels before fanning wide at the 1:26.4 third quarter mark to overtake the tiring leaders into the stretch. She then drew two lengths clear down the lane to secure the victory. Pickles On Top (Brandon Campbell) came on for second-place and Steady Breeze (Kelly Hoerdt) closed for third.
"I knew she was good, she had three good weeks," said Gagne in a post-race interview. "I didn't know about the track change; it's kind of a different surface for her so I didn't know about that. But going to the half, I knew that the fractions were decent and I had horse. I had no problem keeping up and I had cover. I was a little worried around the last turn because those young horses getting that wide you never know what can happen, but she raced good. She got the job done. We couldn't ask for any better."
Outlaw Fireball now boasts five wins from nine career starts, including victories in all three of her Alberta Sires Stakes preliminary legs, and almost $85,000 in earnings.
Dumont trains the Blue Burner-Watchsasgirlsgoby filly, who was privately purchased from breeder Connie Kolthammer's Outlaw Stable early this year by Gagne and partners Peter Van Seggelen of Foothills, Alta., Carl Warnaar of Kelowna, B.C., and Tapron Holdings Ltd. of De Winton, Alta.
"We're excited," said renewed owner Van Seggelen. "J.F. and I have been 18-19 years together. So we're real excited. We've got a couple of young ones coming along. We're just enjoying it right now."
Outlaw Fireball paid $3.40 to win.
Senga Nitro also kept his perfect Sires Stakes record intact as he delivered an impressive 1:57.1 victory despite the off conditions as the 3-5 favourite in the following Super Final for two-year-old pacing colts and geldings.
Trainer/driver Ryan Grundy sent Senga Nitro first over from fifth after a :28.3 opening panel to take the lead before reaching the half-mile mark in :59.3. Senga Nitro cleared to command leaving Getup Gideon (Phil Giesbrecht) uncovered and raced on to three-quarters in 1:27.1. Meanwhile, Getup Gideon tucked into a two-hole opening while Mateo (J.F. Gagne) tipped outside in pursuit, but settled for second-place as Senga Nitro kicked away down the stretch to score by two lengths. Getup Gideon finished third.
"He's an awesome horse. I've said it a couple of times this summer: I think he's the best I've ever trained myself or worked with," said Grundy, who trains and drives the Blue Burner-Nells Sweet Future gelding for longtime owner/breeder Kenneth Gunn. "I hope he comes back next year even better."
Fresh off a 1:55.4 two-year-old track record victory in the Shooting Star leg on October 16, Senga Nitro paid $3.50 to win.
He is now six-for-eight in his career with a bankroll of nearly $95,000.
Three-year-old pacing colt Outlaw Turn N Burn brought driver J.F. Gagne back to the winner's circle for his second Super Final victory of the day.
While things didn't look promising for the Donna Sarin trainee, who trailed the field early on after an outside post eight start, Gagne was able to get Outlaw Turn N Burn up in time to prevail in a photo finish.
Blue Star Jet (Rod Hennessy) left for the lead as usual from post five and opened up four lengths on top past the :29.2 first quarter on the way to the half in :59.2. Meanwhile, Classy Artist (Gerry Hudon) began to advance first over from fourth with defending champion and 6-5 favourite Wrangler Cash (Kelly Hoerdt) tracking his cover before fanning wide. Blue Star Maverick (Mike Hennessy) followed Wrangler Cash, who collared race leader Blue Star Jet past the 1:27 third quarter mark before breaking stride on the final turn. Blue Star Jet regained the lead with Wrangler Cash dropping out of contention, but the backfield was closing in. Blue Star Maverick went by with Prairie Mystic (Brad Watt) and Outlaw Turn N Burn rallying widest of all. Outlaw Turn N Burn ultimately out-finished Prairie Mystic to prevail by a neck in 1:58.2. Blue Star Maverick finished one and three-quarter lengths behind in third.
Outlaw Turn N Burn, winner of the Alberta Maverick Final last time out on October 15, paid $8.20 to win as the 3-1 second choice on the toteboard.
"At the quarter pole, I thought I was going to be lucky for a third or fourth and the more it went I was like 'oh boy, were going to need a miracle,'" said Gagne after the race. "Everybody went wide and we were wide and we all ended being bunched up at the top of the lane and 'Burnie,' he never really gave up. He's been a constant grinder so it paid off today. He was really good at the right time."
A runner-up in the Super Final last year, Outlaw Turn N Burn has earned seven wins from 16 starts in his sophomore season. A nine-time winner lifetime, he has banked over $180,000 in purses.
Gagne went on to praise Sarin's management of the Super Final champion.
"She's done an unbelievable job, very patient and the management was a lesson for me to observe, I should say," he noted.
Another Outlaw Stable-bred Super Final winner, the Blue Burner-Penny Lace colt is owned by John Glen's 8113564 Canada Ltd. of Sherwood Park, Alta.
J.F. Gagne closed out a monstrous day with his third Super Final victory aboard the appropriately named three-year-old pacing filly Monstrous, who is trained by Darryl Cutting.
Ba Bye Ceia Later (Mike Hennessy) left from post six to establish the early lead over Outlawtriggerhappy (Gerry Hudon) with defending champion Divas Dragonfly (Jamie Gray) parked and driving on to clear through a quick :27.3 opening quarter. However, Ba Bye Ceia Later moved right back out for the retake and headed to the half in :57.3.
Meanwhile, Top It Up (Dave Kelly) tipped first up from fourth, but Monstrous rushed three-wide from the backfield and overtook Ba Bye Ceia Later on top and opened up two lengths as she raced past three-quarters in 1:27.3.
Rallying from last, Cenalta Artistry (Rene Goulet) moved into second and chased after Monstrous down the lane, but to no avail. Monstrous won by four and a half lengths in 1:59 flat while Outlawtriggerhappy edged out Cenalta Artistry in a photo for the runner-up honours.
Monstrous paid $6.70 to win as the 2-1 favourite. The Allamerican Navajo-Hoosier Pam filly rebounded from recent sickness and her first off-the-board finish this year in the Alberta Marquis final last time out on October 15.
"She wasn't right last [time]," explained Gagne. "She came sore behind. I knew it was behind, but I didn't know what it was. Darryl said he could feel that, but I guess they took two weeks to work on her back. When I talked to him three or four days ago, he said 'you know what, she trained really good so let's keep our fingers crossed. If it stays like this, we might be in alright shape for the final.' And then she was back to herself aggressive today...She's done it easy, I should say."
Monstrous was last year's Super Final runner-up after winning just one of her six rookie races. This year, she has earned top-two placings in 13 of her 14 starts. Notching her sixth win of the season today, she pushed her bankroll over $163,000 for owner/breeder Warren Fuller of Sherwood Park, Alta.
"She was racing against the best in the beginning and the middle and the end," said Gagne. "So what else can those guys ask for? It's a very nice filly, that's for sure.
"I would like to thank all of those people that let me drive their horses," added Gagne, summing up his super Saturday. "They made it possible so thank you."
The afternoon's four $15,000 Consolations played out as follows:
High Speed Chase ($9.90) and driver Mike Hennessy capitalized off a break in stride made by 3-5 favourite Beer Bribe to win the first consolation for freshman colts. Chris Lancaster trains the Mystery Chase-Felicia Hanover colt, who is now a two-time winner in 10 starts, for owner Trevor Williams of Winnipeg, Man.
Avoiding an early tussle and dropping into the pocket, Beer Bribe (Keith Clark) took over the lead after the quarter, however, he broke stride on the final turn causing interference to Tim Hurtins (Nathan Sobey), who had moved into the two-hole to track the favourite. Beer Bride quickly resumed pacing, but the damage was done. With the race leader losing momentum, the oncoming High Speed Chase and Hennessy powered ahead turning for home and won by three and three-quarter lengths in 2:01.1 over the 'good' track. Runner-up Beer Bribe was placed fourth for causing interference while on a break and thus Brandon Campbell trainees Heated Exchange (Campbell) and Tim Hurtins inherited second and third.
Even-money favourite Double Mystery ($4) and trainer/driver Rene Goulet swept three-wide off cover approaching the third quarter mark to take the lead in the freshman filly consolation and held off Queen Of Thrones (Phil Giesbrecht), who tracked her every move, in a photo finish to win in 2:01.1. Never Say Sorry (Tyler Redwood) finished third.
Goulet co-owns the Mystery Chase-Doublethepleasure filly, who is now three-for-seven in her career, with Jerome Smith of Regina, Sask.
High Speed Chase and Double Mystery completed a sweep of the two-year-old consolation races for breeder Allan Neurauter of High River, Alta.
Driver Mike Hennessy doubled up in the consolations with three-year-old pacing filly Just Becoz ($19), who is trained by his father Rod Hennessy and co-owned by Lorne Duffield of Edmonton, Alta.
The Mystery Chase-Cozamel filly swept off cover at the third quarter mark and glided by the leading 8-5 favourite Apple Blossom Time (Brandon Campbell) to score her seventh career win in 2:00.2 by one and a quarter lengths, with Astrid The Axe (Nathan Sobey) and Senga Naptha (Ryan Grundy) coming on for second and third-place.
Flamingbluestar ($23.80) went all the way to win the three-year-old pacing colt consolation for another father-son, training-driving duo of Brandon and Sanford Campbell. The locally-bred gelded son of Blue Burner and Blue Star Appeal is owned by Debbie Campbell and Steven Robinson.
Flamingbluestar fired off the gate from the outside post eight and quickly crossed to command ahead of insider starter Gray Zee (Dave Kelly). Turning for home, he shook off that rival, who was flushed from the pocket to challenge for the lead when the outer flow began to develop, and urged home to win by two and three-quarter lengths in 1:59.3. Make It Big (Rene Goulet), the 3-2 favourite, rallied off stalled cover from third-over to claim the runner-up honours while Gray Zee settled for third.
To view Saturday's harness racing results, click on the following link: Saturday Results - Century Downs.