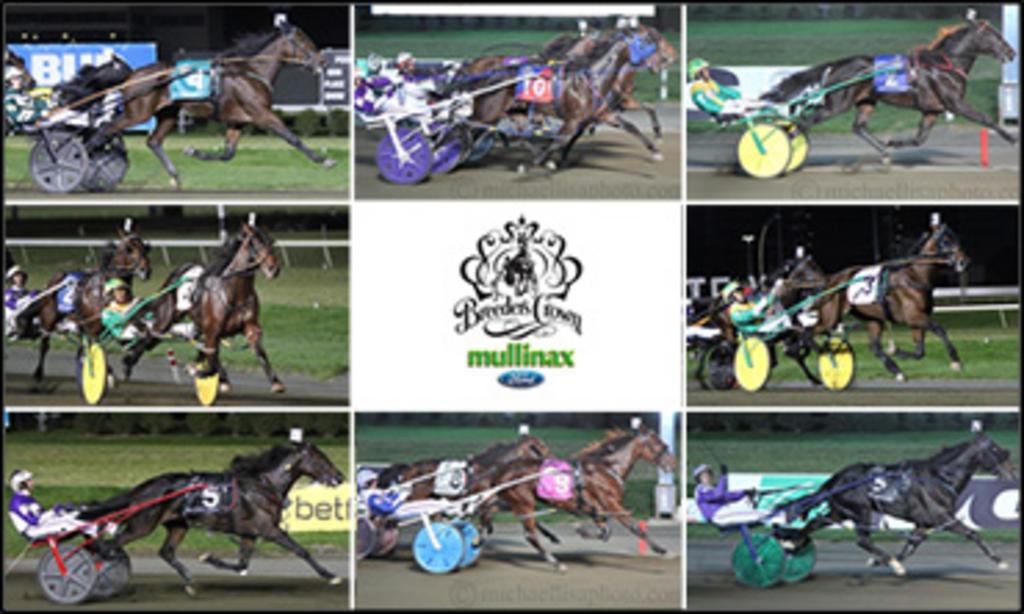 Published:
October 29, 2016 06:00 pm EDT

The 2016 Breeders Crown weekend concluded on Saturday night (October 29) at Meadowlands Racetrack in East Rutherford, New Jersey with the remaining eight championships for two and three-year-olds.
$600,000 Two-Year-Old Filly Trot
Trainer Jimmy Takter said last week that he'd have Ariana G better for the Breeders Crown Final, and his words rang true when his star freshman trotting filly gave him his series-leading 29th Breeders Crown trophy on Saturday night.
In Saturday's first of eight Breeders Crown finals, a number of trotting fillies took turns on the lead early. Cameron Hill (Andy Miller) was on top through the :27.4 opener before being looped by Treviso (Charlie Norris). Her lead was short-lived as Thats All Moni (Tim Tetrick) came calling and cleared just before the :56.1 half.
Sunshine Delight (John Campbell) towed elimination winner Chezatter (David Miller) into contention, with Ariana G (Yannick Gingras) situated third over at the 1:25.1 third panel. Chezatter and Ariana G angled out for clear paths in the stretch and both started to make ground, but Ariana G was stronger in the lane and tripped the timer in 1:53.4. Princess Aurora (Brian Sears) closed from the clouds to nab the runner-up spot over Sunshine Delight, giving owners Al Libfeld & Marvin Katz and trainer Jimmy Takter a 1-2 finish.
"I'm very excited, but I want to take this opportunity to say 'Hi' to my friend and partner, Al Libfeld," said Katz. "He's home watching this...we did it tonight, Al. Get well soon!"
Ariana G (Muscle Hill - Cantab It All) has now won nine of 11 rookie starts for breeder/owners Katz & Libfeld, and her bankroll surpassed $800,000 with the win.
"Last week she got a little hot on me but they went big fractions so I was able to race her from behind, but last week she was really grabby and I really believe I choked her," said driver Gingras after winning his 16th Breeders Crown. "Even at the top of the stretch I still had a stranglehold of her and then two steps later, I had two loose lines. I'm pretty sure she choked last week. The credit goes to Jimmy, he made equipment changes and obviously they worked tonight.
"I drew in a good spot, Chezatter was inside of me. She looked like she was going to move to the front early on, and I was really content to follow her, and obviously it worked out."
$600,000 Two-Year-Old Filly Pace
In one of the tightest finishes in Breeders Crown history, Someomensomewhere whiskered out Agent Q to capture the 2016 Breeders Crown for two-year-old pacing fillies.
Marcus Miller left stoutly with Someomensomewhere, but allowed Idyllic Beach (Gingras) to clear just past the sharp :26.4 opening split. Favoured Roaring To Go (Brett Miller) was right-lined from third and cleared to the lead before the :55 half.
Jayes A Lady (Corey Callahan) started the first-over pressure but didn't pose a threat to the leader, still strong on the front through a 1:24 third panel. David Miller had Agent Q tipped off cover at the head of the stretch, but still had a fair amount of ground to make up on the front-runners.
Both Idyllic Beach and Someomensomewhere angled out for the stretch drive and both powered past Roaring To Go. As the fillies hit the wire in a tight finish, it appeared Agent Q and Someomensomewhere were on the line together and a long period of time elapsed before the photo sign came down and the saddle pad number of Someomensomewhere flashed up first.
"It worked out, maybe not exactly as I hoped, but as good as it could," said driver Marcus Miller after his first Breeders Crown win. "The way everybody drew, she was really sharp tonight. David [Miller on Agent Q] does a good job but he couldn't quite get by me tonight.
"I wasn't sure and he [David] wasn't sure [who won] either. We decided while we waited for the photo that we would be all right with a dead-heat as long as they gave us both a trophy."
Miller drove Someomensomewhere (Somebeachsomewhere - Omen Hanover) for his father, trainer Erv Miller, and owners Nick Surick Stable LLC of Freehold, N.J. and KDM Stables Corp. of Farmingdale, N.Y.
"It's unreal. I never want to sweat a photo like that again in my life...It's a good experience," said Surick after the win, also his first as an owner.
Someomensomewhere now boasts a 3-5-1 summary from 11 starts with a new 1:51.2 lifetime mark and more than $407,000 in purse earnings.
$600,000 Two-Year-Old Colt Trot
Sweeping to command on the backstretch and drawing away from his competition with ease, two-year-old trotting colt Walner followed in the hoofprints of his sire Chapter Seven in becoming a Breeders Crown champion for driver Tim Tetrick and trainer Linda Toscano.
The 1-9 favourite set a new divisional track record of 1:53, shaving two-fifths of a second off the former mark held by Centurion ATM and Pinkman.
Moonshiner Hanover (Scott Zeron) left for the lead from post seven with insider Giveitgasandgo (Corey Callahan) coming through in second before breaking stride. What The Hill (David Miller) inherited the pocket spot with elimination winner Walner following behind in third.
After a :28 first quarter, Tetrick made his move with Walner to take the lead and never looked back through middle splits of :57 and 1:26. Walner turned for home clear of his rivals and extended his lead down the lane to score by four and a half lengths. Moonshiner Hanover held for second while the other elimination winner, Sortie (Andrew McCarthy), closed off cover to finish third over a locked in What The Hill.
After the race, Tetrick acknowledged that Walner is the whole package.
"Absolutely, he can do it either way. He's got tonnes of ability and he's very special," he said. "I just wanted to get around there safe and make sure I didn't mess it up badly. I knew I had a good horse so if I got him there with decent fractions, I knew he'd be hard to catch. He's a great horse."
Walner's sire Chapter Seven won his second Breeders Crown for the same driving and training duo of Tetrick and Toscano in 2012. The pair also won a Crown together with Market Share in 2013.
"I was nervous this time," admitted Toscano, "because I expect big things from this colt. He's a good colt. He's got a great attitude and he just loves his job and everything worked out tonight.
"Chapter Seven is similar because he had a big gait. Market Share was just a little engine that could. Nothing about Market Share was supposed to be the way he was, but Chapter Seven and this colt do have similarities."
The colt out of the O'Brien Award-winning mare Random Destiny was purchased for $90,000 at the Lexington Selected Yearling Sale by Kenneth Jacobs of Baldwinsville, New York. He is now six-for-seven in his career with a bankroll of $388,750 and a world record mark of 1:51.3 taken in the International Stallion Stakes at The Red Mile prior to the Crown eliminations.
Walner paid $2.40 to win.
$600,000 Two-Year-Old Colt Pace
The next Breeders Crown championship turned into a showdown of the world champion two-year-old pacing colts with Huntsville fending off Downbytheseaside to give driver Tim Tetrick back-to-back track record victories.
Huntsville prevailed in 1:49.1 -- just one-fifth of a second off the world record he shares with Downbytheseaside after their respective Grand Circuit victories at The Red Mile. The winning time was two-fifths of a second faster than The Meadowlands record held by the Tetrick-driven Captaintreacherous.
Boogie Shuffle (Scott Zeron) and Odds On Delray (Mark MacDonald) secured the top two spots through a quick opening quarter of :26.3 before the favoured elimination winners took turns on the lead. Downbytheseaside (David Miller) swept up from third with Huntsville hot on his heels, clearing to command down the backstretch. The world champions raced one-two past the half in :54.1 and three-quarters in 1:22. Down the stretch, Miller launched Downbytheseaside out of the pocket to challenge, but Huntsville persevered by two lengths. Miso Fast (Matt Kakaley) came on for third.
"I got a little concerned at the half in :54.1 and then around the last turn I said, 'well, we'll separate the men from the boys' and he was the man," said trainer Ray Schnittker after earning his third Breeders Crown trophy.
"My horse felt really good in the hole there," said runner-up Miller. "I was waiting for room and when he got it, I moved him over and he took right off and went after him there, and about halfway through the stretch he kind of let up. I popped his plugs, asked him and he did what he could do. The other horse was just better tonight and congratulations to them."
Hunstville paid $3.60 to win as the slight 4-5 favourite.
The homebred Somebeachsomewhere-Wild West Show colt now boasts seven wins and has finished no worse than second in 10 career starts. His earnings soared over $600,000 for Schnittker and New York-based co-owners Theodore Gewertz, Charles Iannazzo and Steven Arnold.
Huntsville is expected to race next in the Governor's Cup.
$500,000 Three-Year-Old Colt Trot
Tim Tetrick steered his third straight Breeders Crown champion as Bar Hopping prevailed in the three-year-old trotting colt division.
Trainer Jimmy Takter also earned his third Breeders Crown trophy of the year, and his third straight victory in this division with Bar Hopping following up the winning feats of stablemates Father Patrick and The Bank.
Bar Hopping's fellow elimination winner Sutton (Andy Miller) led the field through fractions of :28.3, :56.2 and 1:24.1 while the Takter-trained Lagerfeld (David Miller) moved first over after securing an early four-hole from the outside post 10. Tetrick had Canadian Trotting Classic champion Bar Hopping following second-over while Trotting Triple Crown winner Marion Marauder (Scott Zeron) gapped his cover. As Sutton turned for home, he tried to fend off Lagerfeld while Bar Hopping fanned outside and stormed by to win by one and a half lengths in 1:51.4, equalling Father Patrick's stakes record. Defending champion Southwind Frank (Yannick Gingras) rallied from behind horses out of the pocket to finish second and Double L Lindy (Ake Svandstedt) was third.
Bar Hopping paid $3.80 to win as the 4-5 favourite.
"I felt really good [coming into the race]," said Tetrick. "Last week, he raced really well; we opened him up a little bit and he trotted a big mile. And today off cover, he really responded well."
With his eighth win from 17 sophomore starts, Bar Hopping surpassed the million-dollar mark for seasonal earnings.
The son of Muscle Hill and Cocktail Hour is owned by Takter's wife Christina Takter, along with the Hatfield Stables of Columbus, Ohio, Marvin Katz of Toronto, and Al Libfeld of Pickering, Ont.
While Tetrick said that Walner's Breeders Crown win impressed him the most, he noted, "They're all very special to me. Anytime you win one of those big trophies...they're very hard to get. That's why we start qualifying in May and we work so hard to get to those big races. It's very, very special."
After Marion Marauder's 10th-place finish, Zeron commented, "I think he was maybe a little sick, off his game. He definitely has always given me his all every start he has been out here and today he didn't have it. And he didn't have it early on in the race. It's unfortunate, but hopefully he goes on to bigger and better things as a stud."
$500,000 Three-Year-Old Filly Trot
Broadway Donna became harness racing's newest millionaire as she wore down defending Breeders Crown champion All The Time to win the three-year-old filly trot final for driver David Miller and trainer Jim Campbell.
Hambletonian Oaks champion All The Time, who entered the Breeders Crown races after recovering from colic surgery, was on the move early as Yannick Gingras sent her from fourth to first after the :28 opening quarter. As she cleared to command, Miller sent reigning U.S. divisional champion and 3-5 favourite Broadway Donna first over from mid-pack and progressed through a :56.3 half. Broadway Donna challenged All The Time as they raced past three-quarters in 1:25.3 and began to edge ahead down the lane, eventually drawing clear late to score by two lengths in 1:53.1. Early leader Emoticon Hanover and Sylvain Filion finished second over All The Time.
"I was hoping to get away somewhere in the middle and come with cover, but right off the gate nobody from the inside was even pushing off so I had to do something," said Miller, who also won a Breeders Crown on Friday night with Open pacer Always B Miki. "I got around and when Yannick was moving back, I knew I was going to be first-over, but you know what, she's been sharp and she's strong and she got the job done."
Broadway Donna extended her win streak, which is now composed of victories in the Kentucky Filly Futurity and Breeders Crown, to four in a row.
"She's way, way sharper now than she was halfway through the summer and that's always a good thing I think," added Miller.
The homebred Donato Hanover-Broadway Schooner filly is owned by Fashion Farms LLC of New Hope, Pennsylvania. The win was her seventh in 12 starts this year and 16th overall, sending her lifetime earnings to $1,195,994.
"I feel very blessed and I thank God for being able to be in a position to train a filly like her," said Campbell. "She's just a super filly. When I saw Dave coming first-over with her, I just thought if she's on her game on tonight the first-over didn't bother me, and she just proved tonight she's a topnotch filly."
Broadway Donna paid $3.60 to win.
$500,000 Three-Year-Old Filly Pace
Former Canadian driving star Scott Zeron celebrated his first Breeders Crown victory as Ross Croghan trainee Call Me Queen Be duelled past L A Delight in a final quarter sprint to prevail in the championship for three-year-old pacing fillies. The Somebeachsomewhere-Preppy Party Girl filly also surpassed the million-dollar mark in career earnings with the 12-1 upset victory.
Defending champion and 4-5 favourite Pure Country (Brett Miller) looped early leaver Penpal (Pat Lachance) past the :27.3 first quarter mark before L A Delight (John Campbell) swept up from third to take over command. She reached the half in :55.2 with Call Me Queen Be leading the outer flow, starting up from mid-field. Call Me Queen Be went head-to-head with L A Delight as they raced past three-quarters in 1:23.4 and gained a short lead. L A Delight tried to fight back down the stretch, but Call Me Queen Be was dead game and prevailed by three-quarters of a length in 1:49.4. Darlinonthebeach (David Miller) closed off cover to finish third.
"That just happened -- I'm happy she was on her game tonight because that's not her style," said 27-year-old Zeron after the race. "But things really worked out in her advantage to get a soft third quarter and that just turned it into a sprint to leave some of those horses that were following behind."
The end result was a reverse finish of the 2016 Jugette. And it capped off a dream season for Zeron, who was also the driver of Triple Crown champion Marion Marauder.
"Absolutely. Without a doubt. I finally got a Breeders Crown. I went 0-for-a lot!" he laughed.
Overlooked at the betting windows, Call Me Queen Be paid $27.80 for the upset victory.
The 10-time career winner is owned by Let It Ride Stables Inc. of Boca Raton and Dana Parham of Fort Lauderdale, Florida.
$500,000 Three-Year-Old Colt Pace
Racing Hill and driver Brett Miller swept past the duelling leaders around the final turn and kicked home to a 1:48 stakes record victory in the final Breeders Crown of the night. The victory marked a milestone for trainer Tony Alagna, who earned his 1,000th career win.
Another Alagna trainee, Dr J Hanover (Scott Zeron), was the first to get a call leaving from post seven, but elimination winner Check Six (Yannick Gingras) quickly rolled by at the :26.3 first quarter mark with Lyons Snyder (Brian Sears) on the move from fourth. Lyons Snyder attempted to clear Check Six down the backstretch, but the leader would not yield and a heated battled ensued past the half in :53. Those two continued to duel to three-quarters in 1:20.2 while Miller moved Racing Hill up second-over from mid-pack and then fanned three-wide to sweep past the top pair into the stretch. Racing Hill then opened up two lengths with Manhattan Beach (Matt Kakaley) chasing him home in second-place and closing within three-quarters of a length at the wire. Check Six finished third and Fernando Hanover (Tim Tetrick) was fourth completing a 2-3-4 finish for the Ron Burke stable.
Racing Hill bested Somebeachsomewhere's stakes record by three-fifths of a second in a career-best performance.
"I was loving every bit of it," said Miller of the front-end battle. "When the half flashed up and they were still pacing hard in the last turn and this colt felt like his old self tonight, I had a big handful of horse in the last turn and coming off the last turn I knew he was the winner.
"This was special here. I've loved this colt all year. I had so much confidence in him and I knew Tony would get him back good again."
The Roll With Joe-Chasing Ideals colt has been consistent all year, but Alagna noted that the last month leading up to the Breeders Crown has not been a walk in the park.
"To say it's been easy would be a down right lie," said Alagna. "We had some bad luck in the Jug, he got parked the whole mile, and last week, I was there when he got off the truck for detention barn and he was ringing wet with sweat. I just said, 'we just left our race on the truck tonight' and he race that way on Saturday [finishing fourth in his Breeders Crown elimination]. So we went out of our way to make sure...I put the groom on the truck, whose done a tremendous job with the horse, and we shipped him in a box stall by himself on a Doyle truck yesterday just so he didn't get all worked up and it did the trick. I know he's a great horse and he showed it tonight."
Owned and bred by Tom Hill of Hamilton, Ont., Racing Hill has compiled a seasonal summary reading 7-5-2 from 15 starts while earning over $1.6 million in purses.
He paid $6.40 to win.
In all, the weekend's 12 Breeders Crown events attracted a total of $3,954,042, with total all-sources handle for the weekend coming in at $6,409,792.
For complete coverage of the first four Breeders Crown championships for older horses, which were contested on Friday night, click here.
Kindergarten Pacers Highlight Undercard
Pacing divisions of the final Kindergarten Classic Series preliminary highlighted the Saturday undercard, each going for $10,000. Eleven two-year-old pacing colts and geldings contested the opener and Chip Walther ($3.60) lived up to his odds-on billing. The son of Art Major and Bittorsweet Terror sustained a first-over bid for over half a mile to barely collar Air Strike (David Miller) in 1:51.2, earning a third consecutive victory in the act. Marcus Miller handled the driving duties for trainer Erv Miller.
In the filly division, carded as the night's finale, Gurl Band K ($6.60) evaded her nine rivals for a 1:52.3 score. Matt Kakaley drove the daughter of Rock N Roll Heaven and Native Flower for owner Robert Key and trainer Andrew Harris.
---
Important Links