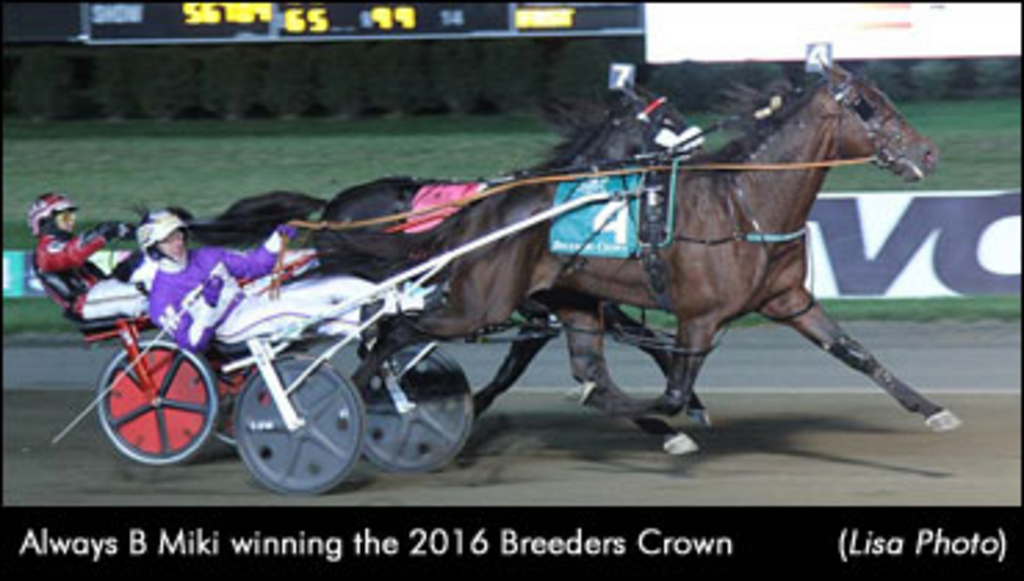 Published:
October 28, 2016 07:00 pm EDT

The 2016 Breeders Crown weekend at Meadowlands Racetrack in East Rutherford, New Jersey began with Friday's (October 28) harness racing card featuring the first four championships for older horses.
Hannelore Hanover kicked off the 2016 Breeders Crown weekend with a 1:53.3 victory in the $250,000 Open Mares Trot.
Driven by Yannick Gingras for the Ron Burke stable, the four-year-old Swan For All-High Sobriety mare defeated two-time Breeders Crown champions Bee A Magician (Brian Sears) and Shake It Cerry (David Miller) as the 3-5 favourite.
Racing with Lasix added, Hannelore Hanover left from post two with 8-5 second choice Bee A Magician firing out from post five to make the front in the first turn. After a :27.4 first quarter, Hannelore Hanover looped to the lead and reached the half in :56.1 with Shake It Cerry (David Miller) underway from the backfield and advancing to second-place to apply pressure past the 1:25.4 third quarter mark. Hannelore Hanover continued to lead the field of eight mares into the stretch with Shake It Cerry looming to her outside and Bee A Magician locked in the pocket until late in the mile. However, Hannelore Hanover kicked clear of her rivals approaching the wire with Bee A Magician tracking two lengths behind and Shake It Cerry finishing third.
Hannelore Hanover now boasts more than a million dollars in seasonal earnings, with a 16-for-19 record in 2016. Despite entering the Breeders Crown off a seventh-place finish after an early break in the International Trot at Yonkers Raceway on October 15 -- her only result worse than second-place this year -- Gingras remained confident in his mare.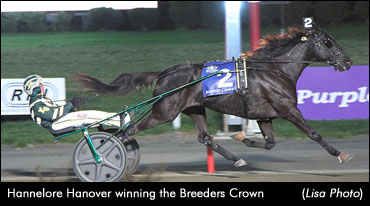 "I didn't doubt my mare. There was no doubt, I think she's a great horse," said Gingras. "The International was a race to forget -- the half-mile track. But there was definitely a Bee A Magician factor; she's a great horse and she looked really good at Yonkers last [time]. I definitely thought she would give me a run for my money."
Hannelore Hanover is owned by Burke Racing Stable LLC, Weaver Bruscemi LLC, Frank Baldachino, and J And T Silva Stables LLC.
"It's always special to finish off a good year with a Breeders Crown win," said Burke. "I think that sews up -- maybe there wasn't a doubt -- Aged Trotting Mare and keeps her in the running for Trotter of the Year. I was a little surprised when Yannick removed to the front, but I think he wanted to control the race and make sure she didn't get boxed in. Bee A Magician I'm sure had a little bit more trot, but I think we had a lot more too, so even if she got out I think we could have held on. Whatever it is, we got there. If we get the win, we're happy."
Hannelore Hanover paid $3.40 to win.
Runner-up Bee A Magician's trainer Richard 'Nifty' Norman has been amazed by his mare's comeback and noted she could be headed overseas to race in France following the TVG.
"She was super. She had lots of trot," said Norman of Bee A Magician. "She was good enough to win, she just didn't get any room. I was happy with everything. She raced good and Brian drove her good, I thought he put her in the right spot. She just didn't get the shot at it. She went over $4 million, but it would have been nice to get another Breeders Crown.
"She's such an athlete. She's overcome a lot and she's right back at a very high level. It seems a shame to shut her down. She's right back to where she should be. We're going to look into [going overseas]. I'd like to take her to France, perhaps not to race in the Prix d'Amerique, but some of those races that Maven raced in, just to give her another month of racing. It's just option. We haven't really gotten very far with it. We wanted to get this over with and see how we finished up here."
The highly anticipated $421,000 Open Pace featured another epic duel between arch-rivals Always B Miki and Wiggle It Jiggleit, with the former hauling down the latter late to defend his Breeders Crown title.
Reigning U.S. Horse of the Year Wiggle It Jiggleit and driver Montrell Teague blasted off the gate from post seven to take the lead with defending Breeders Crown champion Always B Miki and David Miller following in second-place after leaving from post four. The rest of the field followed in single-file alignment to just before the midway mark while Wiggle It Jiggleit carved out opening fractions of :27.1 and :55.1. Just past the half, Miller pulled Always B Miki from the pocket with Shamballa (Scott Zeron) progressing from fourth. Wiggle It Jiggleit continued to lead past three-quarters in 1:22.1 with the determined Always B Miki in pursuit down the stretch and ultimately surging by late to prevail by three-quarters of a length in 1:49 flat. Shamballa finished three and three-quarter lengths behind in third.
After facing off seven times this season heading into the Breeders Crowns and each winning three races, Always B Miki one-upped his rival as, in the words of track announcer Ken Warkentin, he "delivered a knockout blow" in the final strides.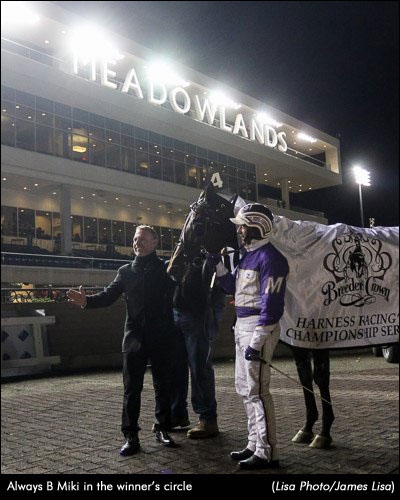 With the victory, Jimmy Takter, the leading trainer for wins in Breeders Crown history, earned his 28th trophy.
"We saw two great, great horses, fighting side by side down the stretch," said Takter. "To me, it was one of the better races, maybe the best race I ever had a horse participate in, and it was so exciting to see it. When he dug in that little extra, that's what a champion has. I am so proud of this horse and I'm speechless -- what a horse.
"Two weeks now [will be his last start in the TVG] and I hope everyone will come back. Everybody should see it, it's going to be his last appearance here in the TVG. It's so wonderful to do it here on my home track, to win with this horse here on a cold night like this, it's a fantastic feeling."
"I couldn't be happier with him, he's a tough horse," added Miller. "He shows up and he was determined to get his head in front there."
The incredible comeback story of Always B Miki now includes 15 wins in 21 starts over the past two racing seasons. The double millionaire also boasts the title of being harness racing's fastest horse courtesy of his 1:46 victory at The Red Mile on October 9.
A five-year-old son of Always A Virgin and Artstopper, Always B Miki is owned by Takter's wife Christina, along with Bluewood Stable and Roll The Dice Stable.
Sent postward as the 3-5 favourite, Always B Miki paid $3.20 to win.
Despite the loss in this match-up, Teague said he was happy with supplemental entry Wiggle It Jiggleit's runner-up effort.
"Me and 'Miki' have been trading wins and losses the whole season," said Teague. "One race isn't going to deter me; I was happy with my horse, he put in a game effort. There was a big headwind and just the wind played a factor today and the horse got on the left line a little bit, but from having all those difficult problems he still put in a game effort.
"I think it would be boring racing if we didn't have these two, Miki and mine," he added. "We've both got one more crack at each other at the TVG final, so I'm excited. I'd rather race against him than be a layover and race against myself. I like the racing. I'm glad [Wiggle It Jiggleit] is a gelding so I get to keep racing him."
Lady Shadow asserted her divisional dominance in the $250,000 Open Mares Pace, returning to the scene of her Golden Girls and Lady Liberty victories from earlier this year to post another winning effort for Canadian-based trainer Ron Adams.
Driver Yannick Gingras sent the 1-5 favourite Lady Shadow to the front past the :27 first quarter ahead of rival Solar Sister (Doug McNair), who had split horses to secure the early lead, and proceeded to the half in :54.2. While Divine Caroline (David Miller), last year's three-year-old filly Crown champion, edged out from fourth, Lady Shadow opened up a few lengths on top on the way to three-quarters in 1:21.4 and dug in down the stretch to maintain her advantage to the wire for the 1:49.4 victory. Sassa Hanover (Matt Kakaley) closed for second-place honours and Frost Damage Blues (Brett Miller) finished third off a three-hole trip.
Lady Shadow earned her 11th win of the season from 19 starts and pushed her 2016 earnings to $849,121.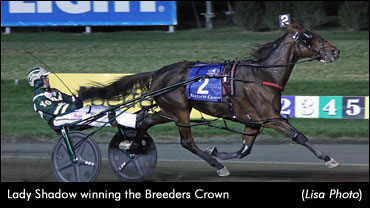 The five-year-old millionaire daughter of Shadow Play and Lady Camella is owned by David Kryway of Amherstburg, Ont., Carl Atley of Xenia, Ohio, Edwin Gold of Phoenixville, Pennsylvania and Bfj Stable of Philadelphia, Pennsylvania.
"We put a group together and bought her last year at the start of her four-year-old year," explained Adams in a post-race interview. "She had a good two and three-year-old year for Gregg McNair. I really like the mare and was glad we got a deal put together and got her bought. She's had a good year this year, a career year, actually. She beat herself a little bit when she was younger, she had issues at the gate in a couple of big races. She made miscues behind the gate and it cost her a lot of money I think early on in her career. But she's put that behind her and she's turned into a really nice mare. She likes the big track and she likes the speed. Speed is her game and she gets to use it here on this big track.
"It's a really good feeling, it's a good way to end, puts a good stamp on the end of the year. After Kentucky [where she finished eighth at The Red Mile on October 9], she bounced right back. Hopefully she will be in the TVG in a couple of weeks here."
Lady Shadow paid $2.40 to win.
Flanagan Memory stormed home off cover to defeat heavy favourite Resolve in the $500,000 Open Trot for his Canadian connections.
Newly minted Hall of Famer Brian Sears worked out the winning trip aboard the six-year-old millionaire son of Kadabra and Classy Stacy for trainer Rene Dion and co-owner Liette Flanagan of Repentigny, Que.
"We got a nice trip tonight with him; we got to follow Resolve second-over until halfway down the lane so it worked out really well," said Sears. "The horse has been racing really good and Rene and Susie [Kerwood], they really deserve it, they've done a great job with the horse so it's great to get it done for them and Liette also."
While Windsun Revenge (Scott Zeron) led the field through fractions of :27, :55.3 and 1:23.2, Sears moved Flanagan Memory underway from sixth and flushed out cover in the form of International Trot champion Resolve (Ake Svandstedt), the 1-5 favourite, near the half-mile mark. Resolve began to close in on Windsun Revenge down the stretch with Crazy Wow (Yannick Gingras) rallying inside and JL Cruze (John Campbell) coming through between horses, but it was Flanagan Memory who stole the glory, flying home on the far outside to prevail in 1:52.1 by one length. Resolve edged out JL Cruze in a photo finish to earn his second straight runner-up finish in the Breeders Crown, while Windsun Revenge was fourth over Crazy Wow.
Flanagan Memory paid $10.60 to win as the 4-1 second choice in the wagering.
He has now earned 11 top-three finishes from 14 starts this year, including six wins, to add $663,728 to his bankroll.
After the race, Sears commented on Flanagan Memory's current form as the trotter matched his lifetime mark of 1:51.2 in winning the Allerage at The Red Mile earlier this month and finished a game third in the International Trot on October 15 prior to his Breeders Crown victory.
"It was a really big effort in the International Trot a few weeks ago and I'm just really happy with that," said Sears. "He came out of it good, but to finish third with the overland trip that he got that day and kept coming at the wire, you know, this horse, he just likes to pick them off late.
"He's a solid horse," he added. "He's always a contender. He's always going forward at the wire."
Sears will look to add to his own Breeders Crown win count, which now stands at 27, as the championships continue on Saturday night.
"We've got a big night tomorrow night," he said. "I've got a few that I like a lot and some just trying to get some pieces."
The remaining eight Breeders Crown championships for two and three-year-olds will be contested on Saturday night at Meadowlands Racetrack. Post time for the first race on Saturday will be 6:35 p.m.
Kindergarten Trotting Series Prelims Wrap Up
The fifth and final preliminary leg of the Kindergarten Classic Series for two-year-old trotters was contested on the undercard with Feed Your Head (Yannick Gingras) winning the $10,000 filly division to open the Friday program. The Muscle Hill-Flawless Bluestone filly, who was also victorious in a previous Kindergarten leg on August 18 at Vernon Downs, cleared to the lead from post eight at the quarter-pole while 8-5 favourite Caviart Wonder (Andrew McCarthy) broke at the start, and went on to score by two lengths in a career-best time of 1:55.4 for trainer Jimmy Takter and owner Mellby Gard Inc.
The colt division was won by 9-5 favourite New Jersey Viking (Andrew McCarthy), who worked to clear Explosive Ridge (David Miller) from post seven during the opening panel and held off that pocket-pursuer and the advancing International Moni in 1:55.3. Ake Svanstedt trains the Muscle Hill-Hall Of Wishes colt for owners Knutsson Trotting Inc. and Little E LLC.
The Kindergarten Classic finals, with trotters vying for a combined $350,000 in estimated purses, are scheduled for next Saturday, Nov. 5 at The Meadowlands.
---
Important Links