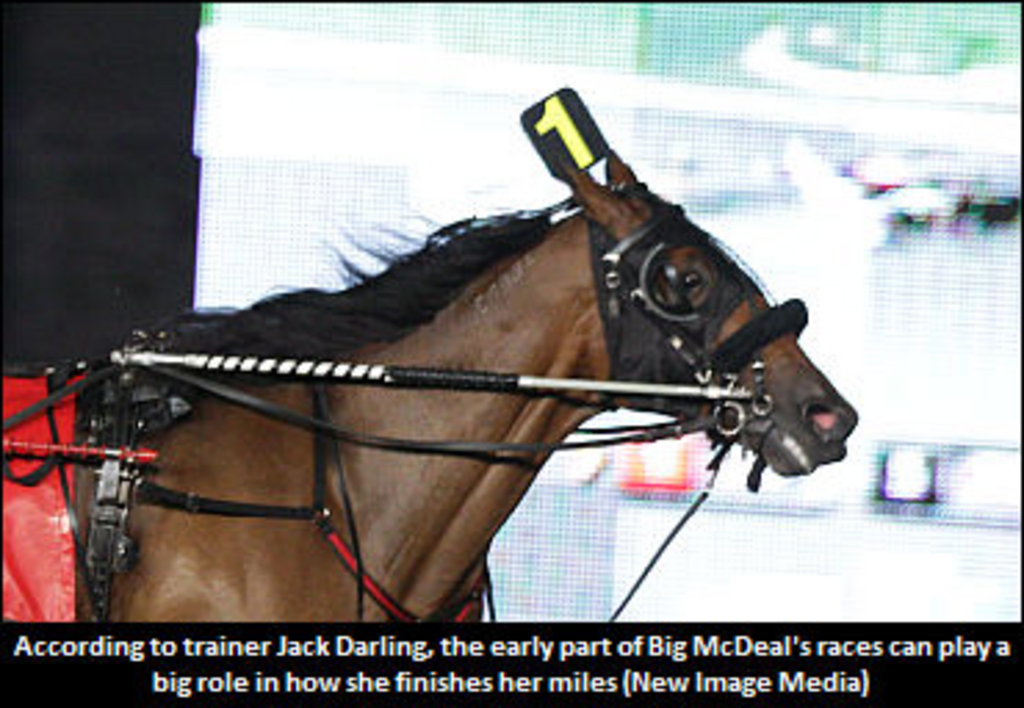 Published:
October 27, 2011 03:26 pm EDT
She slayed the giant in Kentucky, and on Saturday night Big McDeal will try to close out her season with a big win in the Breeders Crown Two-Year-Old Filly Pace
at Woodbine Racetrack. For veteran trainer Jack Darling it's been an interesting voyage since he first began to look at the videos and inspect the yearlings last year at Perretti Farms.
"I really like to take a look at all of their stock," Darling said from the Classy Lane Training Centre. "I look at the pedigrees and videos and try to do my homework,"
What Darling hadn't expected when he went searching for yearlings was that he'd be shopping for sons or daughters of McArdle. "I had nothing against him as a stallion," he confessed, "It's just that I wasn't really looking for one." Yet that changed when he took a look at Big McDeal. The filly had an exceptional family, which included the late-Gene Riegle's 1996 juvenile filly pacing 'Crown' champion, Before Sunrise, as the second dam.
"She was a 10," noted Darling. "If she was sired by Rocknroll Hanover and not McArdle she could have easily brought double what I paid." Nevertheless, Darling paid $70,000 for the filly, which was the highest price paid for a McArdle filly last year.
For Darling, who has enjoyed great success in Ontario including a 1997 North America Cup win with Gothic Dream, selecting and developing pacing fillies has become his knack. Darling campaigned the standout filly Decor (fourth in that same 1996 Crown) as well as her daughter, Northern Sky (third in the 2001 juvenile Crown filly pace).
As for Big McDeal, his serious contender in this year's Crown, Darling is confident but far from cocky. "She's been racing against a very talented group all year long. We started her in the Whenuwishuponastar and she had to race against Bob McIntosh's good filly Shelliscape. Then she was up against Jimmy Takter's super filly American Jewel," he said. While Saturday's field will lack the presence of the sidelined American Jewel, Darling wasn't taking much solace in that. "That filly from NY (Handsoffmycookie) is very nice and Chris Oakes' filly, Economy Terror, is outstanding."
Still, Darling does have a lot of faith in his own filly, especially coming off her 1:50.2 victory at the Red Mile. "She came out of the race good. I would like to have qualified her up here, but I decided to train her a trip in 1:57 instead on Saturday."
For the most part, Big McDeal was part of the periphery in the division until breaking her maiden in the Champlain at Mohawk on September 10. With Paul MacDonell in tow, the slick-footed lass went down the road and scored a huge 29-1 upset while posting a 1:51.2 clocking.
Prior to the victory, Big McDeal had exhibited extreme speed in the final of the Shes A Great Lady, where she pushed a wicked :53.4 opening half only to fade to be beaten some eight lengths by race winner American Jewel. "I think it's both a blessing and a curse that she can leave the gate so fast," he said. "If she gets too wound up like she did in the Shes A Great Lady she can't finish her miles."
Yet, that wasn't the case at the Red Mile, where Jody Jamieson was able to make two moves to the lead with her without roughing her up badly and then yield to American Jewel. That left her fresh and poised for the stretch drive where she showed grit wearing down her previously unbeaten rival on the wire. Big McDeal's dam, Ideal Gal, didn't make it as a racehorse, but has had an outstanding record to date as a broodmare. From four foals of racing age (all fillies), she is a 100 per cent producer. Her credits include Real Appealing (Real Desire) 1:51.2, Gallimony, a winner of more than $485,000 with a 1:52.4 mark. The daughter of Artiscape captured last year's Empire Breeders Classic and Joltimatum (Village Jolt) 1:55.2.
The Big McDeal is usually No. 1 on the menu, but the filly landed Post 7 in the $600,000, nine-filly final on Saturday. The racing season has been carefully orchestrated by Darling, as only two of her nine starts have taken place outside of Ontario. "The schedule is really great up here and you don't have to travel. I really don't like to ship around my two-year-olds." The filly will be making her first start ever over the Woodbine surface, but the trainer is not concerned that she'll have any difficulties.
Rated as the 7-2 second choice on the morning line, Big McDeal will have to contend with top stakes winners Economy Terror (Post 5, 6-5), Pirouette Hanover (Post 3, 10-1) and Handsoffmycookie (Post 2, 15-1). Darling has come close in this division before, but perhaps he's never had a faster or better filly than Big McDeal.
(Breeders Crown)