Published:
October 24, 2020 09:46 pm EDT
Driver Dan Noble got off to an incredible start on the Saturday (Oct. 24) night program at Hollywood Dayton Raceway. The former national dash champion captured the first six races on the 14-race card, the first time any driver has won six straight in over 20 years on the year around southern Ohio circuit.
Noble's incredible feat began in Race 1 when Buckeye Starlet copped a conditioned trot in 1:54 as the even-money favourite. He completed the initial daily double winning with $20,000 claimer Indiana Cam ($3.00) in 1:51.1.
Next came Hamsandwich ($6.00), who notched a 1:53.4 win for Noble in a non-winners of two event. Rock To Glory ($6.40) followed with a 1:54.1 score in an $8,000 claiming pace.
The red-hot purple and white clad son of the late Ohio Hall Of Famer Sam "Chip" Noble added a fifth-straight victory to his tally with a win in the $14,000 Open Pace, guiding Our Majordan A ($4.60) to a 1:50 win in gate to wire fashion. It was the sixth 2020 win for the Australian import, an eight-year-old by Art Major.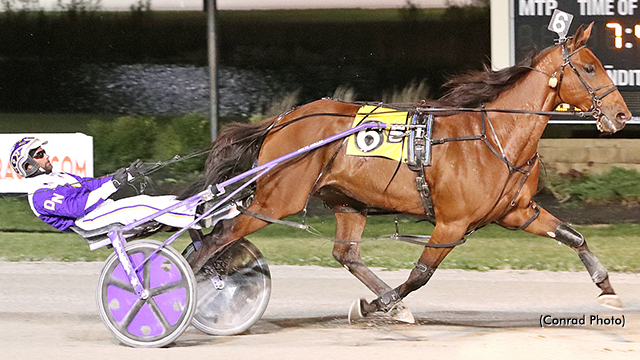 Our Majordan A is owned by Enviro Stables LTD, Ned Hodkinson and Milton Leeman who entrust the training to Virgil Morgan Jr. The feature race winner is approaching one-half million dollars in earnings.
Itsgoodtobedaking rounded Noble's consecutive streak by capturing a $15,000 claiming pace in 1:51.4. In the seventh race, Noble's mount Scott Rocks was roughed up through the first quarter and faded to sixth in the stretch after a valiant effort to extend the win streak.
With a pair of additional victories, Noble established a Hollywood Dayton record as the first driver to win eight on a single card in the track's seven-year history. He guided My Buddy Ninkster ($6.60) to a 1:52.4 win in the 11th and Sammy The Bull ($3.80) to a 1:52.1 win in the nightcap.
Noble, who only races on Friday and Saturday nights due to the large size of he and wife Christi's stable of horses at the Xenia fairgrounds, ranks fifth in the local dash standings behind Brett Miller, Josh Sutton, Jeremy Smith and Tyler Smith. His 25 percent-plus win percentage is easily the best among the talented drivers colony at Dayton Raceway.
(Hollywood Dayton Raceway)