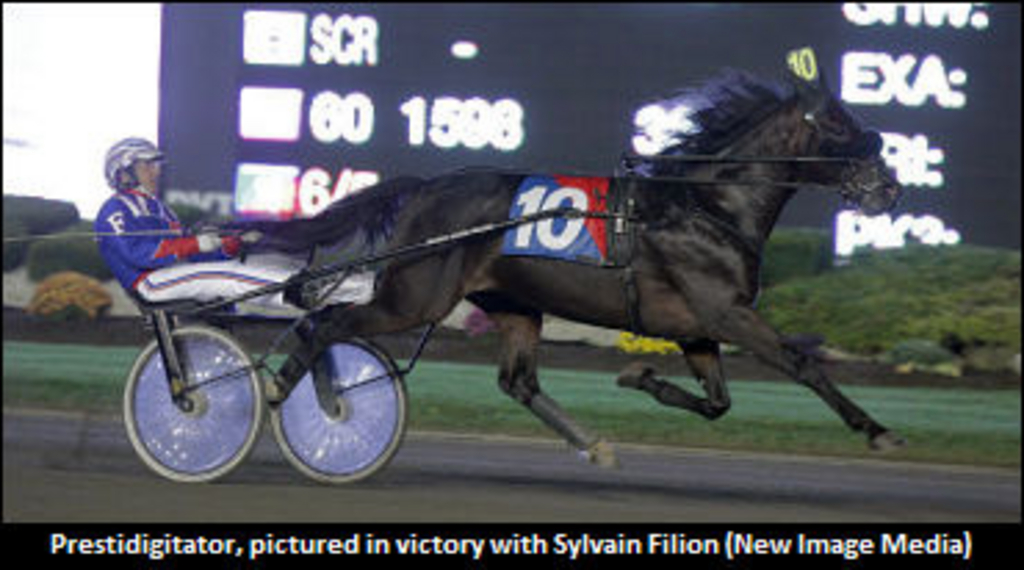 Published:
October 24, 2011 03:07 pm EDT

It is common to hear trainers and drivers say that their horse will be a contender if the proper trip gets worked out. One thing that the 2011 Breeders Crown eliminations have proven is that the Dustin Jones-trained Prestidigitator could be a legitimate force
in his final if the trip gods work in his favour.
Jones knows a little something about capturing the Crown's juvenile trotting events with longshots. Filly Martiniontherocks packed a punch last year when she got the job done at 30-1, and Jones is now hoping that Prestidigitator is looking to take his turn.
Sporting a somewhat checkered past of big miles and breaks, there was no surprise when the two-year-old Kadabra colt was sent off at odds of 16-1 in his Crown elimination this past weekend at Woodbine Racetrack. Although, handicappers and horsepeople were probably surprised when the bay colt survived an overland trip and was in contention right to the end.
After having started from the outside Post 8 and taken the overland route, Prestidigitator finished just one and a half lengths behind Possess The Will when all was said and done. The latter covered the mile in 1:56.1, but Prestidigitator was a force in the mile right to the end.
"It was a really good third. He was parked the whole mile and he was still trotting at the wire," Jones said after the race during an interview with the Woodbine Entertainment Group. He also went on to say that, "After [Prestidigitator's elim performance], I think if he has any type of a trip he's as good as any of them in there."
Seeing breaks on past performance lines is hardly uncommon with young trotters, but Jones took the opportunity to explain the reasoning for some of those breaks. "He's a little bit high strung, and a little bit hard to handle some times because he wants to go so much."
Jones also explained that like so many other horses before him, a lot of Prestidigitator's issues have to do with the starting gate. "I just wanted him to get away from the gate (in his Crown elim) because last weekend in the (OSS) Gold final he didn't even have a chance to play (because) he didn't even make the gate."
Related Stories
• Breeders Crown Fantasy Pool Open
• Recap: Breeders Crown 3yo, Aged Elims


• Recap: Breeders Crown 2yo Elims