Published:
October 23, 2020 04:03 pm EDT
It was a beautiful fall afternoon at Hippodrome 3R for its final Friday race card of the 2020 season and it was also a big day for the rookie harness racing driver Samuel Fillion.
Fillion, 23, from Mont-Joli, is in his first season as a professional harness racing driver and is having a super season at Hippodrome 3R. Including his two victories Friday, he has 23 wins this year.
Fillion's most impressive victory came in the sixth race pace. Driving the 6-5 favourite Dreydl Hanover, Fillion left from post seven but there was no spot for him on the lead as City Of The Year (Stephane Brosseau) was also stinging Spider Man Hanover (Stephane Gendron) to the opening quarter mile in :27.4. Dreydl Hanover had to settle for fourth place.
Spider Man Hanover was going for his fourth straight win and cut the mile to the half in :58.2. Fillion came first-over with Dreydl Hanover and following their outside cover was Prairie Mystic (Jocelyn Gendron).
As the field reached the backstretch, it was a head-and-head dogfight between Spider Man Hanover and Dreydl Hanover to the three-quarters in 1:27.2 and around the final turn.
As they started down the stretch, Spider Man Hanover began to fade. Prairie Mystic tipped three-wide to challenge but Dreydl Hanover would have nothing to do with them, pulling away at the wire to win by two lengths in 1:57.2. Jeffs Journey (Sylvain Lacaille) closed for second with Prairie Mystic third.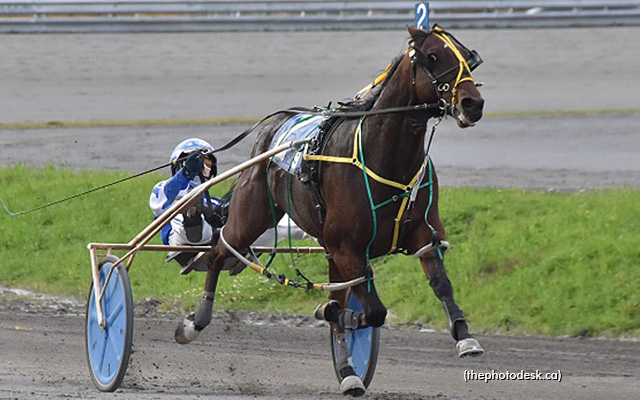 It was the fourth win this year for Dreydl Hanover. The 10-year-old gelded son of Cams Card Shark is trained by Yves Tessier for owner Francois Morin of Beauceville. He paid $4.70 to win.
Track Notes: Joining Samuel Fillion with a driving double on Friday was Sylvain Lacaille. This was the last Friday afternoon race card for the 2020 season. Live racing continues Sunday at 1:00 pm. The Sunday program features three Preferred races. The pacing mares goes in the third race where last week's return winner, Sieras Rose (post two) heads the field for driver Pascal Berube. The fifth race is the trotters and returning to 3R is track record holder Wildwild Man (post one). He still holds the track record for two-year-old in 1:58.2 back in 2015. He ships in from Rideau Carleton and faces return winners Severus Hanover (post six) and Voodoo Man (post four). The Preferred Pace for the horses features return winner Farmers Tan (post six) taking on Wrangler Cash (post four) and Mickeymaksomespeed (post one). For a free race program, visit hippodrome3r.ca.
To view the results from Friday's card at 3R, Friday Results - Hippodrome 3R.
(with files from Quebec Jockey Club)