Published:
October 23, 2018 04:29 pm EDT
On the occasion of his 3,000th lifetime win in the fifth race at Hollywood Gaming at Dayton Raceway on Monday afternoon (Oct. 22), driver Kayne Kauffman took a few moments to reflect on his career.
"Things are going much smoother for me now than they did in my first drive – when I just turned 16. I drove Riverview Romance at my hometown Greenville Fair and I won – sort of – finished first but was disqualified for interfering with Tom Hope (now an associate judge at Hollywood Dayton). Four days later I drove the same horse at Greenville again and won. They couldn't take me down after that one, though, because I was about five wide to make sure I didn't hit anyone," laughed the now 40-year-old reinsman. "That day I made my first 'unforgettable' drive was the day my granddad, Herman Baker, who was in his eighties, made his last drive. We planned it that way."
Kauffman toiled mainly at the Ohio county fairs for his first five years and managed a total of 20 victories before deciding to move to Lebanon Raceway and start his own stable in the 1999-2000 season at age 20. In the 20 seasons since, Kayne has reached the 3,000 driving win plateau and is narrowing in on $20 million in purse earnings.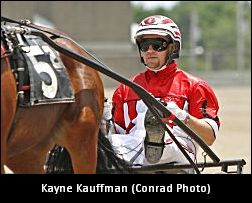 Winning the Battle of Lake Erie with A Rocknroll Dance in 1:49.1 in 2013 remains Kauffman's most memorable moment in the sulky. He also counts his three Ohio Sires Stakes championship wins as thrills he'll never forget, while hoping more are still in store.
Kayne has won 785 times as a trainer.
"I really like driving," he says, "but I enjoy training even better. I hope I can remain a competent driver for another solid decade, but you can always keep training horses well beyond that."
Win 3,000 came behind Vanessa Valentine, a three-year-old trotting filly who notched her first-ever pari-mutuel victory in 1:57.4 from the outermost Post 9. The daughter of Dejarmbro, owned by Jason Shumway and trained by Daniel Jones, paid $9.80 for her six-length score.
It was the third victory in the first five races for Kauffman. He captured the second race with Lunetta (1:59.2, $4.80) in another non-winners trot for trainer Scott Mogan and owners Carol Cramer, Terrax Inc. and Frances Schloss; and the fourth with Tobins Future (1:55.4, $10.80) for owner-trainer Jim Pollock Jr.
It didn't take Kayne long to start working on his 4,000th win, as he triumphed in the sixth race with Dragon Lady Art (1:55, $9.40) for owner Robert Key and trainer Tye Loy.
Kauffman capped off his big day by winning two of the final three races on the program. He visited the winner's circle with Stelios (1:55.3, $12) in the 12th; and won the nightcap with Indian Spirit (1:53.4, $34).
(Hollywood Dayton Raceway)