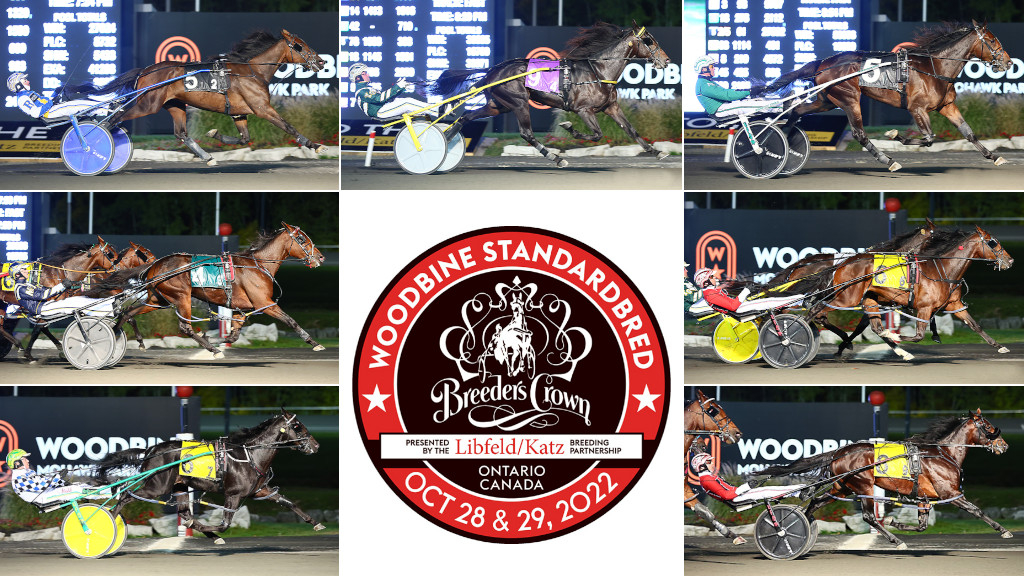 Published:
October 21, 2022 11:57 pm EDT
The fields are set for the two-year-old divisions of the Breeders Crown following Friday night's (Oct. 21) elimination round at Woodbine Mohawk Park.
The $2.4 million freshman championships will be contested next Friday, Oct. 28. 
Recaps and replays of the eliminations are available below, along with the post draws for the finals.
Two-Year-Old Trotting Colts & Geldings
Gaines Hanover and driver Louis Philippe Roy took control of the pace at the quarter pole and then went on to a powerful track record-setting performance in capturing the first of two $33,750 eliminations for the Breeders Crown two-year-old colt and gelding trot division at Woodbine Mohawk Park on Friday night.
The altered son of Cantab Hall scored in a personal-best 1:53 clocking, which is a new track record for two-year-old trotting geldings.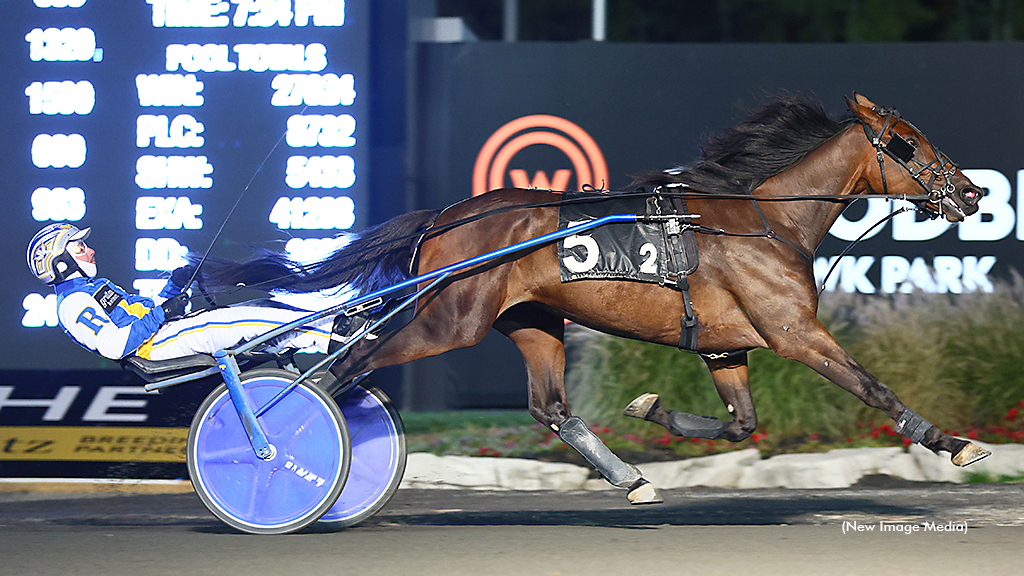 ​
Sent off as the 5-2 second choice, Gaines Hanover and Roy left between horses in the early stages as Gates Hanover left hard inside of him for Ake Svanstedt while The Gruffalo and Winners Bet, the race favourite, left outside.
Gates Hanover cleared to the front first followed by The Gruffalo with Todd McCarthy in the bike. With Winners Bet leaving outside of him, Roy elected to drive on with Gaines Hanover keeping Winners Bet three-deep into the turn and forcing driver Dexter Dunn to settle in fourth before the quarter. Roy and Gaines Hanover drove to the front, clocking the opening fraction in :27.4.
With much of the field settled in behind him, Gaines Hanover and Roy hit the half in :56.2 and kept a lively clip going through the third quarter in 1:24.3. When rival Gates Hanover pulled on the turn and broke stride, Gaines Hanover sprinted clear away from his rivals leaving the battle for minor honours and secured a position in next week's rich final.
The Gruffalo won the battle for the place spot late as Osceola and driver Doug McNair rallied impressively along the pylons to secure the third spot. Winners Bet finished fourth, guaranteeing a spot in the lucrative final, with Spitfire Oversees, driven by James MacDonald, finishing fifth and reaching the final with the higher earnings of the two fifth-place elimination finishers.
Gaines Hanover is trained by Richard Moreau for owner Gestion J Y Blais Inc of Montreal, Que.
A winner of the Champlain Stakes earlier this year over the Woodbine Mohawk surface, Gaines Hanover won for the third time in six career starts and returned $7.50 as a win mutuel.
"That wasn't really the plan," said Roy of a decision to drive on heading into the first turn. ​ "My horse is pretty green, it was tough to evaluate him."
Roy was most impressed by the gelding.
"I didn't know he was going that fast to the half, he trots so efficiently," said Roy.
Celebrity Bambino and driver Yannick Gingras overcame post nine and posted a minor upset defeating 2-5 favourite and Mohawk Million winner Oh Well in the second $33,750 Crown elimination winning in 1:53.2.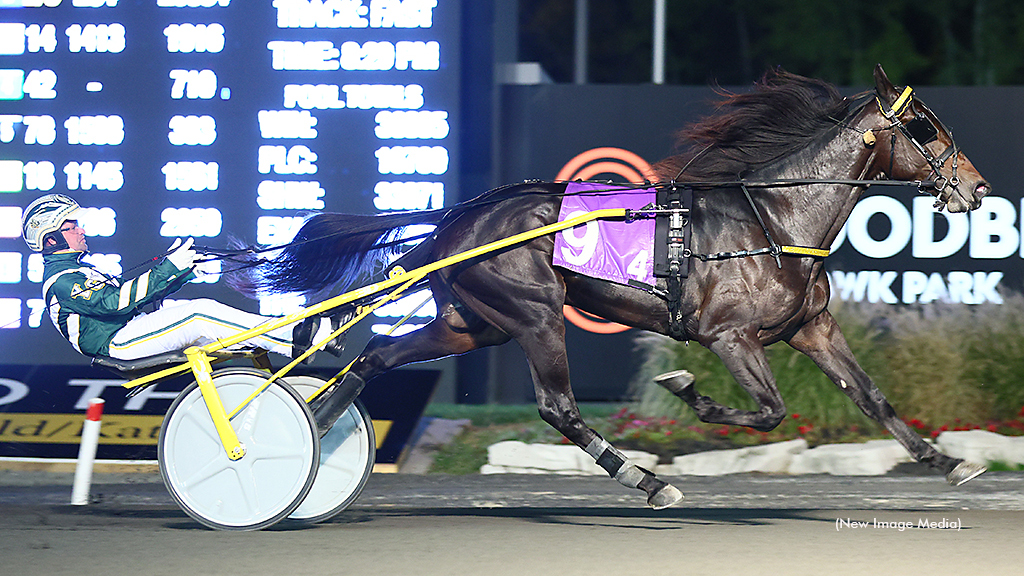 ​
The complexion of the race changed early when Crantini broke behind the gate, but Kierkegaard K and Ake Svanstedt left with purpose to take control into the opening bend. Celebrity Bambino and Gingras marched forward to get control at the quarter in :28.1.
International Man and driver Dexter Dunn were parked from the outset and needed three-eighths of the mile to clear the front. International Man hit the half in :57 and continued uncontested until Gingras pulled the pocket before the field hit three-quarters in 1:25. Celebrity Bambino had favoured Oh Well and driver Tim Tetrick breathing down his back into the stretch but the Muscle Hill-sired colt would not be denied on this night, trotting powerfully with a :28.2 final quarter to win comfortable at odds of 7-1.
Oh Well saved ground most of the way but had no answer for the winner in the stretch, but did secure the place with early leader Kierkegaard K third over the wire. Dire Straits finished fourth for driver David Miller, with fifth-place finisher Buckhead Ridge failing to reach the final with limited earnings.
Celebrity Bambino was a winner for the third time this year in just eight starts for trainer Ron Burke. The Muscle Hill-sired colt is owned by Burke Racing Stable LLC, J & T Silva Stable, Knox Services Inc., and Phillip Collura.
Celebrity Bambino returned $17.40 to win.
"He was my favourite colt training down," said Gingras of Celebrity Bambino in the winner's circle. "All credit to Ronnie [Burke]. The colt got sick and Ronnie gave him time to recover."
Kilmister, the winner of this year's Peter Haughton Memorial, joins the nine qualifiers in the $600,000 final on Friday, Oct. 28.
The field for the final is listed below in post position order.
$600,000 Breeders Crown Two-Year-Old Colt & Gelding Trot       
Post - Horse
1. Gaines Hanover
2. The Gruffalo
3. Kierkegaard K
4. Celebrity Bambino
5. Kilmister
6. Spitfire Oversees
7. Osceola
8. Winners Bet
9. Oh Well
10. Dire Straits
AE. Buckhead Ridge
Two-Year-Old Trotting Fillies
Special Way extended her winning streak to six with an impressive victory in the lone $33,750 Breeders Crown elimination for two-year-old trotting fillies.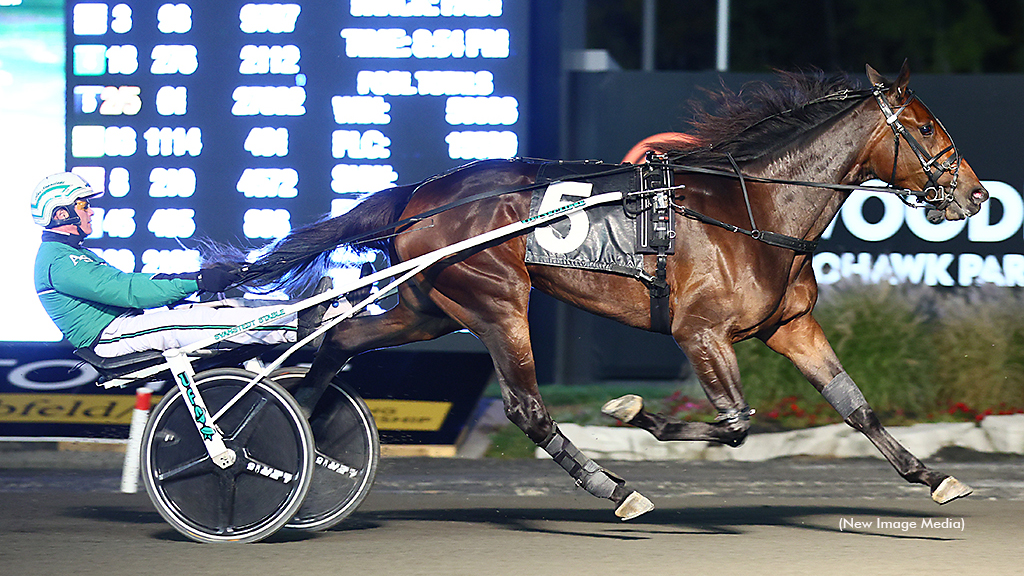 ​
The top eight finishers from Friday's elimination will be joined by the two talented trotters who received byes into the final. Righteous Resolve, the only Ontario-sired filly in the mix, earned the bye as the highest money earner of the group with well over a half a million on her card from nine starts to date. The Chapter Seven daughter Instagram Model garnered the other spot direct to the final as the winner of the Jim Doherty Memorial.
As the elimination race got underway, it was Secret Volo taking early control for Brian Sears from post eight but they were covered up by Mambacita at the tepid opening quarter in :29. She led the rookies by the easy :58.1 half and just past that point favourite Special Way popped out of third and was at the leader's wheel at the 1:26.2 third panel.
With trainer Ake Svanstedt at the lines, Special Way trotted on by Mambacita and opened up down the stretch to win by three lengths in 1:54.1. Walner Payton got up for second for Dexter Dunn while Mambacita, with Yannick Gingras up for the first time, held for third.
Also qualifying for the final, in order, were Silly Me Hanover (Bob McClure), Secret Volo, Life Itself (Tim Tetrick), Blonde Bombshell (David Miller) and Tactical Planner (Tyler Jones).
A daughter of Walner (who had six offspring in this elimination), Special Way is a homebred of Brittany Farms of Kentucky and Marvin Katz and Al Libfeld of Toronto and Pickering, Ont. Friday's win puts her bankroll just over $400,000 from six wins and a second in eight trips behind the gate so far in her debut season.
This was Special Way's first start on Canadian soil having contested all of her previous races at The Meadowlands and The Red Mile. ​ She came into Friday's contest off a victory in the Bluegrass Stakes in a life best 1:52, after which co-owner Brittany Farm's George Segal said she might be the best trotting filly he's owned, which is high praise indeed.
There is history in this event in Special Way's family as her third dam, Honorable Daughter, won the Breeders Crown final for freshman trotting fillies in 2008 at The Meadowlands with John Campbell up for trainer Larry Remmen.
The field for next Friday's final is listed below in post position order.
$600,000 Breeders Crown Two-Year-Old Filly Trot
Post - Horse
1. Silly Me Hanover
2. Tactical Planner
3. Instagram Model
4. Special Way
5. Mambacita
6. Walner Payton
7. Righteous Resolve
8. Life Itself
9. Blonde Bombshell
10. Secret Volo
AE. Shesundertheradar
Two-Year-Old Pacing Fillies
The first and second-place finishers in the Shes A Great Lady Stakes last month at Woodbine Mohawk Park are set to spar again over the Campbellville, Ont. oval after Sylvia Hanover and Charleston took their respective $33,750 eliminations for the Breeders Crown Two-Year-Old Filly Pace on Friday night.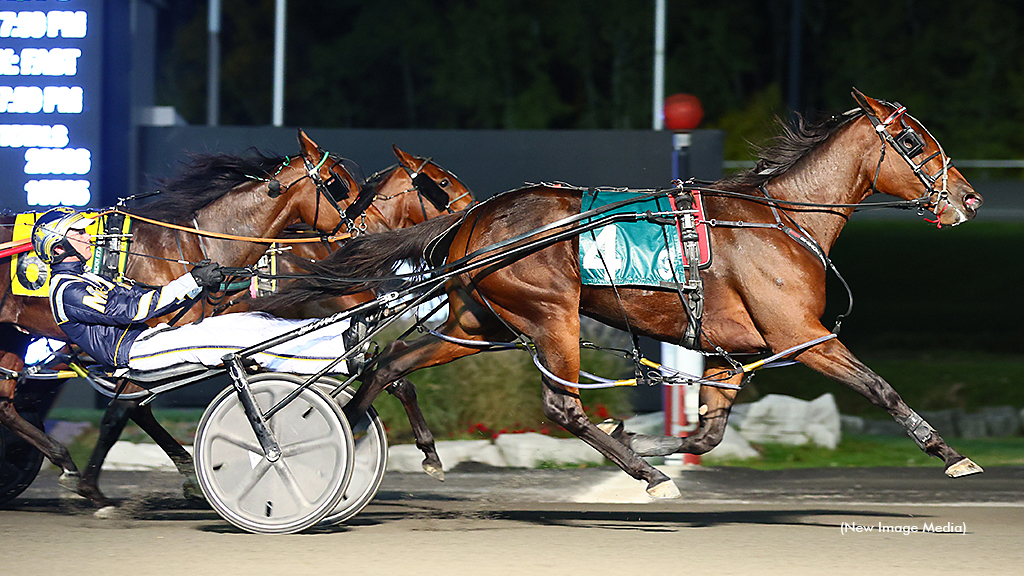 ​
Driver Bob McClure moved Sylvia Hanover out of fourth for the lead after a :26.3 first quarter set by Hungry For Love. McClure kept the reins high and the whip in the air through a :56.3 half as McSeaside swept three wide from the back and began a blitz on the lead to the final turn.
McSeaside cleared Sylvia Hanover into the final turn with Horizontal moving first-over from fourth and gaining towards the pacesetter nearing three-quarters. By the third panel in 1:24.2, McSeaside staved the outside challenge of Horizontal all through the stretch, but McClure had ample room to swing off the pegs and to the center of the track with Sylvia Hanover for a final-sixteenth lunge to victory by a length in a 1:51.4 mile. McSeaside (Dexter Dunn) held second from Horizontal (Sylvain Filion), with Light And Tight (Todd McCarthy) and Proud Mary (Tim Tetrick) rounding those advancing to the final next week.
"I kind of let Dexter [Dunn] go," said McClure after the race. "He was coming really hard and [Sylvia Hanover's] been front-ended a lot. I didn't mind following that one, I figured [she] was going to keep going. And a short field – I was pretty confident we'd get out eventually. I didn't mind the way it worked out there, but she's pretty professional. She's not like most two-year-olds."
Winning her seventh race from eight starts, Sylvia Hanover has now banked $498,300 for owner Hudson Standardbred Stable Inc. The Hanover Shoe Farms-bred daughter of Always B Miki, from the Artiscape mare Shyaway, has been part of a career-best campaign for trainer Shawn Steacy, who is having his first season with more than $2 million in earnings.  
"We've had a really good year," said Mark Steacy, father of Sylvia Hanover's trainer Shawn Steacy. "Hopefully with a win next week, it will make it really impressive. We all work hard at it and when you do that, it usually comes together."
Of Sylvia Hanover, Mark Steacy said, "There's no end to her. She always seems to give you that little extra. The biggest worry part with her is she gets a little lazy from time to time. And my concern going into this race was [that] it was four weeks from race to race. She schooled a couple times, but it's not the same as racing."
Sylvia Hanover paid $2.90 to win.
Charleston, second to Sylvia Hanover in the Shes A Great Lady, posted the faster mile of the two eliminations when she outdueled Strong Poison in the stretch to a 1:50.4 victory.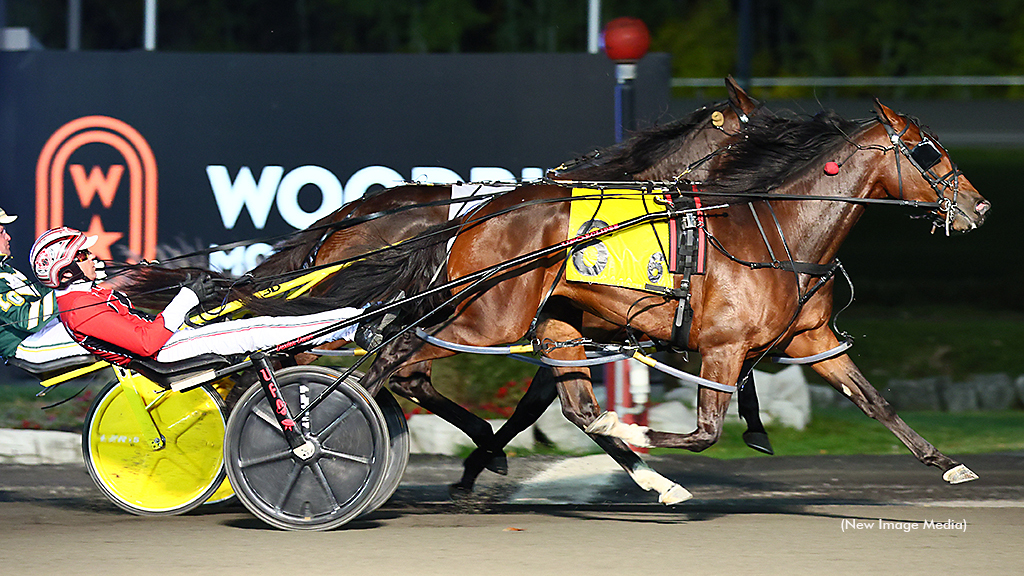 ​
Strong Poison set an uncontested tempo of :27.4, :56.1 and 1:23.4 with Zanatta drafting from the pocket and Charleston waiting in third. Driver Dexter Dunn pulled Charleston from the pegs midway around the final turn and marched towards Strong Poison, who battled to the inside all through the stretch. The pair scooted well clear of the rest as Charleston kept a neck in front of Strong Poison (Yannick Gingras) to the finish. Bellisima Hanover (Todd McCarthy) finished well back in third with Zanatta (Joe Bongiorno) and Sweet Amira (Louis Philippe Roy) rounding out the finalists.
"She felt great," said Dunn after the race. "She's been progressing really, really well this year. [We've] sort of aimed at this for a long time. [She had] a nice qualifier after the break and a real nice performance tonight. It was a big mile. We got away in a pretty handy spot, but we had to work for it late in the stretch. [Sylvia Hanover] was obviously great again tonight. She's an amazing filly herself, so we'll look forward to another battle with her."
Brett Pelling trains Charleston, a Diamond Creek Farm homebred daughter of Downbytheseaside from the Western Hanover mare Western Montana. She collected her sixth victory from eight starts and deposited to her account now worth $186,350.
She paid $3.40 to win.
As the elimination winners, Sylvia Hanover and Charleston earn the privilege to draw between posts one and five for the $600,000 final, which goes to post next Friday at Mohawk. The field is listed below in post position order. 
$600,000 Breeders Crown Two-Year-Old Filly Pace
Post - Horse
1. Charleston
2. Strong Poison
3. Horizontal
4. McSeaside
5. Sylvia Hanover
6. Light And Tight
7. Proud Mary
8. Sweet Amira
9. Bellisima Hanover
10. Zanatta
AE. Caviart Davia
Two-Year-Old Pacing Colts & Geldings
Two rookie pacing colts, Confederate and Handlelikeaporsche, made their first Canadian starts winning ones in two $33,750 Breeders Crown eliminations.
One race after his aunt, Charleston, captured her Breeders Crown elimination, Confederate also visited the winner's circle following the first split for two-year-old pacing colts.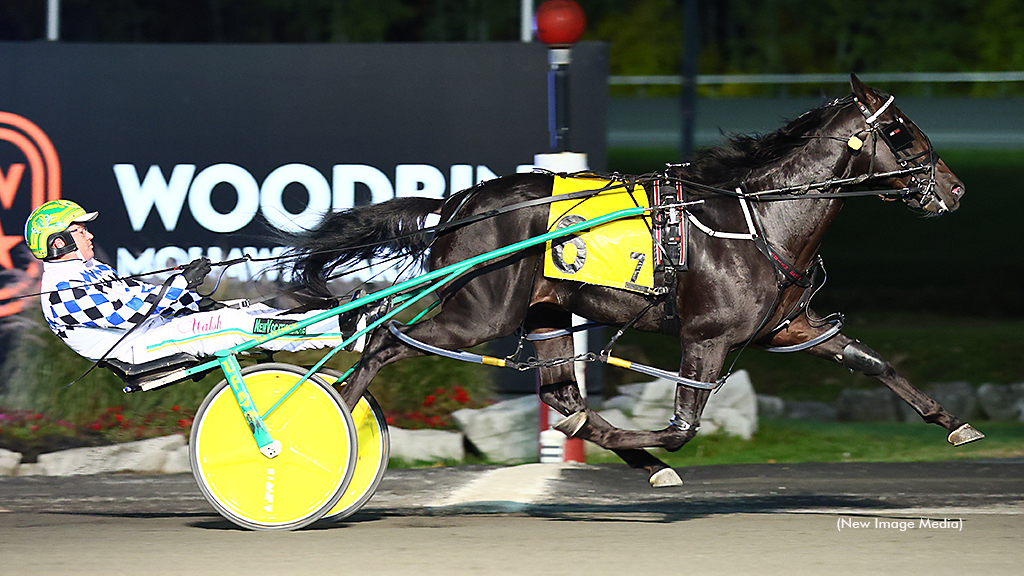 ​
The first elimination was reduced by one with the scratch of Sounds Good. Ervin Hanover was the swiftest afoot early from post eight and he was covered up by favourite Confederate at the :27.3 first quarter. With Tim Tetrick at the controls, Confederate tripped the halfway timer in :56.2 and was by the third quarter in 1:23.4.
Down the stretch, several colts attempted to challenge but Confederate held strong and was at the wire in 1:50.2. Ervin Hanover (Joe Bongiorno) took second with Ammo (David Miller) third. Christchurch (Todd McCarthy) and Act Fast (Chris Page) earned the other spots in next weekend's final.
The win was the fifth straight for the son of Sweet Lou who is owned by breeder Diamond Creek Racing and new partner Crossover Racing. Brian Brown trains Confederate. He improved his summary to 5-0-1 in six starts for just over $300,000 in purse earnings.
"My horse is way better at following but the way it shook out I just went ahead and took control," said Tetrick. "If one of the better horses had come, I would have followed them. This is a good tightener for him, he hadn't raced since the [Kentucky] Sires Stakes final in Lexington [on Sept. 18].
"Brian had him ready, he was really sharp tonight. He's ready to go. I expect him to get through the week healthy. Systems all go, I think he's a hot horse right now," praised Tetrick.
There was much talk prior to the race that this was the colt's first start on Lasix, which Tetrick noted.
"They're doing the right thing giving him Lasix to treat him," he said. "For me, the horse is very sharp, it didn't seem to affect him at all. First start Lasix, he paced home really strong."
Confederate is the first foal of Geothermal, a half-sister to Diamond Creek's Charleston as well as another of their star pacing mares, Pure Country, a winner of more than $2 million in her career and a Breeders Crown champion during her rookie season in 2015 at Woodbine Racetrack.
In the second elimination, Metro and Ontario Sires Stakes champion Stockade Seelster float out from post 10 to grab the lead for Jody Jamieson just past the opening quarter in :27.2. He paced by the half in :56.2 and the three-quarters in 1:24.
Dexter Dunn and Handlelikeaporsche, who sat fifth through the early going and came first-up just by the half and advanced steadily in the outer lane, paced hard on the outside to go by the leader to win in 1:51.4.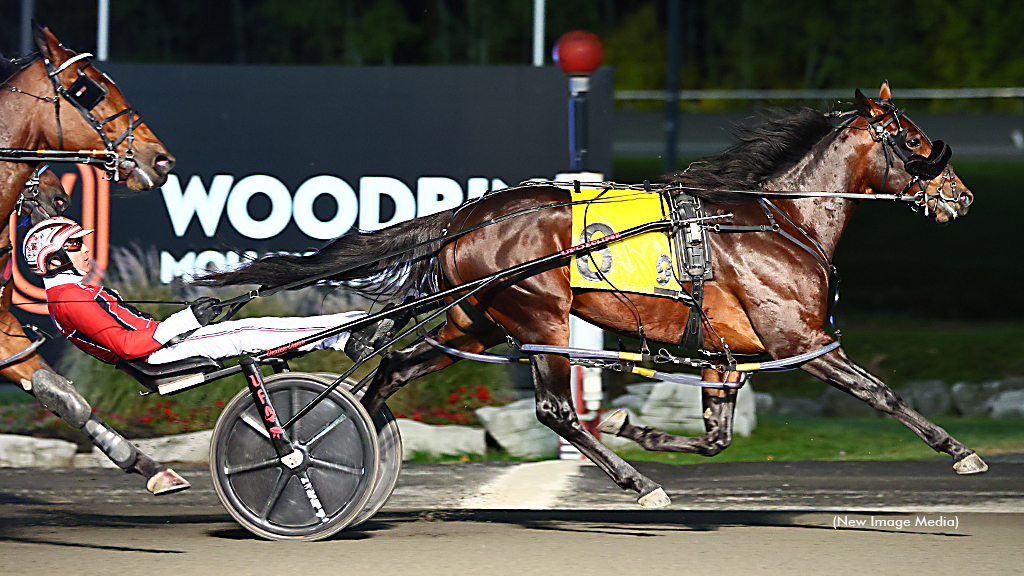 ​
​Doug McNair had Huntinthelastdolar flying late to take second while Stockade Seelster held for third. ​ Combustion (Todd McCarthy) and Tip Top Cat (Yannick Gingras) also advanced to the final.
"He really gives 100 per cent when he's on the track, tonight he felt great," complimented Dunn. "You can do whatever you want with him, he's a true professional."
"Every race he's raced well, he got a little better down in Kentucky. Dexter was thrilled with him tonight, so was I, I thought he raced really good. My horse made his own race coming first-over against a very good horse, I'm just thrilled with him," noted trainer Chris Ryder.
A son of Lazarus N, Handlelikeaporsche is co-owned by Ryder, William Ezzo, Robert Mondillo and Barry Spak. The colt improved his summary to 4-3-0 in just seven starts with more than $245,000 on his card. He is the first foal of a half-sister to millionaire Vegas Vacation.
The field for the final is listed below in post position order. 
$600,000 Breeders Crown Two-Year-Old Colt & Gelding Pace
Post - Horse
1. Tip Top Cat
2. Handlelikeaporsche
3. Confederate
4. Christchurch
5. Huntinthelastdolar
6. Combustion
7. Stockade Seelster
8. Act Fast
9. Ammo
10. Ervin Hanover
AE. Save America
Elimination winners and Win And You're In horses (Kilmister, Instagram Model) drew for inside post positions one through five in their respective divisions. A pair of Breeders Crown divisions not requiring eliminations were drawn during the Friday card and those fields are posted below. The remaining post positions will be drawn after the Saturday elimination races for three-year-old and open divisions, with the exception of those races to be drawn at the Tuesday, Oct. 25 press conference (Open Pace, Open Trot, Three-Year-Old Colt & Gelding Pace).
$600,000 Breeders Crown Three-Year-Old Filly Pace
Post - Horse
1. Queen Of Success
2. Boudoir Hanover
3. Sweet Kisses
4. Sea Silk
5. Prohibition Legal
6. Treacherous Dragon
7. Max Contract
8. Just Divine
9. Silver Label
10. Niki Hill
11.] Galleria Hanover
$350,000 Breeders Crown Mare Trot
Post - Horse 
1. HP Mama B
2. Sorella
3. Next Level Stuff
4. Amazone Duharas
5. Bella Bellini
6. Refined
7. Atlanta
8. When Dovescry
To view Friday's harness racing results, click the following link: Friday Results - Woodbine Mohawk Park.
(With files from Woodbine/Hambletonian Society)