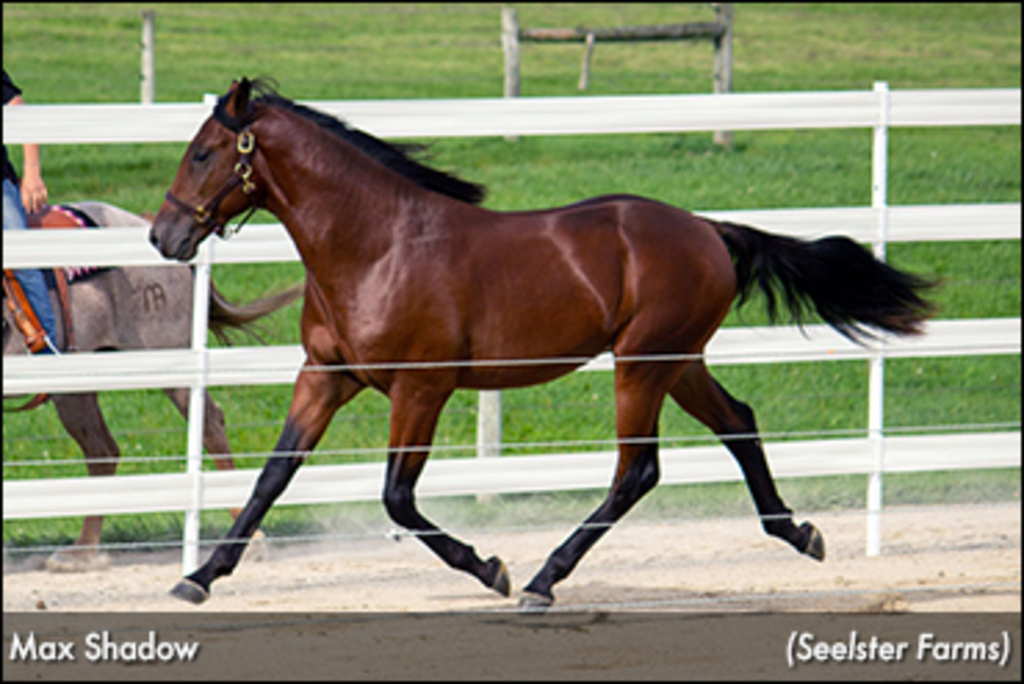 Published:
October 21, 2020 08:40 pm EDT
Max Shadow sold to Samuel Taylor of Lucan, Ont., for $113,400 on Wednesday afternoon (Oct. 21) in the third and final session of the 2020 London Virtual Yearling Sale hosted by onGait.com, making him the fourth six-figure yearling to change hands this week.
Max Shadow, a son of Shadow Play out of Lady D M p,2,2:00.1h, 3,1:52; 1:51 ($634,732), is a half-brother to three 1:55 performers, including Ontario Sires Stakes Gold winner Lay Lady Lay p,2,1:53.3s, 3,1:52s, 4,1:51s ($467,599).
Over the three days of auctions, a total of 102 yearlings grossed $3,312,990 for an average of $32,480.
During Session Two on Tuesday (Oct. 20), Addison Seelster, a filly by Bettors Delight from a full sister to champion race mare Rocklamation, brought a winning bid of $103,500 from Amanda Fine. Novella Seelster, a Sportswriter filly from the Mach Three mare Nila Seelster, was hammered down by Daniel Plouffe for $81,200.
In Session One on Monday (Oct. 19), Goldrush Seelster, a son of Bettors Delight and the first foal from the Ontario Sires Stakes Gold winner Glamour Seelster, brought a winning bid from Gregg McNair of $201,000. Amanda Fine was the high bidder on Shanghai Seelster for $152,000. This daughter of Bettors Delight is the first foal from stakes winner Soiree Seelster.
Eight Bettors Delight yearlings sold for an average of $88,588 to lead all sires. The first crop of multi-millionaire Resolve was represented by two yearlings, selling for an average of $51,745.
Ann Straatman, who pulled double duty for the sale managing the Seelster Farms consignment as well as liaising with onGait.com to facilitate the sale's operations, indicated that the sale results were "beyond [her] expectations."
"Before the sale, the only feedback — until very recently — that I received was negative," Straatman told Trot Insider. "I only fielded complaints and even threats, so it was very difficult to predict the participation we would receive with the new online format with OnGait."
Despite the early skepticism some may have harboured, the numbers ultimately represented a significant uptick from last year's sale, with the average price of $32,480 representing an increase of over 40 per cent from 2019.
"I knew that this was the strongest catalogue that we had ever had, so in pre-pandemic times, I would've expected the average to be up," Straatman continued. "I'm very happy for our consignors to have this format so well received.
"I have to thank Eric Cherry and Maurice Chodash for their partnership and professionalism. OnGait is an excellent organization to work with. Our goal was to keep everyone safe and provide an effective, inclusive and fair yearling auction format for all participants, and I'm happy to say that we have accomplished both."
For complete sale results, click here.
(with files from onGait.com)