Published:
October 2, 2016 08:01 pm EDT
Andy Moore, the son of legendary horse-trader Bert Moore of Sarnia, Ont., credits his dad with teaching him how to be successful in harness racing.
Just about everybody in the business has dad's number on their Rolodex. When you don't want your horse anymore, and can't sell it, you call Bert Moore.
"We'll make a fair offer, and turn around and sell the horse for a fair profit," said Andy Moore following his big Sunday (October 2) at Leamington Raceway. "Dad told me if you ever lose the trust in a deal, you have lost that trust forever. When we can't turn a castoff around, we will try to race that horse until such time we can create an interest in that horse."
On Sunday, Out For A Rip ($4.30) won the third race, his second of the season in 1:59 for Bert Moore.
"His granddam was a castoff that nobody wanted, so dad bred her and ended up with this horse's mother [Weeatross], who produced this colt," said Andy, who trains and drove the four-year-old pacer.
In the 10th race, Big Is Better ($5.50), another castoff, won his fourth of the year in 2:00.1.
"When we got this horse, he was skinny, malnourished and headed to the Amish in Ohio. We decided to work on him and get him back healthy," said Andy of the five-year-old pacer. "I guess you could say dad's methods has allowed us to make lemonade out of lemons."
A three-time winner on the program, Moore also catch-drove Ginger ($8.10) to a 2:00.1 victory in the first race. The four-year-old pacing mare is a recent claim of Alma Jarvis of Essex, Ont., and is trained by Jim Jarvis.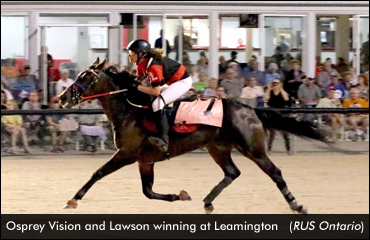 The rain held off and the sun came through for the $4,000 racing under saddle event in the seventh dash.
Five trotters left the gate to contest the race, which saw post two starter Osprey Vision and rider Amber Lawson leave handily to the front in a first quarter in :30.2.
Swedish rider Marielle Enberg and Gracies Harmony overtook the top position at the half in 1:01 and led the group of five to the 1:33 third quarter pole, but it was Osprey Vision who re-took the lead in the stretch and left the field nine lengths behind for a 2:05.1 victory.
The win was the first under saddle for both Lawson and Osprey Vision, a seven-year-old Ken Warkentin gelding trained by Shane Aresenault and owned by Dave Boughton of Carlisle, Ont.
Gracies Harmony held on for second, while Hiawatha Horse Park's under saddle victor Demand An Answer closed for the show dough with rider Sarah Town.
RUS Ontario's season will be winding down with their final to be contested at The Raceway at the Western Fair District on October 21.
Racing Under Saddle Ontario would like to thank Leamington Raceway and their enthusiastic fans for promoting racing under saddle in Ontario.
Live harness racing continues next Sunday at Leamington, with post time set for 1:30 p.m.
To view Sunday's harness racing results, click on the following link: Sunday Results - Leamington Raceway.
(With files from Leamington Raceway & RUS Ontario)