Published:
October 17, 2020 10:47 pm EDT
One of the brightest stars of the Ontario Sires Stakes program this year, Pemberton placed an exclamation mark on his OSS career with a dazzling performance in the $250,000 OSS Super Final for three-year-old trotting colts.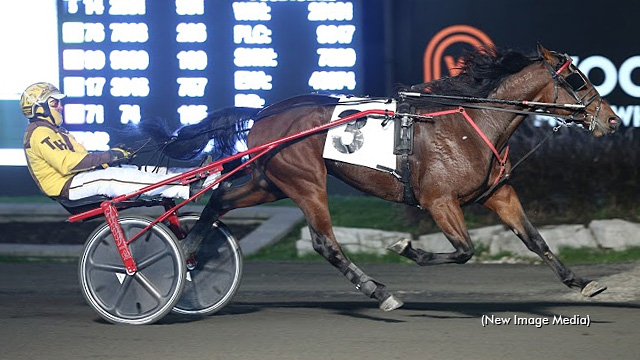 Driver Trevor Henry settled Pemberton into fourth early as Hayek (Sylvain Filion) busted off the gate from his outside post. As the colts straightened out down the backside after a :27.2 opener, Henry right-lined Pemberton and he cleared to the lead before a :56.1 half. Threefiftytwo (Bob McClure) came to call with a first-over challenge but a 1:25.1 third quarter wasn't taxing enough to take anything out of Pemberton, who pulled away and showed his heels to the field with a :27.3 closing quarter to trip the timer in 1:52.4. Angel Nation (James MacDonald) flew home for the place honours over Threefiftytwo.
"He's the nicest little horse I've ever driven," said Henry after the win. "He's just got the manners and you can do whatever you want with him."
Brenda Walker of Owen Sound and Christine Walker of Tara, Ont. own Pemberton (Wheeling N Dealin - Dayshifter), who now sports a bankroll of $363,684 with a 8-0-1 summary from 10 starts. Trainer Paul Walker picked up his first OSS Super Final in in the midst of his best season as a trainer since the early 2000s .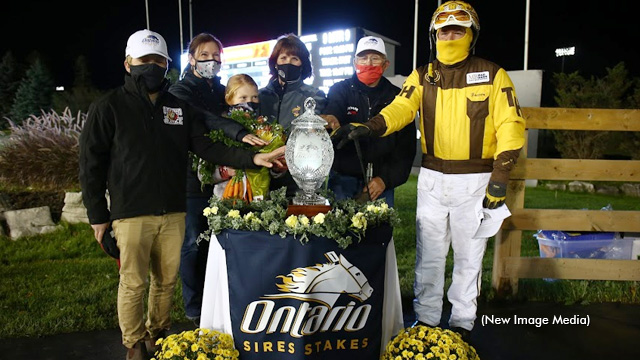 "We're fortunate, a couple of nice trotters -- the mare (Imextraspecial) an unfortunate night with her but she still had a good season," said Walker. "This little horse has just been a good horse. He takes nothing special, he's nice to be around in the barn...you can't say enough about him.
"we're going to give him a good length of time off and take our time coming back and make sure he's as strong as he can be [as a four-year-old] and we'll go from there."
---
This race was one of eight Ontario Sires Stakes Super Finals contested on Saturday, Oct. 17. Check out the rest of the recaps in the OSS Super Final News Centre.