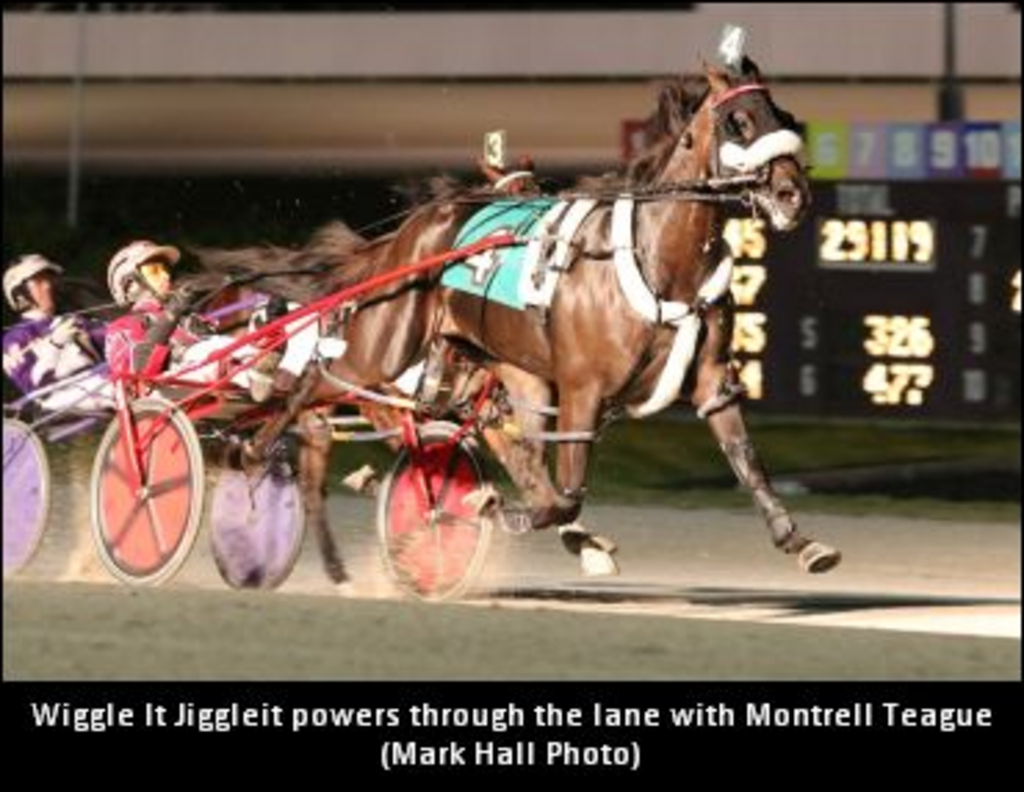 Published:
October 17, 2016 12:56 pm EDT
Defending U.S. Horse of the Year Wiggle It Jiggleit has been supplemented to the $421,000 Breeders Crown Pace, which will set up another epic showdown with arch-rival Always B Miki, the winner of last year's 'Crown' title for older pacers.
Wiggle It Jiggleit, owned by George Teague Jr. Inc., and Teague Racing Partnerships LLC, is the richest harness horse this year with seasonal earnings of $1,722,162. He will meet up once again with the fastest Standardbred of all–time, Bluewood Stable, Roll The Dice Stable and Christina Takter's Always B Miki, who lowered the world pacing mark to 1:46 on October 9 at Lexington's Red Mile.
The two have electrified the sport battling in the open ranks this year, and the adage "In harness racing, it all comes down to the Breeders Crown" may never hold truer. The pair has met seven times in open stakes competition, with each horse winning three – Shamballa beat them both in the US Pacing Championship, though Wiggle It Jiggleit finished second and Always B Miki fourth in that match-up.
One of four Breeders Crown events slated for the Meadowlands Racetrack on Friday, October 28, the Crown Pace will be featured in a one-hour live broadcast on SNY (Sports Net New York) from 9-10:00 p.m. (EDT).
Though owner George Teague and trainer Clyde Francis had not been inclined to supplement their extraordinary four-year-old gelded son of Mr Wiggles, the ease with which he racked up his 38th career win in what was his 50th start -- a $250,000 Invitational at Yonkers last Saturday -- changed their minds. 'Wiggle' was the lone supplement to any Crown event by the noon deadline of Monday, October 17.
"The main reason I wanted to do it was because it's good for the business," said Teague from his home base of Harrington, Delaware. "People like to see him race and these two together, they may meet another time, but for him to be in the Breeders Crown it's really good for the business more than anything."
"This horse just gets stronger and sharper as the year goes on," marvelled Teague. "When he trained before the Yonkers race I thought he was sharper than he was in April and May. He's never taken a week off all year and never had a bad race, either."
Regular entries for eligible trotters and pacers are due by 9:00 a.m. Tuesday, October 18, at the Meadowlands race office.
The contestants for the 12 Breeders Crown finals will be determined through elimination races this Friday and Saturday night at the Meadowlands. Eliminations for all open events will be raced on Friday (post time 7:15 p.m.) and eliminations for all two-year-old and three-year-olds will be Saturday (post time 7:15 p.m.).
Elimination winners draw for inside post positions 1-5 for the finals.
(Hambletonian Society)