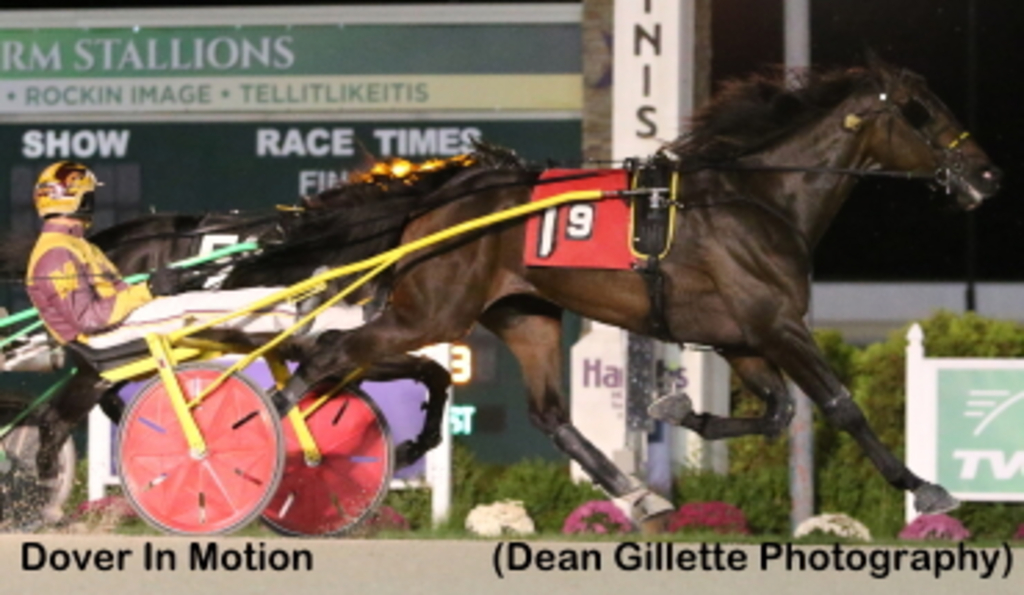 Published:
October 16, 2021 07:19 am EDT
Harrah's Hoosier Park Racing & Casino played host to Hoosier Champions Night on Friday, and the 15-race program provided a fitting conclusion to the 2021 Indiana Sires Stakes season.
The summer-long Indiana Sires Stakes culminated with the crowning of 12 new champions with purses offered exceeding $2.4 million. Light showers and coolers temperatures marked the evening but did not slow the tempo as the evening was highlighted by exciting racing action and a track record performance.
Two-Year-Old Filly Pace
After scoring in the opener in the aged trot with Whata Swan, Trace Tetrick continued his hot start, teaming up with trainer Brian Brown and Trick Of The Light in the first $270,000 Super Final of the evening for two-year-old filly pacers. Trick Of The Light settled in third in the early stages of the race before she made a backstretch brush to the front. Once getting to the front, Trick Of The Light wouldn't relinquish the lead from that point forward, holding off a host of challengers in the stretch to score the victory in 1:51:1. Ms Quick Sand and Brandon Bates got up for second at a price of 77-1, with Always Gonna B You and John De Long rounding out the Trifecta.
"She has been racing pretty well heading into tonight, we though she had a pretty good shot," Trainer Brian Brown said in the Winner's Circle. "She was really good early in the season, we went in 51 in her second start and that may have taken a bit out of her, but she's a nice strong filly and she dug in and fought hard tonight."
With the victory, Trick Of The Light finished her freshman campaign with three victories in nine starts and $227,250 in seasonal earnings for owners Country Club Acres, Joe Sbrocco and Kirk Nichols. Bred by Adam Eicher, the daughter of Odds On Equuleus out of the Dragon Again mare, Gordjus established a new lifetime mark with the 1:51:1 score.
Three-Year-Old Filly Trot
The $250,000 Indiana Sire Stakes Super Final for three-year-old filly trotters would serve as race five on the 15-race card, with favouritism falling to eventual race winner, Shirley Goodness. Driver Peter Wrenn put Shirley Goodness into play early in the mile, quickly landing in the second spot behind LeWayne Miller and Country Girl Charm. Country Girl Charm led the field through hot early fractions. As second choice Swift Swanda launched her bid on the final turn, Shirley Goodness waited for room up the inside before exploding home with a powerful :27:2 final fraction to score in 1:53:3. Doug Rideout trainees Queen Of All and Four Under Par rounded out the top three with John De Long and Yannick Gingras in the bike respectively.
"We were really excited about racing this filly tonight," trainer Melanie Wrenn said. "We added Lasix a few starts back and that really seemed to turn her around a bit and she's been sharp heading into the Super Final."
Owners Bill Beechy, Brad Maxwell and Kenneth Frieder now face the decision of potentially entering the daughter of Swan For All into the Breeders Crown eliminations on October 23. With tonight's score, Shirley Goodness has won five of eleven on the season, and catapulted her career earnings to $364,445.
Two-Year-Old Filly Trot
Sire Swan For All scored his third Indiana Sire Stakes final victory with M Ms Dream in the $270,000 two-year-old Filly Trot Super Final. Regular pilot Sam Widger would have his work cut out for him as he navigated traffic trouble throughout the entire mile. Widger waited until the far turn to put M Ms Dream into play, slipping into what would appear to be the perfect second over position behind the cover of Jusmakinyalook and Jordan Ross. Into the stretch, Jusmakinyalook and Ross made a costly break in front of Widger and M Ms Dream, causing Widger to take evasive action in the lane. Even with the slight detour, MMs Dream powered home with a :27 final quarter to chase down race favourite Fleurie and Peter Wrenn to score the victory in a lifetime best 1:55. Fleurie held on for second with Simply Right and Hall of Famer Tim Tetrick finished third.
"She was a bit hot tonight, hotter than I like her to be," Widger said after the race. "I really just wanted to get her flat through the first turn and let her settle into the race, from there even with the breaker in front of her in the stretch, she still had a target to shoot at and she's a fighter. She loves her job."
It was the fourth straight victory on the season for the Henry Graber, Jr. trainee, and sixth in eight seasonal starts for the freshman filly. Owned by the Eleven Star Stables, Frank Baldachino and the Hillside Stables, the $18,500 Hoosier Classic purchase was bred by Mervin J Miller and has now banked $268,462 for her connections.
Two-Year-Old Trotting Colts
Dover In Motion provided a fitting conclusion to his freshman stakes season with a dominant, track record setting 1:53.2 score in the $250,000 Indiana Sires Stakes Super Final for two-year-old trotting colts and geldings. With Ricky Macomber, Jr. in the bike, Dover In Motion made his move to the lead just before the three-quarters and never looked back. The 1:53.2 time established a new track record at Harrah's Hoosier Park for two-year-old trotting geldings, a mark that was previously held by former Indiana Sires Stakes champion TJs Top Pick. Ponda Adventure and Trace Tetrick were second best while Swan Captain and John DeLong finished third. With the win, Dover In Motion is Harrah's Hoosier Park's newest track record holder and remains undefeated in Indiana Sires Stakes action this season.
"There can be a lot of pressure with a colt like him," trainer Jamie Macomber noted in the winner's circle. "But he makes it easy. He's just good at everything he does and we are lucky to have him."
Owned by M&M Racing and Norbert Joseph Maza, the gelded son of Dover Dan—Keystone Sadie has now won eight of 9 lifetime starts. With the win, Dover In Motion now sports a lifetime bankroll of $309,400. Dover In Motion was bred by Lyle Dean Slabach.
Three-Year-Old Filly Pace
All eyes were on the Panther Hanover filly Hot Mess Express as she looked to put the finishing touches on an undefeated Indiana Sire Stakes campaign in the Three-year-old Filly Pace division. John De Long was aboard the 1-9 Tony Alagna trainee as they floated out from the three hole, taking the first turn wide as the Tetrick Brothers threw down the gauntlet in the opening quarter. Tim Tetrick and Pure Cotton came out on top over Trace Tetrick and Skyway Brittney through the blistering 25:4 opening panel. Hot Mess Express cleared briefly to the lead up the backstretch but was quickly covered up by 2020 Indiana Sire Stakes Champion, Somethingbeautiful and LeWayne Miller to the half in :54:1. De Long waited patiently before marching up the inside in the stretch, taking advantage of a :27:2 final quarter to score by a length and a half in 1:50. Kobes Gigi closed from the clouds with Matt Krueger following a miscue behind the gate to get up for second, Somethingbeautiful held on for third.
"She's just a sweetheart, you can do anything you want with her," DeLong said following the victory. "The trip did make me a little nervous, it got tight there for a bit, but once she found room she paced hard right down to the wire."
It was the eleventh victory in thirteen starts for Hot Mess Express and former second overall NBA Draft Pick Samuel Bowie who owns the star pacing filling. The victory vaulted the filly's career earnings beyond the $700,000 mark, now boasting a bankroll of $713,199. Hot Mess Express will complete her sophomore season with remaining Grand Circuit Stakes at Harrah's Hoosier Park.
Three-Year-Old Trotting Colts
The trainer-driver combination of Melanie and Peter Wrenn made a clean sweep of the sophomore trotting divisions after Swingforthefences turned in a near gate to wire effort to score in the $270,000 Indiana Sires Stakes Super Final for three-year-old trotting colts and geldings. Stopping the timer in 1:53.1, Swingforthefences held off a late charge from Illini Earl and Brandon Bates to get the victory.
"He's a been a very nice horse for us," trainer Melanie Wrenn noted in the winner's circle. "I didn't expect him to be that dominant tonight, but he's been racing well and seems really good right now. He's got a few of the stakes left here at Hoosier Park and then he will be done for the year. It's been a great year for him."
With the win, the gelded son of Swan For All—Sunday Yankee recorded his seventh win from 14 starts this season. Owned in partnership by David McDuffee, and L&L Devisser LLC, Swingforthefences has now won 10 of 24 lifetime while bankrolling $452,940 in purse earnings. Swingforthefences was bred by Concord Stud Farm LLC.
Two-Year-Old Pacing Colts
The biggest upset of the evening was found in the $270,000 Indiana Sires Stakes Super Final for two-year-old pacing colts and geldings when Dalby Hanover and Joey Putnam crossed the wire first at 58-1. After very hot first-half fractions, Dalby Hanover came storming home from off the pace to score in 1:50.2 over Thunder Country and John DeLong. The 1:50.2 clocking was a new lifetime best for the Britney Dillon trainee.
"I felt good coming around the last turn," Putnam said in the winner's circle. "With a really hot tempo up front, I loved the set up of the race."
"When I asked him turning for home, I knew he had plenty of pace," he continued. "I kept asking him and he kept pacing all the way to the wire. He's a really nice colt."
The gelded son of Rockin Image—Dont Deny Me recorded his third win from nine seasonal starts. Owned by Charles Stein and bred by Hanover Shoe Farms, Dalby Hanover has now earned $200,962 in lifetime purse earnings.
Three-Year-Old Pacing Colts
The final $270,000 Indiana Sires Stakes Super Final of the evening was the three-year-old colt and gelding pacers and it was Roll Em and Tim Tetrick who took home top honours. Staging a big rally late in the lane—a :26.2 closing quarter to be exact, Roll Em tracked down the pace-setting Virgo and Trace Tetrick to get the win by nearly two lengths.
"I didn't know a whole lot about the horse coming into tonight," Tetrick noted in the winner's circle. "They told me he was a little bit lazy and wasn't super quick but would just keep coming and that's what he did tonight."
"I was hoping for a little more action up front," he continued. "It worked out for us though because once he got straightened out he just kept coming."
Trained by Ron Burke, Roll Em recorded his seventh win of the season from 18 trips behind the gate. The gelded son of Tellitlikeitis—Feetonthedashboad is owned by Burke Racing Stable, Weaver Bruscemi, Frank Baldachino and Beasty LLC. Roll Em was bred by David and Karen Arrenholz.
(Hoosier Park)