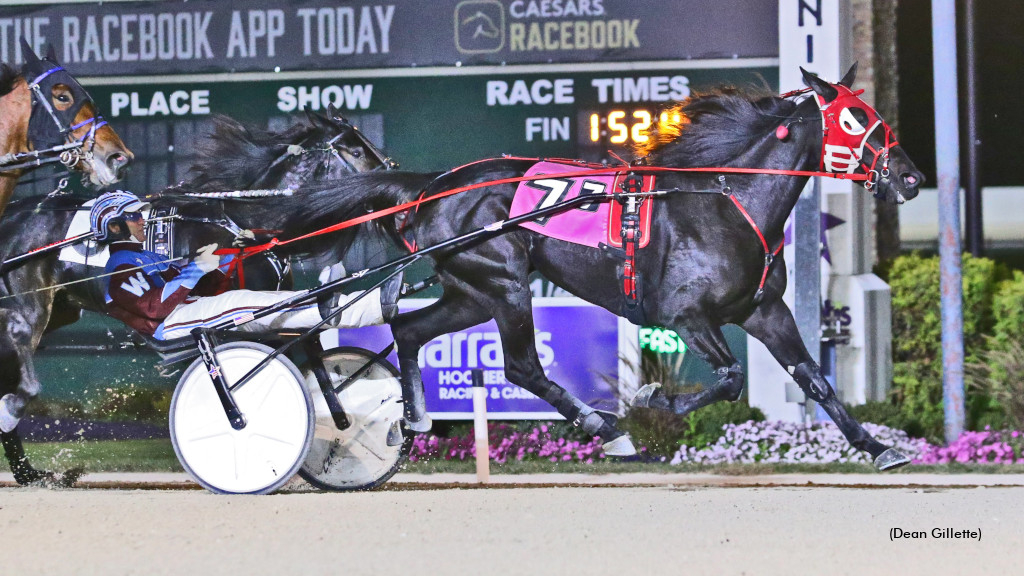 Published:
October 15, 2022 11:15 am EDT
Harrah's Hoosier Park Racing & Casino played host to Hoosier Champions Night on Friday (Oct. 14) and the 15-race program provided a fitting conclusion to the 2022 Indiana Sires Stakes season. 
The summer-long Indiana Sires Stakes culminated with the crowning of 12 new champions with purses offered exceeding $2.3 million. The competitive card was reflected with a record handle on the evening, as the bettors pushed more than $1.2 million through the Harrah's Hoosier Park betting windows as the eight $250,000 Indiana Sire Stakes Super Finals provided a mix of formful favorites and a few surprises on the evening.
Two-Year-Old Filly Trot
Kicking off the quarter million dollar Super Finals on the night were the freshman filly trotters in the evening's third race. Yo Beth D and driver Trevor Smith proved that the outside post nine was no problem at all, setting sail for the lead immediately as the wings of the gate folded and never looking back from that point. Yo Beth D scored in a dominating 1:54.4 performance by more than two lengths as the even money favourite. Ts Pride and Trace Tetrick rallied for the second position, with Helpoftheseason and Peter Wrenn finishing third.
With the victory, Yo Beth D scored her seventh victory in 10 starts at age two, banking $302,250 for owner Greg Luther Racing LLC. Trained by Todd Luther, Yo Beth D is a daughter of first crop stallion Helpisontheway out of the Cantab Hall mare, Scented Roses. Bred by John Schmucker, the 1:54.4 effort in the Indiana Sire Stakes Super Final was just one-fifth of a second off of her career best.  
Two-Year-Old Colt & Gelding Trot
Immediately following a 1:48.4 score in the Aged Pace with now three-time Indiana Sire Stakes Champion Tellmeaboutit, driver Mike Oosting would once again be back in the winner's circle with freshman trotting gelding, Jailhouse Dance. 
Leaving from post four in the field of ten, Jailhouse Dance settled sixth in the early stages before joining the cover flow third over up the backstretch. In the lane, Jailhouse Dance vaulted off cover, setting up a deep stretch duel with Talent Scout and Dexter Dunn.  Behind the strength of a :27.3 final quarter, Jailhouse Dance was a head with the mile timed in 1:54.1. Brookview Darius and Atlee Bender rounded out the trifecta at 42-1.
Trained and co-owned by Ken Rucker along side Rock & Roll Stable Inc and Michael Shan, Jailhouse Dance has been a model of consistency in his rookie campaign. The rookie picked up his fourth wins in 11 starts while hitting the board nine times. Bred by Lester Beechy, Jailhouse Dance is a gelded son by Dover Dan out of the Jailhouse Jesse mare, Jailhouse Diva. The 1:54.1 effort was a lifetime best for Jailhouse Dance who has now banked $254,680 with the victory.
Three-Year-Old Filly Trot
With a shot at completing the Indiana Sire Stakes sweep with yet another Indiana Sire Stakes Super Final victory, M Ms Dream did what she's done all season long after a vicious score in the three-year-old filly trot.
Leaving from post seven, M Ms Dream and driver Sam Widger (pictured above) settled mid-pack early as world champion Bluebird Dove and Peter Wrenn opened with blistering early fractions of :27 and :55.4 M Ms Dream went on the offensive from there, grinding first over before putting her nose in front at the top of the lane. From there, M Ms Dream powered ahead with authority through a :27.4 final fraction to score in a lifetime best 1:52.4 by a length over longshots Luv Lorelei with Robert Taylor and Swan Trixie with Dexter Dunn, respectively.
The victory gave the Henry Graber Jr. trainer filly a sweep of all eight legs of Indiana Sire Stakes along with the quarter million dollar Super Final. The daughter of Swan For All out of the Classic Photo mare, Trading Places has been all but invincible in 2022, scoring wins in 10 of 11 seasonal starts, with her lone defeat coming at the hands of Hambletonian Oaks champion Fashion Schooner in the $115,000 Moni Maker in September. Bred by Mervin Miller, M Ms Dream has banked $427,550 in 2022 and boasts a career bankroll of $696,012 for owners Eleven Star Stables, Hillside Stables and Frank Baldachino.  
Two-Year-Old Pacing Fillies
The first shocker of the evening came in the freshman pacing fillies division, as Fortunada and driver John De Long pulled the 15-1 upset with a late rally in a chaotic finish. 
Leaving the gate from post seven, De Long took back with Fortunada in the early stages as things got busy upfront. The heavily favoured and unbeaten Rollin Rosie and driver Dexter Dunn had to work hard to get by Always In Flight and Jordan Ross though early fractions of :26 and :53.4. After finally clearing to the front, Rollin Rosie and Dunn appeared to be home free on the turn, opening up by three on the field before the hot early fractions and strong stretch headwinds bringing the field back into play in the lane. In the end, it would be Fortunada with a stirring stretch rally, closing with a :28.2 final quarter to score a 1:52.4 victory by three-quarters of a length over Sleazy Mama and Marcus Miller. Rollin Rosie and Dexter Dunn would dig in to hold for third.
The victory was the seventh in 11 seasonal tries for the Roger Welch-trained Fortunada, a homebred filly owned by Gordon Wright along with William and Patrick De Long. The win lifted her earnings to $202,870 in her freshman campaign. Fortunada is a daughter of Breeders Crown winning stallion Luck Be Withyou out of the Modern Art mare, Lauren.
Three-Year-Old Trotting Colts & Geldings
Driver Sam Widger completed the sweep of sophomore divisions and jumpstarted a banner night for trainer Tyler George when he steered Adamsville Road to a gate-to-wire victory over Ponda Adventure (Trace Tetrick) in a career-best 1:53.2. 
Adamsville Road took control right after the wings folded off the gate and simply asserted himself throughout the mile while establishing fractions of :27.1, :56 and 1:24. Ponda Adventure provided a valiant chase as he was second the entire journey, while Swan Captain and John De Long finished third.
Competing for Mel Rose Stable and Joe Nesselroad, Adamsville Road is trained by two-time defending leading trainer at Harrah's Hoosier Park, Tyler George. The gelding is a son of Swan For All out of the Yankee Glide mare, She Wore Red and was bred by Joyce McClelland. With the Super Final score, Adamsville Road boosted his bankroll to more than $136,000 and sports a lifetime record of 21-8-2-3.
Three-Year-Old Pacing Fillies
Trainer Tyler George picked up where he left of in the next $250,000 Super Final on the evening, this time prevailing in a photo finish with Need To Breathe in the three-year-old filly pace.
Starting from the middle of the gate in post five, driver Dexter Dunn worked out a perfect pocket trip in the early stages as race favourite JKs Rollin Baby and Mike Oosting set the tone early with :26.2 and :54.1 early fractions. Dunn waited patiently behind dueling leaders of JKs Rollin Baby and Trick Of The Light and Trace Tetrick through three-quarters of 1:22.4 before launching their bid up the passing lane. Need To Breathe would need to fend off a hard-charging Always Gonna B You and Dave Miller as well as Marvelous Marshia with John De Long to prevail, and did so by a head in 1:51:1.
Owned by trainer Tyler George along with Trent Stohler and Terry Leonard, Need To Breathe has now won six times in 15 seasonal starts in a season that has seen the filly earn $205,305. Bred by Mike Hollenback along with the late Charles Kline, Need To Breathe is a daughter of Riggins out of the Western Ideal mare, Christie Hanover.
Two-Year-Old Pacing Colts
Driver John De Long picked up his second Super Final score of the evening in the freshman pacing colts division aboard Buzzsaw Russ.
Buzzsaw Russ and De Long were patient in the early stages, sitting third along the rail as Fox Stake Champion, Coach Stefanos and Trace Tetrick cut early fractions of :26.2 and :54.4. Coach Stefanos would get company on the front on the far turn as stablemate J B Gram and Marcus Miller engaged him at three-quarters in 1:23. Coach Stefanos and Tetrick shrugged off the challenge to emerge clear of his rival at the top of the lane, with Buzzsaw Russ desperate for racing room on the rail. De Long found daylight and shook loose to motor home late, rallying by Coach Stefanos in the final strides to get up by a head behind the power of a :26.4 final split in 1:50.2. Hetolditlikeitwas and Peter Wrenn rounded out the trifecta at 12-1.
Trained by Missy Essig for her father Russell Beeman and Charles Weaver, Buzzsaw Russ has picked up four victories in nine tries as a freshman. Bred by Devon Beechy and Devon Knepp, Buzzsaw Russ is a gelded son of Rockin Image out of a near half-million dollar earning Yankee Cruiser mare, Up Front Cruiser. The career best effort of 1:50.2 has now brought  the earnings of Buzzsaw Russ to $235,460.
Three-Year-Old Pacing Colts
The Super Final action would conclude with a 10-1 stunner as Ponda Warrior uncorked a ferocious performance in the glamour boy division. 
Driver Dexter Dunn hopped aboard this week and steered Ponda Warrior to the middle of the pack from a post eight starting position as JK Victory and Trace Tetrick laid down the law with a :25.2 opening panel. The heavily favoured Soaring Now and Joey Putnam flew up to take command at the half in a potent :53.1 before Ponda Warrior went on the attack on the far turn, surging into second at three quarters in 1:21.3. After a very brief tuck into the pocket coming out of the final turn, Ponda Warrior was back out for more, unleashing a 27.2 final quarter to decimate the field by over three lengths in 1:49.2. Rip Wheeler and Brandon Bates got up for second after having never seen the rail from post nine, with Soaring Now and Putnam holding for third.
Trained by Jay Hochstetler who co-owns the colt along with Finkelberg Racing LLC and South Of The Tracks Racing Inc, it was the fourth win in 13 seasonal tries at three for Ponda Warrior. Bred by Pond-A-Acres, Ponda Warrior is a Rockin Image colt out of the American Ideal mare, Sweetinsinful. The Indiana Sire Stakes Super Final score boosts Ponda Warrior's 2022 bankroll to $239,400 and puts him over the $350,000 mark in earnings for his career.
Aged Finals
Four $70,000 Indiana Sire Stakes Finals for the aged competitors also highlighted the evening, with Ima Diamond Babe and Atlee Bender scoring in 1:54 over ER Kim for trainer James Yoder to take the mare trot. In the Aged Horse and Gelding Trot Final, Dexter Dunn picked up yet another stakes victory on the evening, this time with Predator And Prey for trainer Michael Hitchcock in 1:54.3.
The Aged Pacing ranks boasted some familiar faces in the Hoosier Champions winner's circle, as now three-time Indiana Sire Stakes champion Tellmeaboutit dazzled with a 1:48.4 front-end victory in the Aged Horse and Gelding pace. Regular pilot Mike Oosting was in the bike for trainer Alvin Miller. The queen of Hoosier Champions night, Rockin Nola was in vintage form in the mare pace as she unleashed a vicious 1:49.3 score for the father-son team of Joe and Joey Putnam to pick up her fifth Indiana Sire Stakes final in as many tries at age six.
Live harness racing action continues at Harrah's Hoosier Park on Saturday (Oct. 15) with a 14-race card set to get underway at 6:15 p.m.
(Harrah's Hoosier Park)