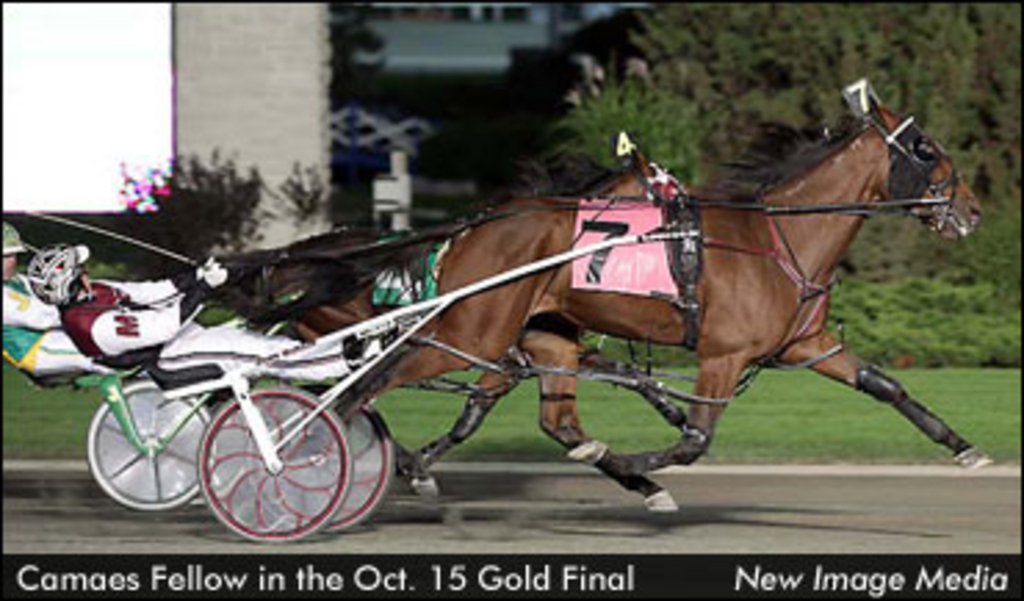 Published:
October 15, 2011 10:07 pm EDT

Delcrest Julian and Camaes Fellow upset their respective divisional leaders in a pair of $170,000 Ontario Sires Stakes Gold Finals for three-year-old trotters and pacers on Saturday night at Woodbine Racetrack
.
Delcrest Julian earned his first Gold trophy this year after hitting the board in two previous finals, and stopped Daylon Magician's win streak at seven in the $170,000 final for sophomore trotting colts.
Eliminations were not required for the final Gold Series event as only nine horses entered.
With Paul MacDonell picking up the drive for an injured Rick Zeron, inside starter Delcrest Julian settled into fourth place off the gate while Imperial Count (Scott Zeron) and Incredable Frank (Mario Baillargeon) fired off the gate in a battle for the top spot. With the inside advantage, Imperial Count took control before the :28-second opening quarter mark with Incredable Frank settling for a two-hole trip.
As the field neared the half-mile mark in :57.1, MacDonell sent Delcrest Julian first over. Mr Joe Sixpack (Scott Coulter) beat heavy 1-5 favourite Daylon Magician (Jack Moiseyev) off the pylons for a second over tow forcing him wide before he settled on his back.
Daylon Magician later moved out and around the fading Mr Joe Six Pack past three-quarters in 1:25.2 while Delcrest Julian applied pressure to the pacesetter into the stretch. Delcrest Julian drew clear down the lane to win by two and a half lengths in 1:55.1 while Daylon Magician came on for second and Sim Brown (Randy Waples) got up for third. Imperial Count was fourth and Traverse Seelster (Mike Saftic) was fifth.
"I talked to Rick yesterday about the horse and I actually drove him one other time for Rick at Flamboro," said MacDonell in the winner's circle. "The horse has actually come a long way since then. He was super good tonight.
"I thought if he was up near the front he would be great. He's such a strong horse; there never seems to be an end to him. So I knew some horse would have to come a pretty good last quarter to take him down."
MacDonell said he was expecting that horse to be Daylon Magician and was surprised when he didn't show up.
"I knew he got away in the middle of the pack and I think he may have been tracking me around the last turn, but it didn't work out for him tonight. It worked out good for us tonight," said the veteran driver, extending his best wishes to Zeron.
Delcrest Julian paid $15.20 to win. The son of Oaklea Julian-Stars Balance, a winner of four races in 14 seasonal starts and $228,397 this year, is owned by Terry Hunter of Cambridge, Ont.
Camaes Fellow pulled off a 14-1 upset to claim his first Gold trophy in the $170,000 final for three-year-old pacing colts.
Eliminations were not required for the pacing final either and the field was reduced to eight after a late vet scratch of outsider Bullet Speed.
Camaes Fellow and driver Doug McNair hustled off the gate from Post 7 with divisional leader and fan favourite Prodigal Seelster (Scott Zeron) to his outside and Post 4 starter Mystician (Jody Jamieson) splitting those two in an early tussle for the lead.
Mystician cleared the lead at the :27.1 opening quarter with Prodigal Seelster parked and pressing and Camaes Fellow taking back into third. Prodigal Seelster was stretched out down the backstretch, but eventually cleared the lead en route to the half in :55.1.
At the midway point, Machal Jackson (J.R. Plante) advanced first up from the backfield with Watermelonwine (Randy Waples) tipping out in behind from fourth. Meanwhile, two-time reigning Gold champion Prodigal Seelster remained in control past three-quarters in 1:23.1 and into the stretch.
Camaes Fellow launched his late attack with an eighth of a mile to go and beat the pylon-skimming Mystician to the wire for the half-length triumph in 1:53. Prodigal Seelster finished two and three-quarter lengths behind in third with his stablemate Watermelonwine fourth and Machal Jackson fifth.
"He can leave great and stalking the two best horses in the race, you couldn't have scripted it any better really," commented trainer Tony O'Sullivan after the win. "He raced fairly easy last week [in an overnight at Woodbine] and I'll probably race him once for sure and maybe twice before the Super Final. We've still got a month. We won't over-race him, but he'll be ready for the Super Final."
Camaes Fellow paid $30.60 to win. The son of Mach Three-Camae has won four races in 18 starts this year. Frank Bellino of Bronxville, New York purchased the gelding, a winner of $233,058 so far in 2011, after his Canadian Breeders Championship win on July 23 at Mohawk Racetrack.
O'Sullivan also won tonight's $42,000 Fillies & Mare Open Pace with Maureen Rocks in 1:52.1 and the $30,000 Preferred 2 Pace with Aled Hanover in 1:53.2. Scott Zeron drove both winners.
To view Saturday's harness racing results, click on the following link: Saturday Results - Woodbine Racetrack.