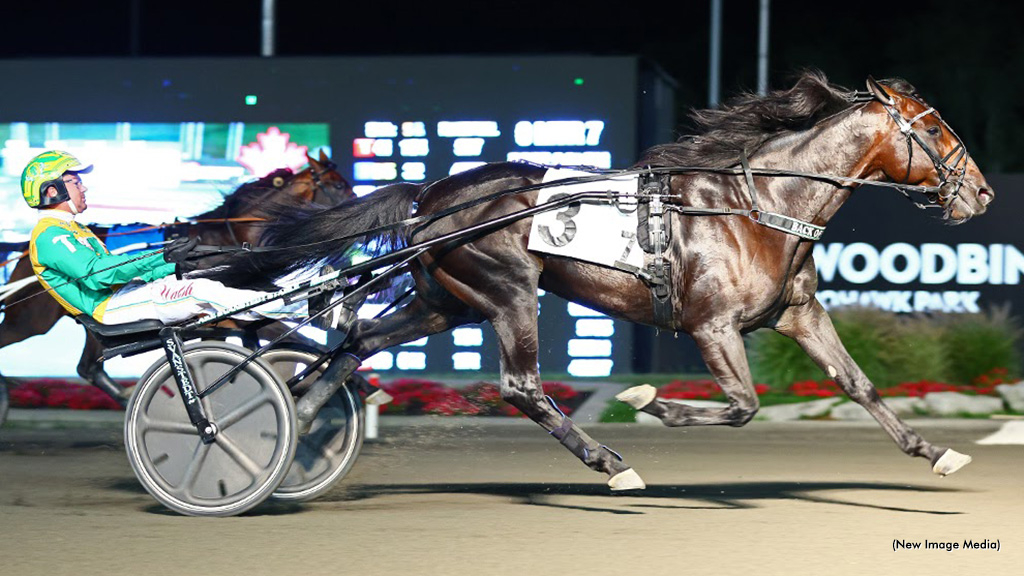 Published:
October 14, 2022 04:27 pm EDT
Tim Tetrick has driven Back Of The Neck only twice, but after picking up two wins, he likes what he's seen from the five-year-old trotter.
"I really haven't found a bad quality about him," said Tetrick, who will get his third start behind Back Of The Neck in Saturday's $1 million MGM Yonkers International Trot at Yonkers Raceway. "He's a pleasure to drive. He does everything right. He's pretty simple. Just don't fall off."
Tetrick and Back Of The Neck, one of two horses representing the U.S. in the International Trot, head to the invitational event off victories in the Maple Leaf Trot on Sept. 3 and Dayton Trotting Derby on Oct. 1. They will start the 1-1/4 mile race from post six in the 10-horse field and are the 7-2 morning-line third choice.
France's Etonnant is the 5-2 favourite, followed by Back Of The Neck's Ake Svanstedt-trained stablemate Ecurie D, one of two horses representing Denmark, at 3-1.
"I'm happy with the draw," Tetrick said. "You always like to draw inside, but my horse is a closer. He likes to chase down horses, he likes to pass. I just have to stay close enough."
Back Of The Neck, a son of Ready Cash-Big Barb, opened this season with three off-the-board finishes before picking up his two victories. He won the Maple Leaf Trot in 1:51 at Woodbine Mohawk Park, giving him the fastest trotting mile of the year in Canada. In the Dayton Trotting Derby, he used a sustained first-over march to win the event for the second consecutive year.
"Ake and Sarah (Svanstedt) both said he doesn't usually like to keep going like he did first over, so that was big," Tetrick said about the trip at Dayton. "It shows you he's sharp and on his game."
The International Trot will be Back Of The Neck's first time on a half-mile track. He has raced six times on five-eighths-mile ovals, like Dayton, posting four wins and a second.
For his career, Back Of The Neck has won 13 of 37 races and earned $1.26 million for owners Howard Taylor, Judith Taylor, and Order By Stable AB, which bred the horse.
Back Of The Neck's five starts this year are the fewest of any horse in the International Trot with the exception of Ecurie D. A six-year-old son of Infinitif-To Soon, Ecurie D has raced four times, posting a win, two seconds, and a third.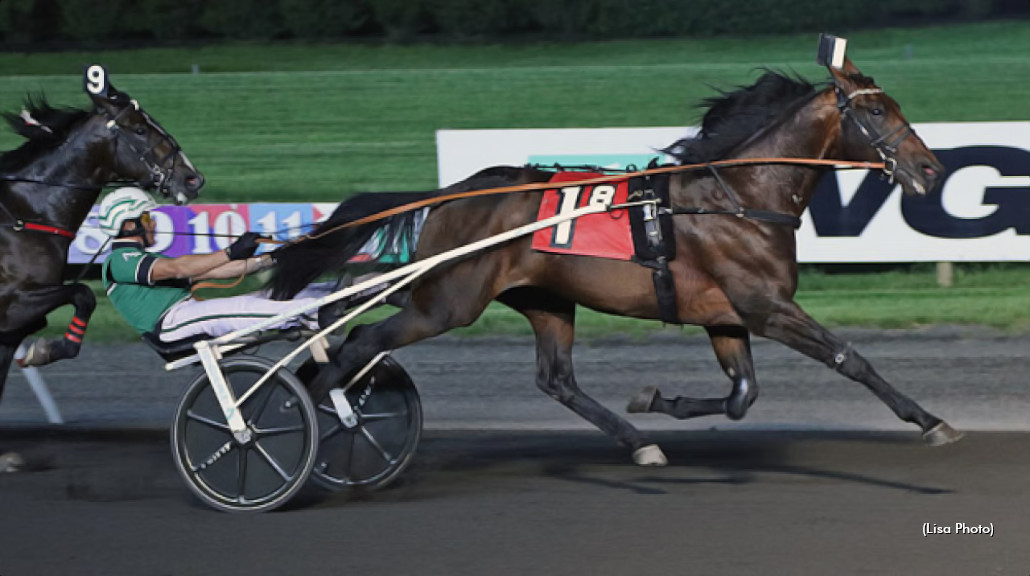 Ecurie D opened this season with a world-record 1:49.1 triumph in the Arthur J. Cutler Memorial. He finished second to stablemates Alrajah One in the John Cashman Memorial and Back Of The Neck in the Maple Leaf, and was third in the Crawford Farms Open Trot, also won by Alrajah One.
Prior to arriving in the U.S. last year, Ecurie D was a Group 1 winner in Europe. He has won three of six races in North America, including last year's Breeders Crown Open Trot, and captured 18 of 27 starts lifetime, earning $1.09 million.
Ecurie D prepped for the International Trot with a 1:57.1 qualifier at The Downs at Mohegan Sun Pocono on Oct. 5.
"He's not raced very often, but I don't want to race him in overnight races," Ake Svanstedt said. "We have tried to enter him in an open also, but they never fill up, so then we must qualify him. He trained very good. I'm happy with him. He's not a horse that needs races."
Svanstedt, who won the 2016 International Trot with Resolve, owns Ecurie D with Marko Kreivi Stables and Suleyman Yuksel Stables.
Racing begins at 12:30 p.m. (EDT). There also will be two $250,000 invitationals — the MGM Aria Pace and MGM Robert Miecuna Trot — on the International Trot Day card. Both will go with 10-horse fields and be raced at the distance of 1-1/4 miles.
The International Trot (race seven) is scheduled for 3 p.m. It will be the first leg of a $20,000 guaranteed Late Pick-4, which also includes the Aria Pace and Robert Miecuna Trot as races eight and 10, in conjunction with the USTA's Strategic Wagering Program.
A lunch buffet dining option is available on the second floor of the Empire Terrace at a cost of $80 per person on MGM Yonkers International Trot Day. Tickets will be sold at the door, but advance reservations can be made by calling 609-317-7295.
There will be a Yonkers International Trot hat or T-shirt giveaway to the first 500 fans on the track apron. Fans unable to attend Saturday's races in person can watch the action live here.
Following is the field for the International Trot with driver, trainer, and morning-line odds, with ] denoting a second-tier starter.
$1 million Yonkers International Trot
Post - Horse (Country Represented) - Driver - Trainer - Morning Line
1. Tycoon Conway Hall (Denmark) - Kasper Foget - Flemming Jensen - 4-1
2. Lovedbythemasses (Canada) - Todd McCarthy - Jeff Cullipher - 10-1 
3. Cokstile (Norway) - Vincenzo Dell'Annunziata - Mattia Orlando - 5-1
4. Stoletheshow (Norway) - Frode Hamre - Frode Hamre - 8-1
5. Ecurie D (Denmark) - Ake Svanstedt - Ake Svanstedt - 3-1 
6. Back Of The Neck (USA) - Tim Tetrick - Ake Svanstedt - 7-2
7. Etonnant (France) - Anthony Barrier - Richard Westerink - 5-2
8. Its Academic (USA) - David Miller - Ron Burke - 12-1
9.] Kennedy (Sweden) - Jason Bartlett - Erik Bondo - 8-1
10.] Zacon Gio (Italy) - Roberto Vecchione - Holger Ehlert - 9-2
(USTA)