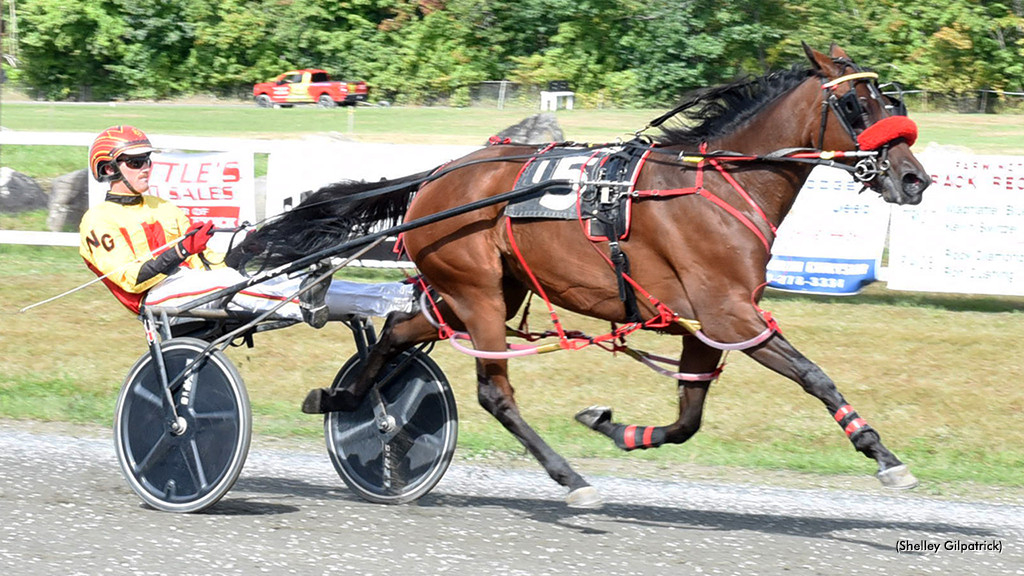 Published:
October 14, 2022 11:14 am EDT
Maine's three-year-olds will make one last appearance in the Maine Breeders Stakes on Saturday (Oct. 15) for the highly anticipated 'MSBS' finals, which carry a recently increased total purse structure of $324,426.
With three of the rich events being raced on the card, Hollywood Casino Hotel & Raceway Bangor management has decided to push the post time to 6 p.m. for the popular event.  The program also includes a $20,000 Fred Nichols Memorial Invitational Pace.
Programmed as race two, the $81,172 MSBS three-year-old filly pace is perhaps the deepest division. The race features Wolverina, the seemingly unstoppable daughter of Cheyenne Hollywood pictured above  Co-owned, trained and bred by Mike Graffam (with Bill Arnold) and driven by Nick Graffam, Wolverina has won 11 of 13 starts this year including a 1:53.2 romp at Plainridge a few weeks ago.  Scoring from post three, she has been installed as the 6-5 favourite.
Another top filly in her own right, Pembroke Legacy (Heath Campbell / Valerie Grondin) has nine wins in 14 seasonal outings, and is a serious contender as well.  Although the post seven draw was somewhat unkind she still has the speed and form to upset this bunch if things go her way.
The only stakes final off the card is the $81,161 MSBS three-year-old filly trot, due to four of eight 'Pembroke' entrants being owned by Bill Varney and trained by Grondin.  The best of the bunch, Pembroke Honcho, drew post eight and gets the services of Aaron Hall. 
The leader of the division, Maplewood Slugger (Andy Harrington / John Nason), won her last start at Fryeburg, and a pair at Windsor, en route to $66,644 earned this season. Scoring from post five, the daughter of Pembroke Slugger will be the one to beat in the non-wagering race being held after the third programmed race.
Race five is the three-year-old colt and gelding pace final with seven lads vying for $81,079 in purses.  The newly-appointed leader is Bandolito Blaze (Campbell / Grondin) who was recently anointed following a triumph at Fryeburg.  Leaving from post five with $55,712 earned this year, including four wins, the son of Western Maverick was also bred and is co-owned by Grondin. He's the 8-5 morning line choice.
Just inside Bandolito Blaze is Deal With It Roman (Walter Case Jr. / Marc Tardif) who has six wins in like company, and has been installed at 3-1.  The son of Western Maverick has a seasonal bankroll of $52,998.  The other 3-1 choice is Ugotaearnyrstripes (Dave Ingraham / Steve LaCasse) who scores from post three.  He has made $47,715 this season and has three wins to his credit.
The race seven $81,014 MSBS three-year-old colt and gelding trot is led by point leader Katahdin Mark (Gary Hall) who drew post one.  With eight wins and three seconds in 12 starts, the son of Noble Venture rarely has an off day from an inside post position with the morning line set at even money. Katahdin Mark is owned and was bred by James and Betsey Kelley.
The only horse to defeat 'Mark' in two of his last seven starts is Warriorofthevalley (Andy Harrington / Marc Tardif) who leaves from the outside post seven.  The son of Pembroke Slugger has not been worse than third in 10 of 11 stakes races this year for Team Tardif.  He is owned and bred by Leighton Property.
The Grondin Garrison sends 7-2 choice Chamorro into the fray from post four and now gets the driving services of Drew Campbell.  Third in the point standings, the son of Pembroke Slugger has been second or third in nine of 12, but has yet to win a heat in 2022.  He was only beaten a length by Katahdin Mark in his last start, despite being back seven at the third panel.
Race seven is sponsored by Blue Seal Feeds.
First post time at Bangor on Saturday (Oct. 15) is 6 p.m.
(Maine Standardbred Breeders Stakes)